I need to preface this review with the fact that "A Devil All the Time" is not for those who want a feel-good, happy-go-lucky film. The film is full of corrupted, twisted and sick people in rural Knockemstiff, Ohio, aka God's Country.
"A Devil All the Time" takes religion and faith and makes you question it, just as it makes the characters question it throughout the movie. The film, set in the 1950s and '60s, jumps around a lot for a 138-minute movie, so try to stay with me. While I enjoyed the film, there were times where I got characters confused because of how much was going on. There are two to three parallels happening simultaneously throughout the film that could get kind of confusing. At first, you may find yourself confused as to why you're being introduced to 15 characters and two to three parallels.
One storyline that the viewers find themselves entangled in is that of serial killer duo Sandy and Carl, played by Riley Keough and Jason Clarke respectively. Sandy and Carl would pick up bright-eyed young men who were hitchhiking. Carl would suggest stopping for lunch or a bathroom break, and then suggest the men have sex with his wife. If that wasn't bad enough, Carl would then murder the boys and photograph the corpses with his wife posed on top of or near them.
The hardest part about this parallel is that Sandy did not want to do it and toward the end of the movie she is exhausted and genuinely feels bad about luring these men in. However, she is under the control of her husband.
This parallel alone is enough for me to feel sick throughout the entire movie. I often found myself speechless about what was going on. The movie shows unnecessary graphic details of the murders and oftentimes, at least for me, I found myself having to look away during these scenes.
If that still wasn't bad enough, the other parallel features a dirty and corrupt preacher, Preston Teagardin, played by Robert Patterson and Arvin Russel played by, our friendly neighborhood Spider-Man, Tom Holland.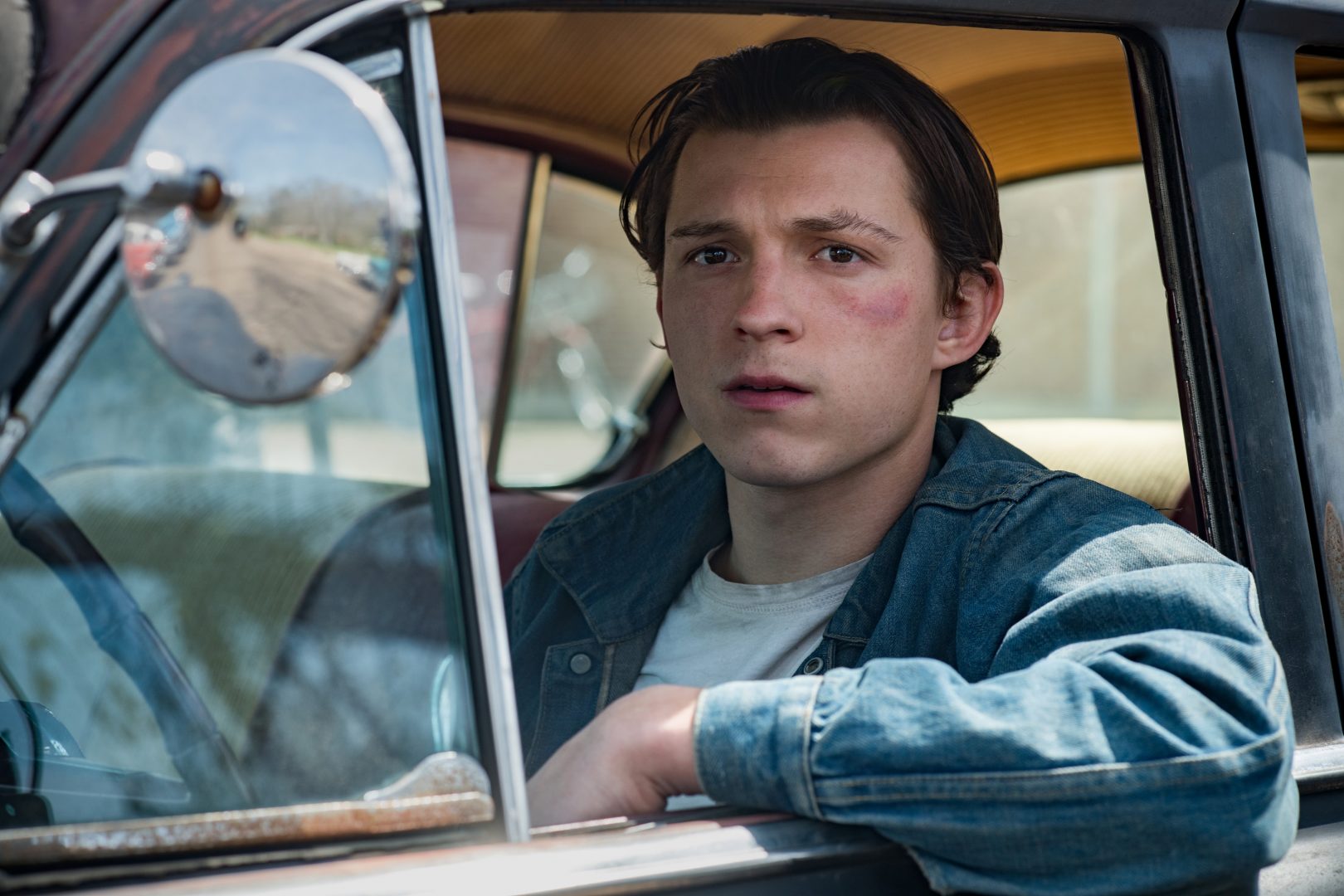 As I mentioned during the first parallel, I had to look away during some parts because it was unnecessarily violent and graphic. Throughout this second parallel, I thought the same thing. Often, I found myself skipping 10 seconds ahead so I didn't have to watch someone get beaten with an inch of their life. This is the one negative thing about the film, the unnecessary violent and graphic images now ingrained in my brain.
First, about this parallel, I want to note that I was completely taken aback by Holland's performance. I've only seen him in the "Spider-Man" franchise as a quirky award teenager trying to navigate life as a superhero. But in this film, he trades in the shy, awkward teenager from New York persona for one that is more dark and angry. Arvin, Holland's character, is a troubled young man who lost faith in the church and God after his mother died from cancer and his father committed suicide. Throughout the film, Arvin does unforgivable and unspeakable things, however in the name of justice.
Preacher Teagardin, Patterson's character, is responsible for the spiral of Arvin. The preacher manipulates Arvin's step-sister, Lenora. It's hard to watch the events unfold because the viewer can only assume the worst is about to happen to Lenora. Lenora, a Lord-loving young woman, is manipulated so badly by this nasty preacher that she ends up committing suicide.
Watching a young woman be groomed and manipulated by someone she trusted is extremely hard to watch and definitely should make you uncomfortable as you watch. It is important to note this death because ultimately this is the downfall that sparks Arvin's actions.
While these parallels don't seem to make sense at first as to why they are running simultaneously, Director Antonio Campo does a wonderful job tying everything together toward the end. I've spoiled enough, and I won't tell you how exactly Campo does it, but be prepared to be shocked, confused and upset all at the same time.
Overall, I didn't think all this chaos could be put into one movie, but apparently it can. The film left me speechless at times because of the sick, twisted and appalling actions of the characters. Despite the unnecessary violence, it was a well-done film and kept my attention the entire time and, because of the two parallels going on, I really had to focus. The film made me sad, angry and disgusted all at the same time.
If you like films more on the dark side, I would definitely recommend setting aside two hours and watching "A Devil All the Time."