When a basketball team loses one of its starters, one might think that it is a time of crisis and restructuring, but for University of Indianapolis Head Women's Basketball Coach Kristin Wodrich, it is just part of the job as a coach. This year the team is without one starter, redshirt senior forward Paige Barrett, due to a surgery she needed, according to Wodrich.
"… I think as a coach, you get used to [losing players]. It's going to happen, you're going to lose players to injuries, you're going to lose players to graduation and different things." Wodrich said. "You always have to be prepared in [that] the next man up [has] got to be ready to go."
Barrett's injury leaves the Hounds with two freshman forwards and a couple returners. According to UIndy Athletics, there are two other forwards on the team, some seeing as much as 27 minutes per game.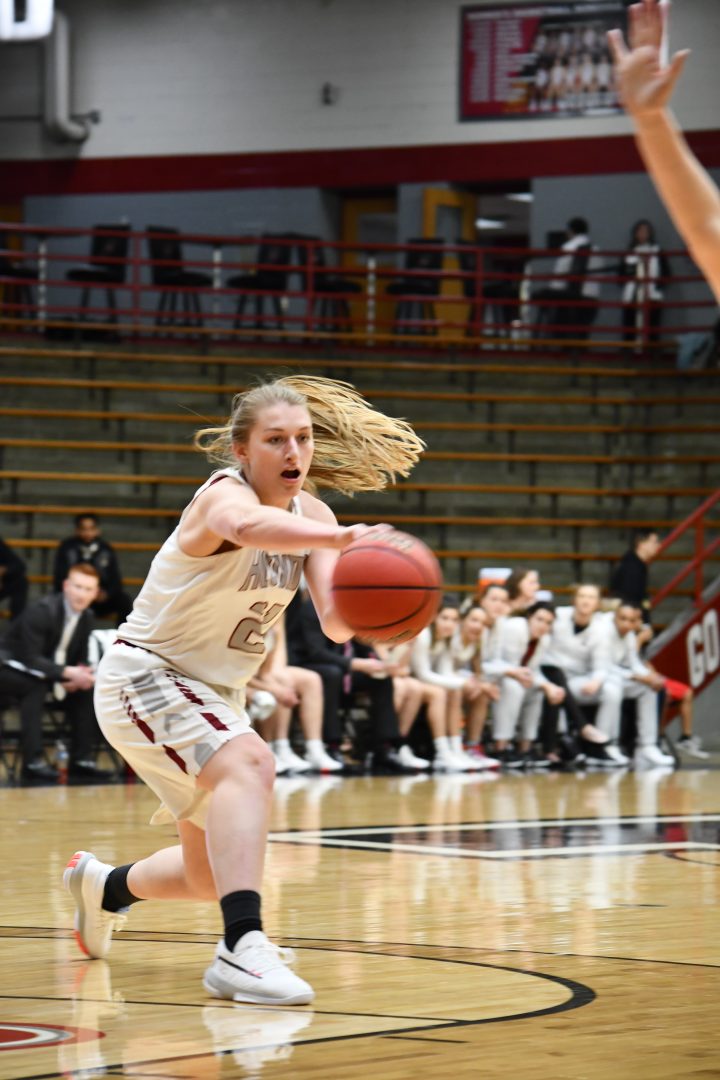 Last season was Barrett's first season with UIndy after she transferred from Murray State University, a Division I school according to UIndy Athletics. She finished second on the team in points scored, averaging 9.4 points per game and 5.3 rebounds per game, according to UIndy Athletics. Assistant Women's Basketball Coach Evan Dodd said Barrett was a huge part of their success last season and it is always a challenge when a team loses a player.
"… That's our job as coaches to brainstorm and then get the kids together and regroup the team to figure out what's going to be our game plan for the success of the season," Dodd said.
However, Dodd said that as coaches, they do not dwell on losing a player too much because they have to start working harder and they have to prepare players to fill that spot. Wodrich said they recruited good players to come in and that will be helpful this season especially.
Although Barrett is not on the court, Dodd said she is still involved in practice and being a leader for newcomers, the team having four freshmen this year. Even with the loss, their goal as a team has not changed for this season. They will continue to play hard, according to Dodd.
"Basketball is very much a team sport, and you don't have those individual players that can put a team on their back, like Paige Barret does," Dodd said. "It's going to make crucial plays and such, so important."
Dodd said that ultimately one cannot control a player getting injured. He is excited to have Barrett back next season, but for now she is playing her part on the sideline.
"It's a huge positive [that] Paige [Barrett] can take a spot on the sideline and be that role model, still very much a leader to those kids who are new themselves," Dodd said. "Paige can learn more from the sidelines. Sometimes you can learn more by just taking a step back and watching and observing, more than actually being thrown into the mix."
GLVC basketball returns Nov. 24. The UIndy Women's Basketball team will open their season alongside the men's team at a home double header on Nov. 27 against William Jewell College.