The UIndy Women's Soccer team closed their 2021 season out on Nov. 20, with a loss against No. 1 ranked Grand Valley State University with a score of 5-0, according to UIndy Athletics. 
The team finished 11-4-3 on the season, similar to their previous season ending with an 11-4-1 record, according to UIndy Athletics. Head Coach Holly Cox said she was very proud of the team's overall performance on the season and believes the final box score is not indicative of the team's play. 
"We went in with a game plan of how we want to play our soccer and I don't think the result fully reflected the game," Cox said. "Early on, I actually felt like we had a few more dangerous opportunities to go up early and even equalize when we went down."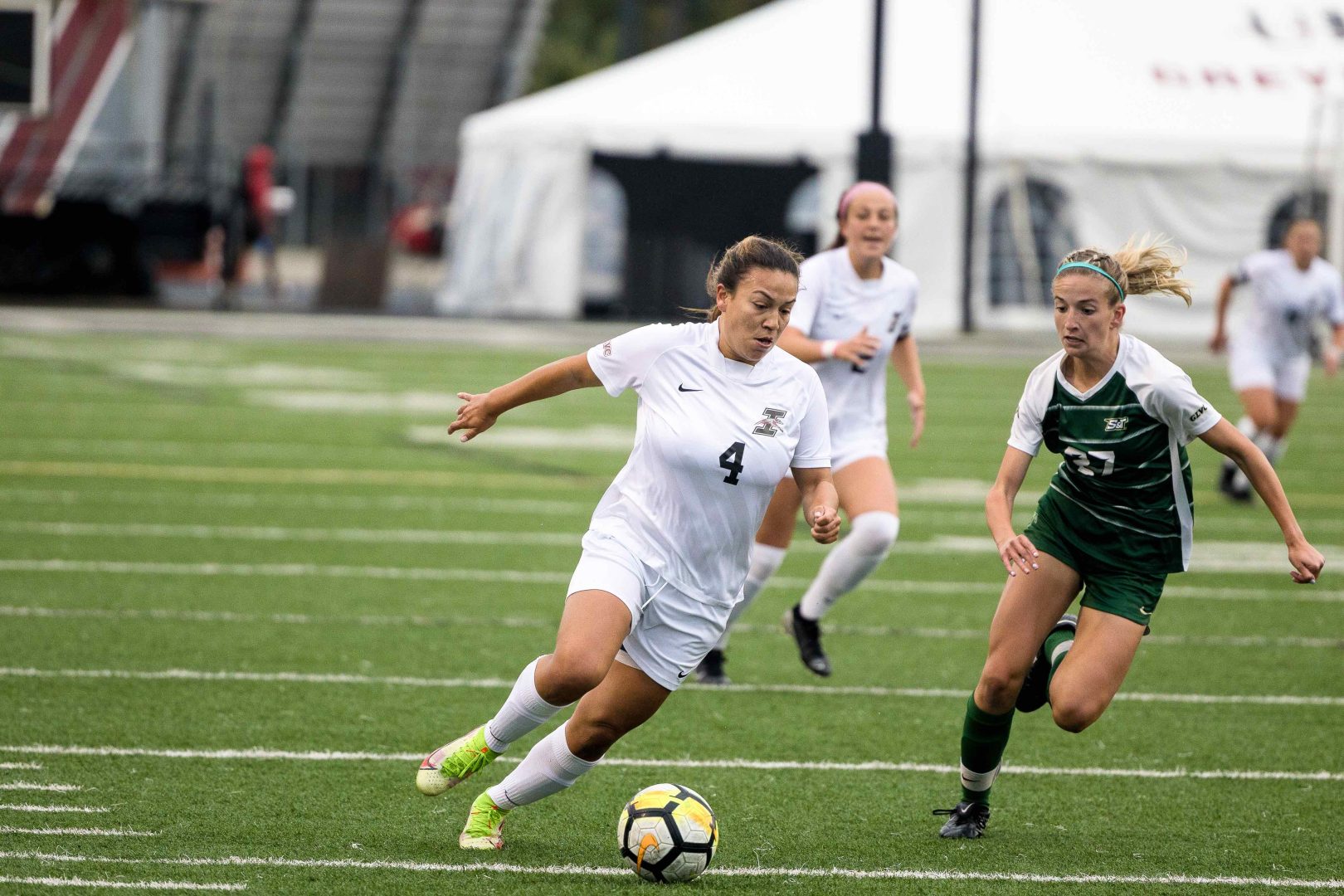 Cox said she appreciated the determination and will to continue fighting through the games when they were down. Each year the team loses and gains players, which means chemistry on the team is forever needed to be established, according to Cox.
Now that the season is over, looking forward and preparing for next season is what's on the table for the Greyhounds, Cox said. After the last game, the ladies were given two weeks off to decompress from the
season and recover, according to Cox.
Despite the season ending, the team is not satisfied and is eager to continue working towards more success for next season, senior midfielder Kiki Sauceda said. I" A lot of the ladies have continued to lift over these past couple of weeks. They've still been working out, they've still been touching base with one another," Cox said. "I think obviously the season ends. I think you go through a variety of different emotions; you're upset, or annoyed or angry."
Needing players to step up, the team saw Sauceda improve and record dominant goal numbers, as she finished with a team high of 33 goals made on the season, according to UIndy Athletics. Sauceda received a lot of accolades including the 2021 Midwest Region Player of the Year, D2CCA All-America First Team, USC All-Region Second Team D2CCA All-Midwest Region First Team and All-GLVC First Team, according to UIndy Athletics. Alongside graduate student and back Dana Youssef, the two garnered several rewards for their spectacular play this season. Youssef played in 17 matches, recording 4 assists and also received many accolades as well, including the 2021-22 GLVC Defensive Player of the Year, D2CCA All-America Third Team, USC All-Region First Team, D2CCA All-Midwest Region First Team, 2X All-GLVC First Team and 2021 Academic All-American, according to UIndy Athletics. The team's focus now is on reflecting on each player's performance, identifying what they can do better individually and establishing a specific goal to achieve it, according to Cox. 
Winter is here, the time to begin these next steps is now, Cox said. When this process happened last year, Cox and Sauceda sat down and discussed what improvements Sauceda could make, according to Cox. Sauceda came back this year and scored 33 goals out of 48 shots, according to UIndy Athletics. 
"We spoke about how impactful she [Sauceda] can be within the conference and for our team and how she can be dangerous in front and lead and score goals, create goals," Cox said. "She did a fantastic job of that this year."
Sauceda followed the advice given from Cox after last season and implemented the improvements in her game. Despite getting much recognition, Sauceda said she prefers to focus on the team and their desire to play for each other.
"I always appreciate this team and their ability to never give up. The heart to bounce back when we didn't end up getting the result that we wanted to play," Sauceda said. "Another thing that I would like to also work on as a team and individually within myself, definitely work on the fitness level."
Looking forward, the team will be putting their heads down and focusing during the offseason until spring arrives, according to Cox. As a whole, the team is confident in each other and the chemistry is there, according to Sauceda.
"We all trust each other. If someone wants to speak up and feel like they can help in an area where we might need help, or something along those lines, our team was willing to listen and willing to take that advice," Sauceda said. "That's also definitely  something that I appreciate a lot. We do have a lot of leaders."