Senior guard Cory Miller Jr. stepped to the free-throw line in the first minute of the University of Indianapolis men's basketball game against the Missouri S&T Miners. With the first free throw made, he joined an elite club as the 43rd Greyhound to reach the 1,000-point mark in his career, according to UIndy Athletics. As fellow senior guard Dee Montgomery grabbed his head in excitement, Miller was greeted with cheers from the fans. He said in the moment, it felt surreal.  
"Honestly, what was going through my mind was, 'Don't miss the next free throw.' The fans went crazy," Miller Jr. said. "And then there was no time for me to just take a minute to enjoy. The referee had thrown me the ball, like, okay, just don't miss this one."
Miller Jr. said reaching that mark in two years was going to be tough. It was always a goal to reach 1,000 points, he said, but he never counted how many points away he was from the record until Head Men's Basketball Coach Paul Corsaro said he was approaching the mark.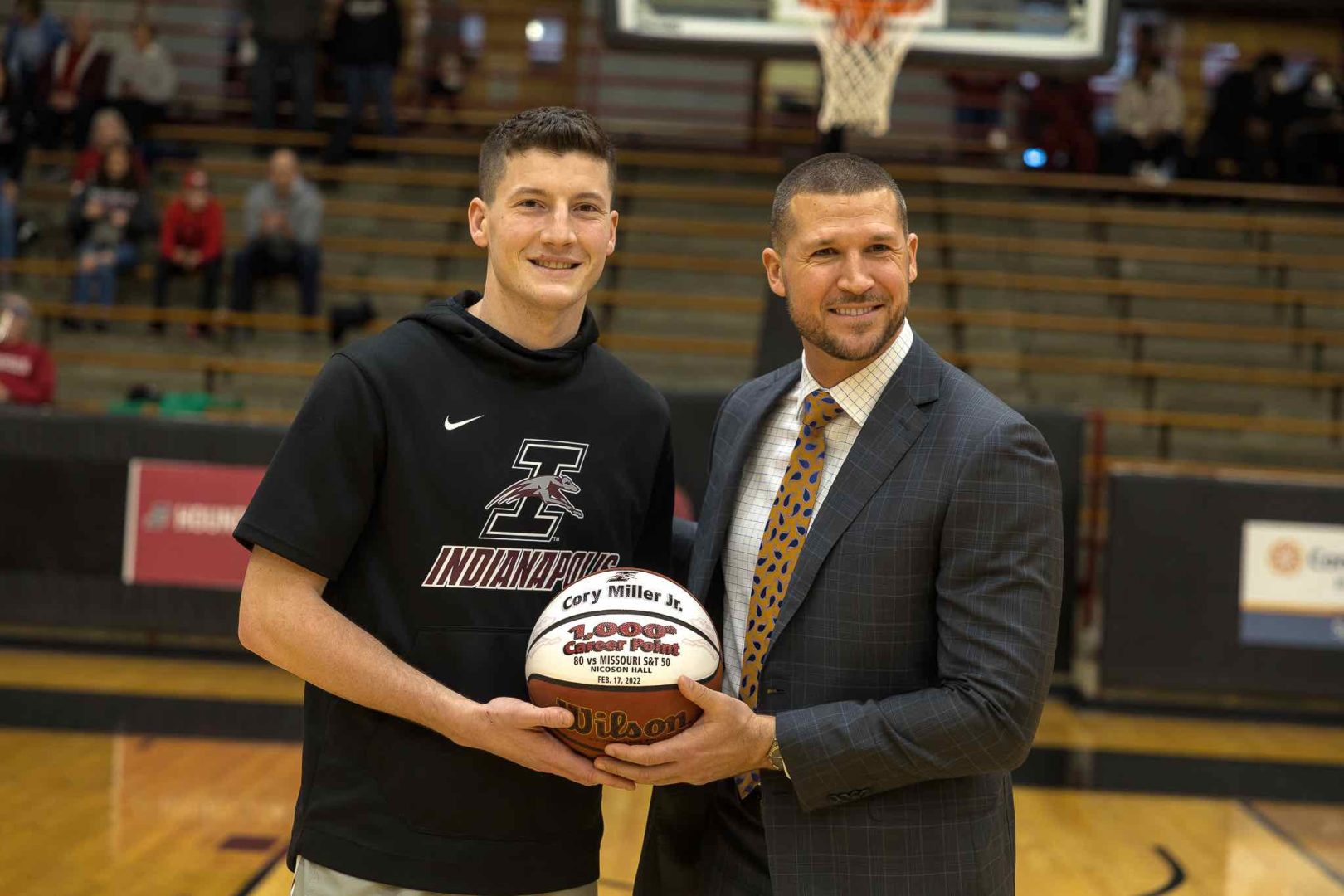 Prior to UIndy, Miller Jr. was an All-American at the junior college (JUCO) level, playing two years at John Wood Community College, according to UIndy Athletics. He averaged 21.5 points and 5.3 rebounds during his time with the Blazers, leading him to receive accolades, including All-America First Team, Region 24 Conference Co-Player of the Year and Mid-West Athletic Conference Co-Player of the Year, according to UIndy Athletics. His turning point was sophomore year, where his confidence began to blossom, Miller Jr. said.
"Having success in [JUCO] built my confidence, and then being recruited by coaches who are telling me you can have that confidence and excel at this level, too. And that's what made it all possible," Miller Jr. said.
After being recruited in the national tournament, Miller Jr. said he came to visit UIndy. He said he loved everything about the university, from the facilities to housing and the team, and realized he wanted to be a part of the Greyhound basketball program. 
Miller Jr. has averaged 12.7 points and 2.9 assists throughout his career at UIndy, according to UIndy Athletics. His athleticism earned him a spot on the 2020-21 GLVC Second Team and a two-time GLVC All-Defensive Team. Miller Jr. said one moment that stands out from his time at UIndy is when the team upset Truman State in the first round of the tournament last year.
"I think the moment stood out for me the most was last year, we didn't have a season we want. Everyone can say that. We started off at  0-7, no one wants everyone's ideal season is to never lose," Miller Jr. said. " But we finished strong. We've set goals out for us and we achieve them at the end of the season." 
Miller Jr.'s achievement, Corsaro said, was special because Miller Jr. is the first player he has coached to reach that milestone. Corsaro said he is proud of the player Miller Jr. has developed into. 
"Knowing that he did that in two of his three seasons under our regime, and just seeing his development over the last couple of weeks, over the last couple years," Corsaro said. "I watched a lot of film on Cory when I took the job and I definitely thought that he got better from year one to year two, and he got even better from year two to year three. So just to see his growth and his work ethic and all that come to fruition is really rewarding."
Corsaro said a key to his success is the strong relationship he has with Miller Jr. on and off the court, which he said will continue after Miller Jr.'s time at UIndy. He said he is such a joy to work with along with being a gifted athlete. 
"… He's already such a gifted athlete and such a versatile player, but very rarely [you] find someone who's [as] gifted and versatile as him that A) works as hard as him, and then B) are as coachable as him," Corsaro said.
When it comes to Miller Jr.'s leadership, Corsaro said he leads by example every day. And the leadership styles that Miller Jr. was able to develop will be emulated and passed down to future generations.
"I think the fact that his legacy will live on for years to come in terms of how to conduct yourself on a daily basis, how to go about your business. I think that's such an impressive thing that he'll leave his mark on [this] program," Corsaro said.