As visitors walk into the newest exhibition at the Christel DeHaan Fine Arts Center Gallery, they are greeted with works by late artist Terry Copen. The exhibition, open from Nov. 15 to Dec. 17, showcases the various pieces created by Copen across a span of 40 years, according to UIndy Events. 
Copen was born in Atlanta in 1950 and in the 1970s, he left the South and headed north to Canada, according to UIndy Events. However, his car broke down in Indianapolis and he stayed in Indianapolis until 1991, where he attended the Herron School of Art, according to UIndy Events. Copen then moved to Texas in 2003 and passed away in February 2021 of cancer, according to UIndy Events.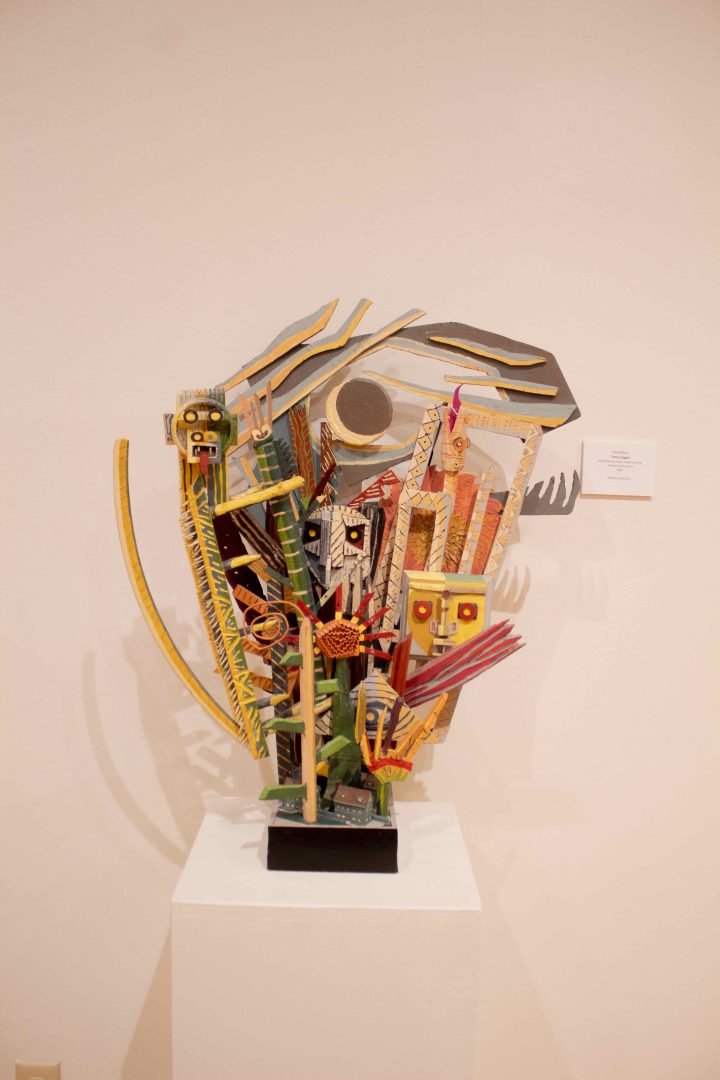 Gallery Coordinator for the Christel DeHaan Fine Arts Center and Adjunct Faculty member Mark Ruschman said the gallery includes paintings, sketches and wall relief constructions from Copen, among other forms of art. According to Ruschman, there are no particular themes to the pieces on display, but his works express his feelings on topics, such as societal class and race. Ruschman said that many of his pieces also are autobiographical and dealt with his life or observations of what was going on in the world around him. 
"So the work, as the labels state, he was influenced by the Neo-expressionists of the day, the artists of the day," Ruschman said. "And you can see that there in what's been written, what that is, but like all artists, they're influenced by the world around them in one form or another by the artists who come before them or who are their contemporaries. And in that regard, Terry was no different. Much of his work deals with his observations of the world around him and how they impact him and have impacted others."
Ruschman said he became acquainted with Copen in the 1980s when Copen was a student at Herron. He said that Copen was also one of the founding members of the 431 Gallery, a nonprofit and artist-run gallery that opened in 1984 on Massachusetts Avenue, according to UIndy Events.
According to Ruschman, he was contacted by Copen's wife Katharine Ellis-Copen, who wanted his work to be returned to Indianapolis. Ruschman said that all of the pieces were in Houston so they had to be transported up to Indiana.
"Of course I was going to call on… my UIndy gallery studies students to help make all of that happen," Ruschman said. "But there were a lot of logistics involved in actually just physically getting the work up here. And then it was up to me with the help of my students to select the work, prepare the gallery and install the work and open the exhibition, which we successfully did."
Ellis-Copen, who was Copen's partner for 35 years, said Copen was an artist above all else. She said that he spent a lot of time in his studio and his concern from every waking moment was his art.
"When we first got married, he used to really amuse me cause he carried little pads of paper to sketch ideas and things like that," Ellis-Copen said. "And we'd be talking about where we're going to go for "X" amount of time before we left and whenever we would pull out of the driveway, his mind would be on whatever he was working on. And if I didn't stop him, he'd just drive to a grocery store no matter where we're planning on going."
According to Ellis-Copen, along with some of Copen's works being inspired by the injustices of the Jim Crow era that he grew up amid, some of his works included his interest in religion. She said he was interested in Revelations and other parts of the Bible, along with heaven and hell. She said that the ideas for his art came from the study of art and art history, as well as the themes he was interested in. She said Copen was interested in the actual technique and liked to do things manually, such as woodworking.
"He's what I would call a son of the south, so he grew up during the Jim Crow era in Georgia, and as a little kid, he felt the injustice of it, but he couldn't do anything about it," Ellis-Copen said. "That heightened, big sense of right and wrong for him and a sense of injustice. And that was the majority of his artwork would be dealing with those themes. Not always necessarily the south and racial themes, but could be the government, could be the power systems, institutions, things like that."
Ellis-Copen said she knew Ruschman and knew that he had seen Copen's work before. She said she thought Copen's work deserved to be seen by more people because Copen did not have an interest in exhibiting his work.
"I reached out to Mark Ruschman and Mark had seen some of Terry's work really decades before, but still remembered some of it and had a sense of it and through Mark, who has a relationship with UIndy, the idea to go ahead and display there was really through Mark Ruschman and what I wanted to accomplish out of it is I wanted Terry's work to go to some
institutions, museums, so that it's protected and can be taken care of and be see," Ellis-Copen said.
Ruschman believes UIndy students, staff and faculty should see this exhibition because Copen's art, along with his contemporaries, played a part in the Indianapolis art scene. He said that Copen's art represents a time and place in Indiana art history. Ellis-Copen said she wants Copen's work to be protected and to be inspiring to those who come and see the exhibition.
"I think about when I was a little kid, my mom took me to the Detroit Art Institute and I went through the Egyptian Wing and it was super impactful to me because I had no idea that that existed, that there were things that were that old, things that were that interesting," Ellis-Copen said. "And it really gave me an interest for the rest of my life, which I wouldn't have had. And on a selfish part, I want Terry's work protected, but you also don't know, his work is very good, you don't know someone who may see it. It might be that same spark for them that I had when I went to the Detroit museum."