Stepping up to the podium at the NCAA DII National Championships, the University of Indianapolis men's swimming and diving team claimed first as champions and the women's team took runner-up, according to UIndy Athletics. UIndy Men's and Women's Swimming and Diving Head Coach Brent Noble said he was pleased with the team's success this season.
"We're really happy with the way the season went for both the men and for the women," Noble said. "We came into the year knowing that we were capable of a lot; we just had to stay the course. It's definitely a season where we grew and did some things that we hadn't done before. But ultimately, we had built a team with really capable people. And they worked pretty hard to accomplish their goals individually, and got closer and closer to their potential."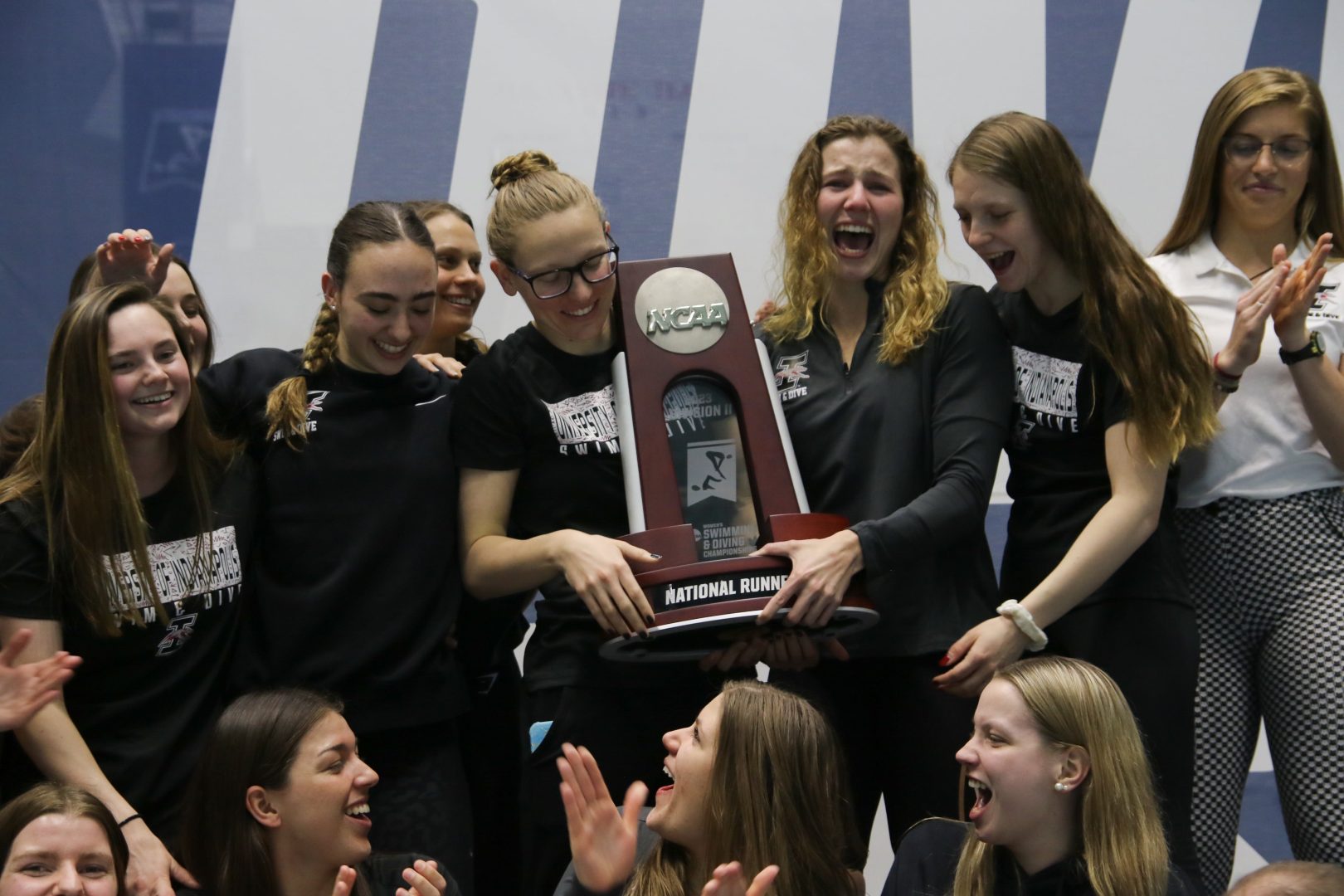 Noble said that at the start of the season they knew that both teams had the potential to impress this season. According to UIndy Athletics, the men's national championship win is the first in the program's history. Sophomore diver Julio Osuna said that the moment of holding the trophy was an amazing feeling.
"We went to the podium…they gave the trophies and everything and I was in the middle, and they handed me a trophy," Osuna said. "I don't think I [was] the right person to hold this trophy because I'm a sophomore and a senior would typically hold the trophy. I do want to have a responsibility to hold the trophy. But at the same time, I don't, but it felt amazing to have it in my hand for a couple of seconds… It was just really cool. It was one of the best moments of my life."
In addition to winning the team championship, Osuna won multiple individual championships such as the three-meter dive and the one-meter dive, according to UIndy Athletics. In the 1-meter dive, the Greyhounds finished first, second and third for this event. Additionally, sophomore swimmer Cedric Buessing claimed multiple school records while winning the 1000-meter freestyle national championship. The men's team also had a relay team take home a national championship, according to UIndy Athletics.
"I wanted to do my part to help the members of either team experience something like that, obviously being on a team that wins the national championship [along with] winning the first national championship," Noble said. "That's something pretty special to be a part of. And so knowing going into the season that we had the opportunity to do that definitely was a big responsibility…I wanted those men to just have that experience."
The women's team added to their trophy case this season after winning the GLVC they came in as runner-up for the second year in a row in the national championship, according to UIndy Athletics. Fifth-year swimmer Kaitlyn McCoy said that even though the team came up short in nationals, they made improvements from last year.
"We knew that Nova Southeastern [University] was going to be a bit of a struggle, but we also knew that we were better than we were last year," McCoy said. "We had high hopes. And so even though we just came up short, we did better this year than we did last year. And the gap between the teams was closer."
McCoy was also an individual national champion winning the 100-meter backstroke to add to her other individual national championship, according to UIndy Athletics. Along with McCoy's individual championship, graduate student swimmer Johanna Buys broke the DII National record for the 50-meter freestyle, claiming an individual national championship. Noble said the men's and women's teams standards have continued to grow every year they step into the pool.
"We have a really big team, and so I think that lends itself to us [that], it's really important that everyone plays their role, whether they're in the pool at nationals or not," Noble said. "It's important that everyone on our team has a positive impact towards the greater good. But at the meet, we had the most people scoring points, the most people getting second swims and the most people kind of pushing the needle compared to the rest. That has become our calling card is that we're deep. And we have people winning events, but we also have a lot of people in all of the events and so that's a big deal for us."
Osuna said that his teammates played a large role in his success this season, and he said he was pushed when practicing, especially by his teammate senior diver Jason Lenzo.
"[Lenzo] is the one that keeps me in my zone the most," Osuna said. "He knows how to talk to me and approaches me when I'm stressed or not having a good day. And thanks to him I can say I won my two national championships. He was the one that helped me [keep] going through the whole year."
McCoy said that her teammates all played a vital role in their success. She said she wouldn't change anything about the season.
"It's been a fantastic ride, and I wouldn't change it for anything," McCoy said. "And I am so proud of the people next to me and the rest of my team too."