Elevate Three Basketball Training is based in Carmel, IN, partnered with trainer Micah Lancaster's I'm Possible skill lab, and is run by two University of Indianapolis and student siblings Augustine and Patricia Chikamba. According to their website, E3BT offers small group and personal training, as well as various camps and other events. Senior sports marketing major and I'm Possible skill specialist Augustine Chikamba said they start clients out in small group training in order to evaluate their skill level, and then move them into personal training if the client is especially talented.
"During the process, we're evaluating your skill level," Augustine said. "Typically if the player is really good, we will come to the parent and we'll tell them 'Hey, so we want to take them out of small group training and place them into personal training.'"
According to E3BT's website, they use the skill enhancement method of training, which singles out an athlete's weaknesses and turns them into strengths. According to Augustine, this is a program that is used across the world for professional athletes, as well as those as young as six years old.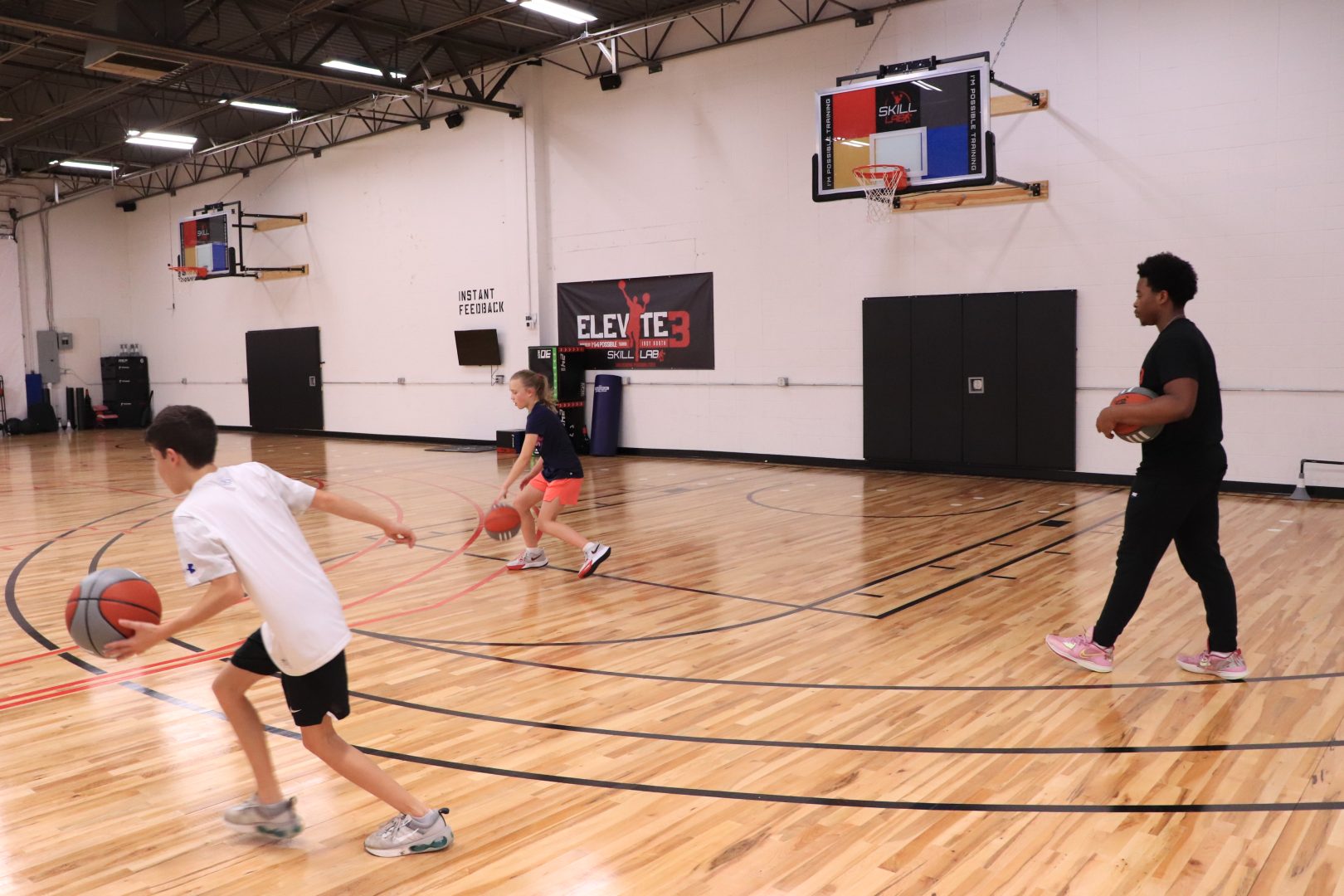 "It's a program that not only pros use, but overseas players, that we use here to help teach kids as young as six years old to help develop not only their skill in basketball, but also their IQ, their cognitive training, as well as teaching them how to be leaders on the court, and being able to face difficult situations as well," Augustine said. 
E3BT also has a virtual reality program they use for training, called Rezzil, according to Augustine. He said this program helps athletes improve their cognitive skills, reaction time, and decision-making on the court.
Sophomore criminal justice major and I'm Possible skills specialist Patricia, said they also use footwork mats as part of the skill enhancement methodology. According to Patricia, the mat is designed to help clients with their footwork by breaking down step by step what they need to do. Augustine said the technology E3BT uses also helps keep their clients accountable because they are able to see what they are doing and what the coaches are asking them to do.
"We have a mat that kind of shows kids where to stand," Patricia said. "It has a bunch of different things on it, like working on the drop step, working on the split, working on all sorts of things. So when kids are looking down, and we're telling them to, 'Okay, go into a split, go into a drop,' they're actually able to see 'Okay, this is where I need to place my foot. This is where this is how I need to stand.'"
Augustine and Patricia both said one of their favorite things about E3BT is the connections they are able to make with their clients. Patricia said it is special to her to be able to connect with young girls and help them find their love of basketball.
"When my dad was training me to play basketball when I was young, I used to hate it," Patricia said. "I didn't want to do it. I would hate training. So I get a lot of girls that come into the facility that are like that, with their parents and they're unsure if they want to play, they don't know if it's the right fit for them. And then as I trained them and as we build that relationship, and as they see themselves actually get better in the sport. They start looking forward to training. They ask their parents 'Mom, when can I go' and 'When am I able to come down to train?'… So just like seeing a kid go from not knowing if basketball is a good fit for them and then actually looking forward to training and actually getting better and enjoying the sport."
Patricia said E3BT and their trainers are unlike any other training camp. She said that even if clients can only attend their sessions for a week, they will still be better basketball players. Augustine said they want to see their clients grow not only in the game of basketball but also as people.
"We want to see their full potential in life," Augustine said. "So you know, there's always a lesson behind the type of workouts that we train. We always teach kids that like look, when you come and step into this building, we want you and expect you to fail … But that's the calm before the storm, right? So you're gonna fail, you're gonna get frustrated, you're gonna get mad. The last thing that you can do is give up on yourself."