Performing her recital titled "Songs from Around the World," junior choral music education major Allyson Horvath showcased the work put in throughout her education on Nov. 19 in Ruth Lilly Performance Hall. According to Horvath, the experience necessary to complete the recital allows her to prepare for her future career.
"I feel like a lot of music educators don't do a lot of performing, but I feel like being an educator is a lot of performing," said Horvath. "Some days you're not at your best. You're not at one-hundred percent and you have to act like you are in front of your students because they don't need to know that you're not at your best. They need to get a good education from you whether or not you're feeling it that day or not. So, I think the ups and downs of this recital, good days and bad days, helped me put tools in my toolbox of performing, whether it be on a stage or in front of a classroom."
Horvath said the support from her voice professor Kathleen Hacker has made the experience leading up to the recital as well as her college experience in general a lot less daunting. Although she is retiring next year, Horvath said a lot of the support she receives is helpful because she is not from Indiana.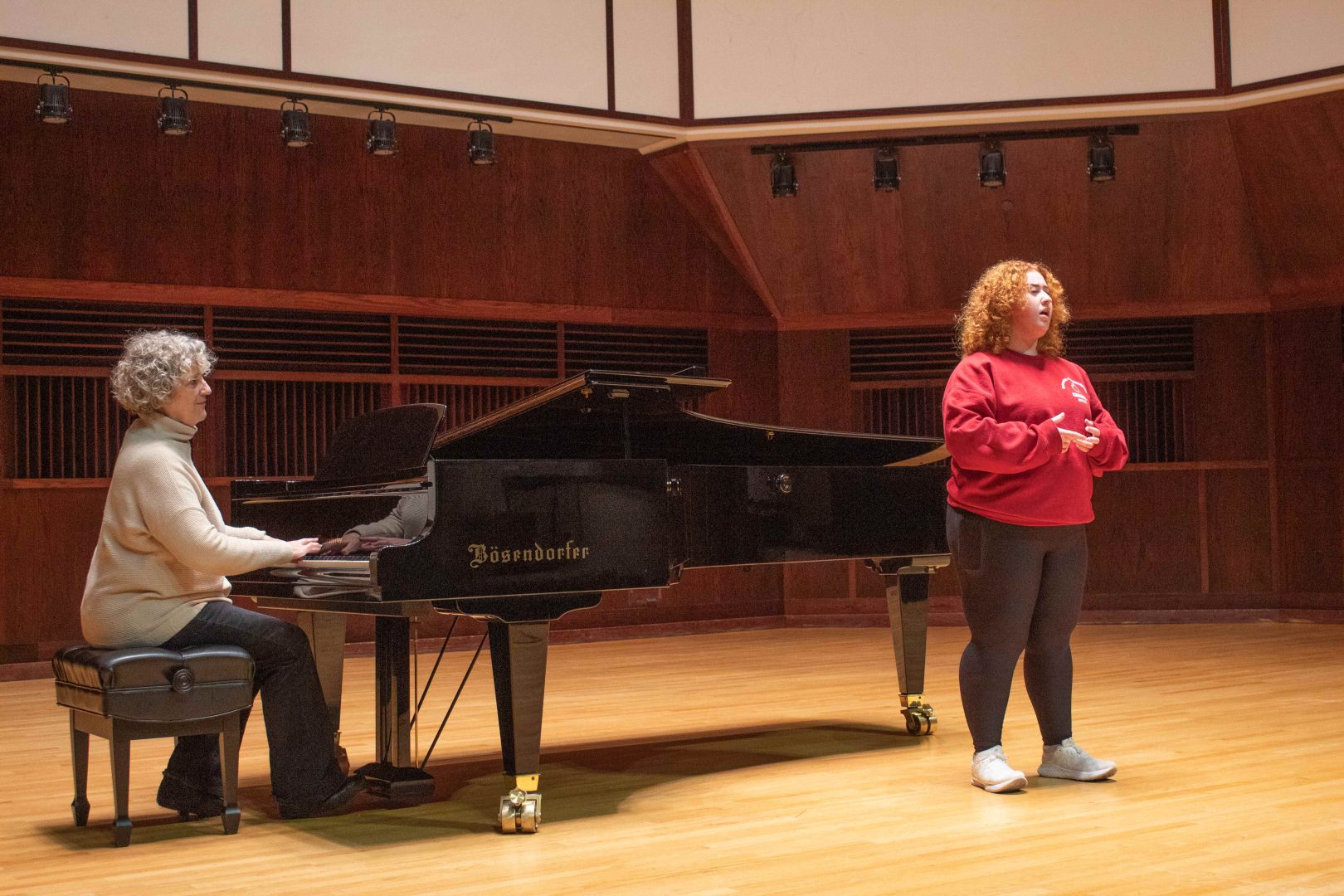 "My family does not live here, so she has been a major part in this for me because she's here with me working with me on a weekly basis," Horvath said. "… I think she's been a big support for me, and she tells me how it is which I need that sometimes. But yeah, I think she's been my rock through this for sure, I don't know what I would do without her."
According to Horvath, the recital process is stressful. Although the student decided the pieces they performed for their recital during the sophomore year, it does not ease the obvious stress that stems from performing, Horvath said. However, Horvath said she does appreciate being able to go back on a piece she did her freshman year and revamp it with all of the lessons and techniques she has learned since.
Working on repertoire from her entire musical career at the university, Horvath encourages sophomores and those preparing for their recitals to challenge themselves. Horvath said it is significant to ask what the message of the recital should be.
"Do you wanna make a statement? Do you want to tell a story? And how are you gonna do that through someone else's music? Music is very interpretive, and we can give it our own meaning," Horvath said. "I would say don't take the easy route. I like a challenge personally. Pick the stuff that you wanna spend more time on. Like the stuff that's going to help you grow as a musician."
According to Horvath, her biggest piece of advice for those who are entering their recital preparation stage is sleep. Giving your whole self into your work and getting ample sleep will help you perform to the best of your ability Horvath said.
"You get the sleep that your body needs," said Horvath. "Take care of yourself, physically, mentally, emotionally because if you're not in the right headspace, if you're not well rested, you can't function as a human, let alone as a musician. And also, like, you got to be ready to give it your all. And going back to what I said before, you might not have one-hundred percent that day, even if you have seventy-five percent to give, you got to give that seventy-five percent."