"Too Much Light Makes the Baby Go Blind," or as it is commonly known as "Too Much Light," is a collection of 24 plays that are to be performed in under 48 minutes, said Director and Assistant Professor of Theatre Grant Williams. "Too Much Light" was performed by UIndy Theatre at IndyFringe during mid-August before arriving at The Wit Theater and hosted by Comedysportz, a national franchised improv comedy crew, Williams said. The original premise of the play is if it takes longer than 48 minutes, then the audience gets rewarded with a treat, Williams said.
The treat for the audience of "Too Much Light" was pizza during its first year, according to Williams. The former director of the show, James Leagre, would have to time the show just right so that pizza would be available at the end. The treats would later change to cookies, to nothing during COVID-19 to candy this year, Williams said.
The 24 plays are from a collection of a 100 short plays that are handpicked by the actors and the director for the master script, which is able to provide "Too Much Light" with a different experience every year it shows, said Williams. The plays are placed in order in the back of the set from one to 24.
"You have to be focused," Williams said. "There is a lot of trust that has to happen as well because the audience may cry out five and all of a sudden you're doing a new play, and you have to automatically know that your counterpoint on the stage is ready with their line and ready to go."
Stage Manager Abigail Wittenmeyer said that this show and the audience reaction changes every night, which makes it feel like a different show every time it is performed.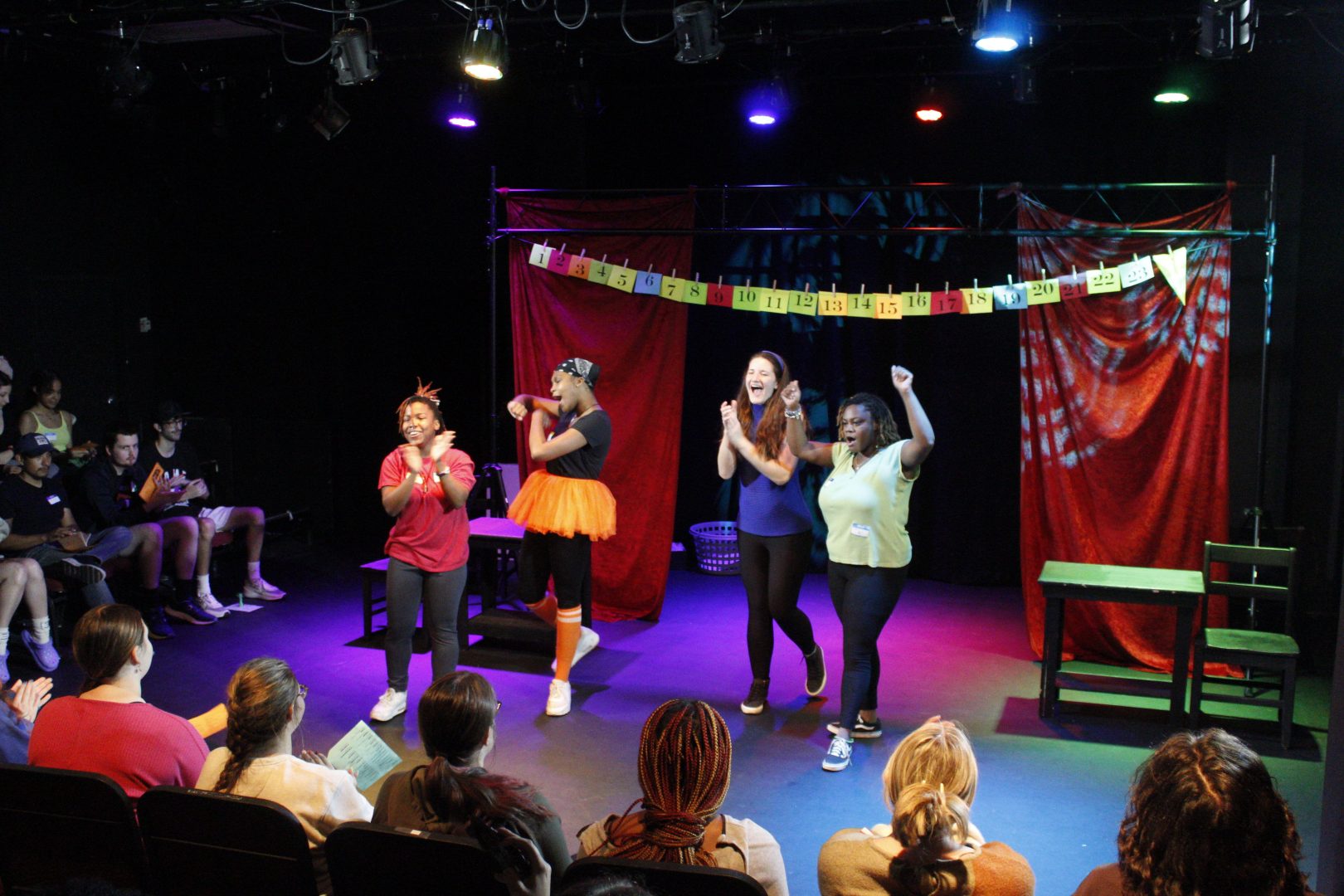 "It was refreshing because when you do a usual typical theater show, you know exactly what's gonna happen, when [and] how the audience is going to react every night because it's methodical and this one, it keeps everybody on their toes," Wittenmeyer said.
According to Williams, the show was originally written by Greg Allen and was showcased by an improv troupe called the Neo-Futurists based in Chicago. UIndy Theatre is also trying to start their own improv group that would perform at the Wit every Thursday night, according to Williams.
Wittenmeyer said that this play gave the students the opportunity to work in a professional setting. The student actors were hired on and received a stipend for their work and students are able to walk away with professional credits prior to graduation, Wittenmeyer said. The duties of a stage manager, according to Wittenmeyer, are to be an advocate for the actors, call the cues and be the facilitator between all the departments that are a part of the show.
"To know that I have a professional experience when I'm interviewing or when I'm auditioning for things later on when I graduate, it just gives me a bit more assurance that I know what I'm doing," Wittenmeyer said.