Missing manuscripts, Greek gods congregating among mortals and lots of laughs could all be found at the production of "The Gods of Comedy" on Dec. 2 and 3 in the University of Indianapolis studio theater. Directed by senior theatre education major Kathryn Rohlfing as part of her senior capstone, the play followed the story of college professor Daphne as the god Dionysus and muse Thalia come to the mortal world to help her as she struggles with chasing success, according to the production's program.
When preparing for her senior capstone, Kathryn Rohlfing read through about 30 plays before landing on this particular production, she said. Part of what led her to choose "The Gods of Comedy" was that she wanted to give her audience a good laugh because of all the hardships in the world right now. And while the theatre department capstone allows plenty of flexibility, Kathryn Rohlfing said she had to meet plenty of requirements.
"Theater ed[ucation] has a very specific capstone. We have to direct a show and design most elements, but we can have other designers as well," Kathryn Rohlfing said. "I actually had someone [from] the lighting design class do my lights and one of my actors did the sound. But we have to direct it, we have to design it, as well as we have to have a freshman stage manager so that we have to teach people just like we would in a high school."
One of the major challenges with this production, according to Kathryn Rohlfing, was having to make schedules work around the other productions in the department throughout the semester because everybody had to be involved in those in some way. But her favorite part of the process was seeing all of her actors bring something new to each rehearsal.
"Sometimes when you're doing a comedy for a while, you just keep rehearsing it [and] it can get a little stale because you know it," Kathryn Rohlfing said. "But my actors continued to try new things. They continued to make it fresh and that energy and that vibe that they brought into every rehearsal was always so amazing to see. And now that we added props, and now that we added everything together, seeing it all just come together has been a delight."
Sophomore studio arts major Evan Rohlfing played three different characters in the play, including Aristide, Aleksi and Ares. He said he was very excited to play such comedic roles, but playing each of those characters was his biggest challenge because each of them is very different.
"I have played multiple roles before, but this one was very much kind of heavy in accents and sound, and very quick changes of costume," Evan Rohlfing said.
Sophomore theatre major Zac Schneider played Dionysus, one of the titular gods of comedy, as well as creating some of the lighting and sound design. Schneider said they enjoyed playing this character because they had the opportunity to try doing certain things differently in every rehearsal and performance. One of their personal highlights of the production was being involved with many different aspects of the play.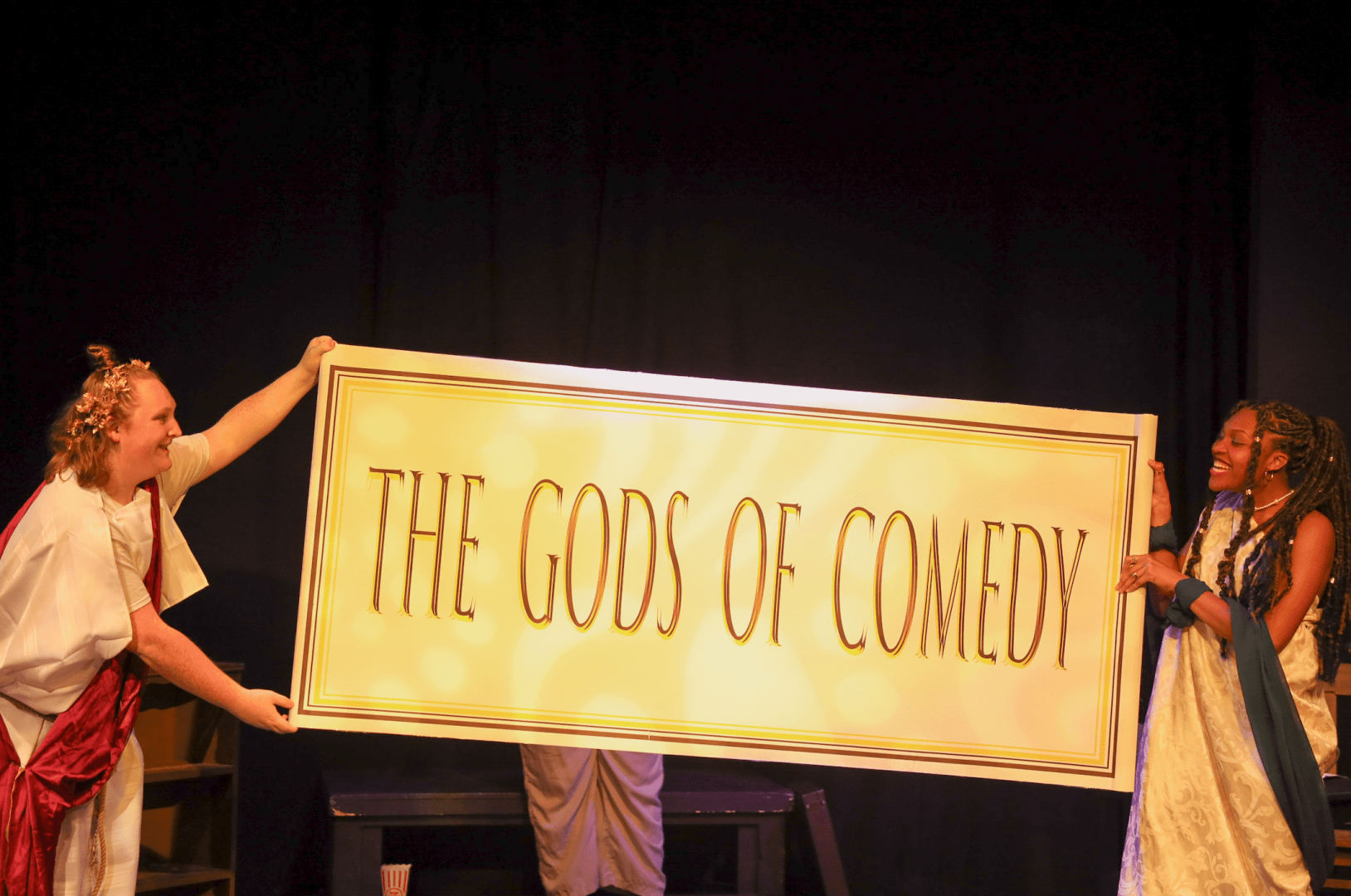 "Doing all these different elements, being one of the bigger characters, and then also balancing that with doing lights and sound," Schneider said. "Also helping a bit with building some of the stuff, helping Katie [Kathryn Rohlfing] wherever she needed. And that's kind of also been my biggest obstacle of trying to dictate my time of where we needed to have it…. Because, again, the show doesn't stop."
For sophomore psychology major Dailyn Marie Burke, who plays Thalia, this was her first time performing in the theater department. She got involved with the production because she enjoys Greek mythology. She said her favorite part of the show was getting close with her castmates, specifically Schneider.
"Thalia and Dionysus are best friends; they're like family. And before starting this I didn't know anybody here," Burke said. "And I didn't know Zach whatsoever. But when we started practicing more, we started getting friendly and we became best friends. And now we're inseparable. So I feel like we're actually Dionysus and Thalia, in person."
And despite the obstacles with this production and all of the moving parts, Kathryn Rohlfing said she was most proud of how far the production has come since its inception at the start of the semester.
"From first rehearsal to even off-book night, to the night of the show—seeing how far this show has come, from where we started, and where the actors started and where everything started to now, I'm just most proud of them," Kathryn Rohlfing said. "I'm most proud of the actors, our designers and everybody and what we've accomplished together."