In her second year at the University of Indianapolis as a Strength and Conditioning coach Milana Matias has made quite the impact on UIndy Athletics, according to Strength and Conditioning Coach Steve Barrick. This year, Matias coaches women's basketball, tennis, women's soccer and swimming and diving teams, Barrick said.
"She [has a] first one in, last one out type of mentality to her work. She works extremely hard… She's done a phenomenal job with swim team, tennis, women's basketball, women's soccer … and she's also been a great help to the rest of us with our teams that we work directly with," Barrick said. "She's got good leadership skills, good programming, she knows how to run the room, but she's also really good at taking the small groups, or taking our freshmen that are coming in and teaching them the basic foundational type program that we run and really builds them from the ground up."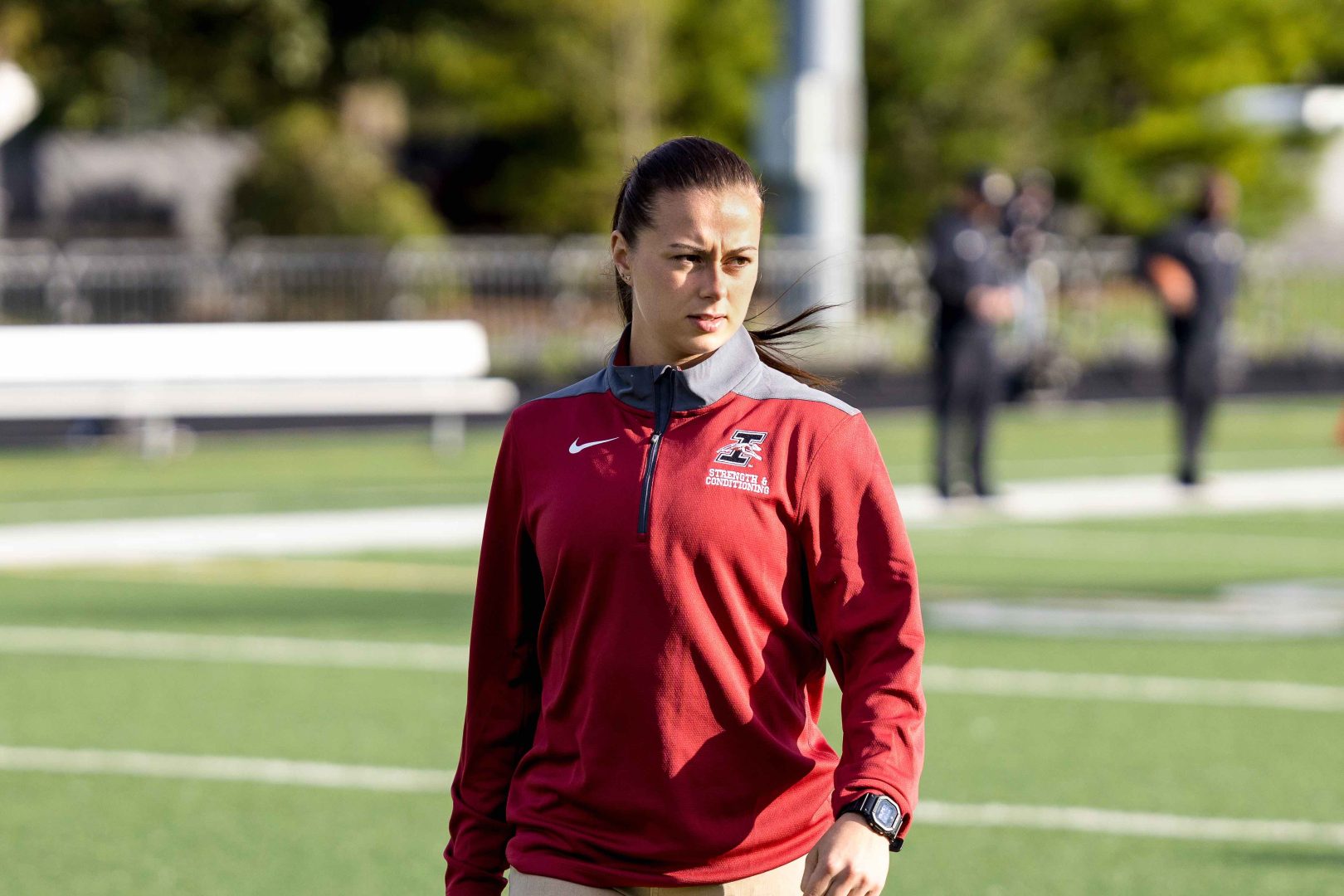 Matias said she is originally from Lithuania and came to the United States for college. She said she started her college education at Vincennes University to play basketball for two years before transferring to the University of Southern Indiana (USI). She said she always wanted to come to the United States for basketball and was able to by playing for Vincennes, where she graduated with her associate's before getting her degree in exercise science.
"I dreamed to play in the United States either in college or [as a] professional. I just knew since age ten I wanted to play basketball in the U.S.," Matias said. "When I graduated from high school, I looked into different options, I reached out to people, I emailed schools and eventually, I got recruited by Vincennes University."
Matias spent time working at the New York Military Academy working with the cadets. She was a supervisor and a sports coach for the kids at the military academy, whose ages were between 13 and 15. She said she was able to get this position because her coach from Vincennes helped her find a job after she graduated from USI.
"Little things like being on time, respecting and listening to other opinions and manners, how you behave, those little things were taught in the military academy, and I think those little things really help later on when you get a job," Matias said. "Just work ethic in general, that's what I really liked in the military academy."
Matias said she interned at West Point Military Academy in the Strength and Conditioning Department to help gain experience in her field. She said she had that internship for a year, and had to finish it online due to COVID-19. She said getting the internship was important because having those recommendations and that experience opened up more jobs for her in the future, including the strength and conditioning coaching job at UIndy. She said she worked with women's rugby, women's soccer and swim and dive.
"I just tried to experience as many sports as possible … and be around as many coaches as I possibly could [to] try to learn their coaching style and different training methods that they were running with their teams because every coach is different in some sort of way," Matias said.
Matias became passionate about strength and conditioning coaching her junior year of college, she said. She got the job offer at UIndy during COVID-19.Matias said she is the first female strength and conditioning coach at UIndy. One of the things she said she likes about UIndy is that she can work with a variety of sports, especially football, because a lot of other schools would not have given her that opportunity.
"I enjoy working with athletes and being able to adapt to different cultures and different sports," Matias said. "For example, I get to work with [the] tennis team, which they are all international, and I've felt like I can connect with them in different ways than I could … with other sports. That was the way I connected with them, but women's basketball is my other sport that I work with, and I've played basketball too… [so] I could really relate to them and how they were feeling."
Barrick said working with Matias is great because of her work ethic and her good attitude. He said she has been a great addition to the athletic department and the fact that she cares so much about what she is doing is what makes her a great fit at UIndy.
"She fits in from a work ethic standpoint," Barrick said. "She cares about the success of our teams, she works well with athletic training and sports medicine, she works well with the coaches, she's a great communicator amongst the department and because of that she helps us all get better."amongst the department and because of that she helps us all get better."