Going into the 2021-2022 season, the University of Indianapolis women's basketball team started off as the No. 3 ranked team in the East Division of the GLVC Women's Basketball Preseason Poll, according to UIndy Athletics. The team also started their preseason with an exhibition game against No. 8 Division I Indiana University at Assembly Hall on Nov. 5 to better prepare for their regular season, according to Head Coach Kristin Wodrich. She said she viewed the exhibition game in Bloomington as a great learning opportunity for the squad. The Greyhounds fell to the Hoosiers 98-43 with junior forward Sadie Hill leading the team in scoring with 9 points, according to UIndy Athletics.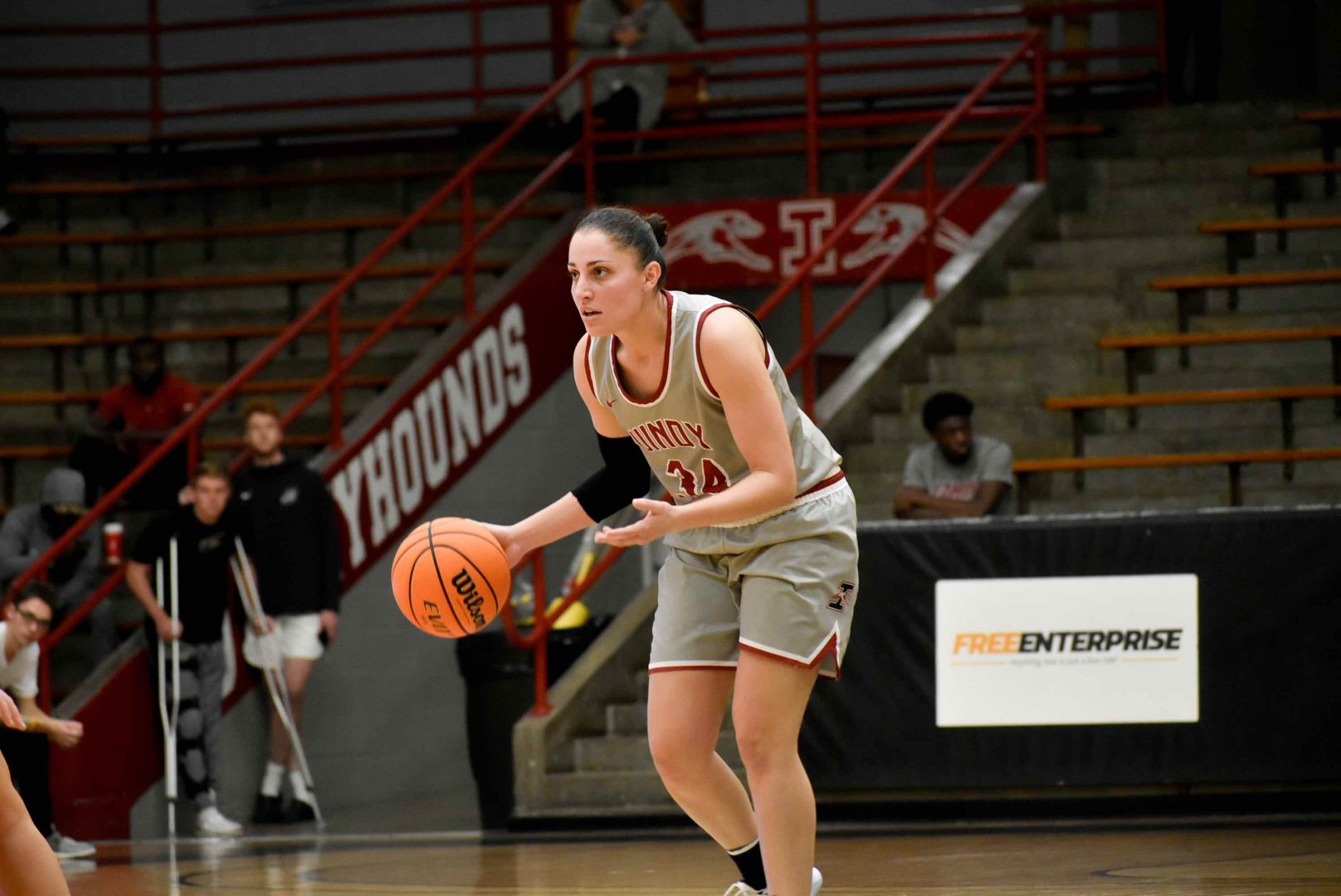 "I think it was great for us to play a team of that caliber, their pace, their intensity," Wodrich said. "I think it was extremely good for us to see how good they play and just to play kids that almost made the Final Four last year at that level."
Wodrich said that the exhibition game served as a learning experience not only for the team on the court. She also viewed the game as a time for the coaching staff to learn and improve as well.
"We took things that we needed to learn and how to get better, not only as a team but as a coaching staff, as players, all of us would get better every time," Wodrich said.
Senior guard Mya Scheidt, who was second on the team in minutes played during the 2020-2021 season, averaging 31.5 minutes a game, according to UIndy Athletics, said that the exhibition game was an eye-opener for the team to see the pace the next level holds, and what they need to do to reach that level.
When it comes to the team's position in the preseason poll, Scheidt says that it does give the team a sense of confidence, but said that it is important for the team to stay humble.
"Our coach keeps us pretty humble," Scheidt said. "But I think we need just to stay our ground and not have our highs too high and our lows too low."
Wodrich said that the ranking gives the team a goal to strive for, but before thinking about anything in regards to the postseason it is important to look at goals from a game-to-game perspective, tackling each game as a stepping stone to reaching and achieving those postseason goals.
"We talk a lot about what our goals are, but then how do we get there and what do we need to do in order for us to achieve those goals," Wodrich said.
The Greyhounds finished the 2020-2021 season with an 11-11 record after falling to No.1 Drury 70-66 in the first round of the GLVC Tournament, according to UIndy Athletics. This year the team is looking for a fresh start as they are returning a number of veteran players that can help them reach those goals, including top performers from the 2020-2021 season senior guards Taylor Drury and Mickey Sasson. According to UIndy Athletics, the two led the team in both points and rebounds per game with Drury averaging 16.7 points and 6.0 rebounds per game and Sasson with 11.8 points and 6.9 rebounds. Wodrich also looks for senior guard Shira Sasson to play a big role in the upcoming season as she returns from an injury from last season.
"[Sasson] is gonna be a big piece of the puzzle coming back and she's a veteran as well, but not having played most of the season due to a broken finger," Wodrich said. "I think she's in shape, she's ready to go, and she's been playing very well in practice, so I think that's someone who is going to be a big impact for us."
Scheidt said the experience of the team as a whole helps their performance on the court, because the team is more of an older squad they have good chemistry that allows them to work well together on the court. Wodrich views the experience that the team's veterans have as a vantage point over their opponents. She said every player has the ability to step up and play a key role on the squad.
"I think it helps having veterans. Just they know what we expect, they know what we want, they know what it's gonna look like when we're on the road, they know what teams look like," Wodrich said. "So it's helpful for us to have them on the floor. It's kinda like having extra coaches on the floor, helping everybody out."
The team started their season 0-4 with losses to out-of-conference opponents, falling 79-64 to Malone University and 59-45 to No.8 Ashland University, according to UIndy Athletics. The team also fell 64-60 in overtime in a tight, out of conference battle against Northwood for their home opener on Nov. 18. The leading scorers for the team were Drury and Scheidt both contributing 13 points a piece. Hill added 13 points of her own in addition to her four rebounds and four blocks, according to UIndy Athletics. The Greyhounds lost their fourth consecutive game against Cedarville 75-64, according to UIndy Athletics.