When University of Indianapolis senior back Dana Youssef came into Key Stadium on Nov. 7 for the GLVC Quarterfinal against the University of Southern Indiana (USI) knowing it could be the last game of her career, she said she was determined to make it her best. According to UIndy Athletics, the match was scoreless in the first half but then, only 16 minutes and 22 seconds into the second half, a collision between Youssef and USI's midfielder Jill DiTusa resulted in a yellow card for USI. The collision was worse for Youssef as she had just dislocated her left shoulder, placing her on the sidelines for the rest of the match. After being cared for by the training staff, Youssef was not seen sulking on the bench. She paced up and down the sidelines mixing between shouting commands and encouragements to her teammates on the field and wincing in pain. When she hit the sidelines, Youssef said she knew she had to do something. 
"I knew I was out of the game, and I wasn't allowed to go back on the field, but I wanted the team to win so bad[ly], I just wanted to put everything I had into this game and to make the team win," Youssef said. "The second I stepped on the field before kickoff, I was like, this is going to be the best game of my life. This is the last home game, it has to be the best game, my best friends came to see the game, and it might be the last game of my career here…. I felt good playing until that happened, and then I went off the field. I was like I need to do something, I need to continue pushing my teammates and directing them [to] help them to win the game."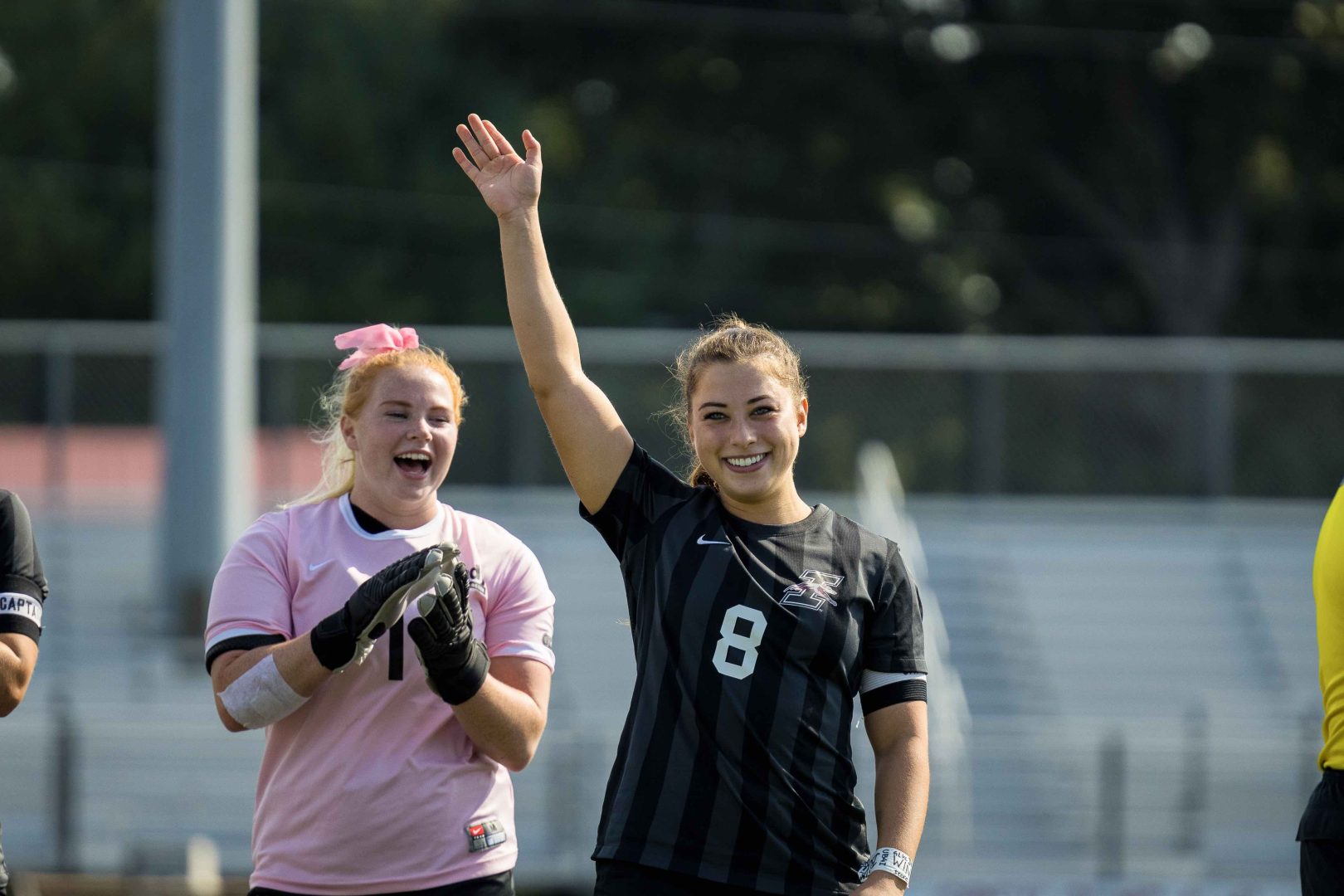 According to Head Coach Holly Cox, that competitive nature is who Youssef is. Youssef's drive has led her to have a successful career at UIndy on the field, with her winning back-to-back GLVC Defensive Player of the Year awards in 2020-2021 and in 2021-2022, and two All-GLVC First Team nods, according to UIndy Athletics. Cox said that in her many years in soccer, Youssef is one of the most competitive players she has ever seen.
"She's one of the most competitive players on our team right now. But I have to say, honestly, that's come through the program," Cox said. "I've coached at Division I, I played Division 1, she might be one of the most competitive individuals I've ever experienced around the game, which to me as a coach, I appreciate 100%. When you find someone that loves the sport, as much as you love the sport, it's really special."
A Mönchengladbach, Germany native, according to UIndy Athletics, Youssef has had her fair share of obstacles not only athletically but academically as well, she said. Despite those challenges, she succeeded academically, achieving a 4.0 GPA every semester of her college career to this point while studying biology, according to Cox. The academic prosperity has netted Youssef even more awards with her winning the 2020-21 GLVC Distinguished Scholar Award, the 2020-21 GLVC Academic Excellence Award and being selected as 2020-21 GLVC Scholar-Athlete of the Year among other awards, according to UIndy Athletics. Youssef said that she has always strove for excellence in everything.
"No matter what I do, I want to do it well, so I've always been a good student, I've always been extremely hard-working, which I think translates into my hard work in the classroom studying wise, and then on the soccer field as well," Youssef said. "I think that's just my mentality. I think if you're able to focus [on] school you're also able to focus on soccer. And just keep that focus throughout the game and throughout practices and pay special attention to detail, which you need to do in class too."
The success she has seen on the field and in the classroom not only benefits Youssef, but it sets a precedent for what it means to be a UIndy women's soccer player, according to Cox. She said that the players on the team established Youssef, who has been a team captain since her junior year, as a leader because of her drive to succeed.
"She gets the job done on the field, but at the same time, she manages to do the job in the classroom as well," Cox said. " … She's so driven. She's driven in the classroom, she's driven on the soccer field. And it sets a precedent for the rest of the ladies on the team. And she holds them accountable. If she's able to do it, why can't everyone else on the team do it as well."
Cox said that over the years she has seen Youssef grow immensely as a player, originally recruiting Youssef to play outside back due to her smaller size. She said that over the years she has put a large amount of time and effort into the weight room to assume that role of center back. She said that early on, she recognized Youssef's work ethic.
"You always see something in a kid, when you're recruiting them for your program, you want the best players that are going to come in and make an impact. Dana [Youssef], when she first got here, she didn't make an impact right away, [the] physicality of the game makes a huge difference in being able to perform when you are a young, timid freshman," Cox said. "But I tell you what, her work rate and her mentality, even though she wasn't maybe getting the amount of minutes she wanted to get as a freshman [or] as a sophomore, she never once complained, she just put her head down and grinded it out and worked hard."
Youssef said she spends time re-evaluating her own performances, watching professional players and doing anything she can to get better. But for Youssef, she said there is a difference in working to become better for yourself or for your team.
"I think a big aspect of me is becoming a better player and working hard for the team and not just for myself. Because there's a difference between like you want to get better yourself, and you want to get better for the team so that the team can be the best team possible," Youssef said. "I think a big aspect of that was that I became team captain during junior year. So when you realize you have that much responsibility for the team, and you're the person that people look up to, and you're the one that needs to organize on the field and bring people in the right mindset, or reset people's mind when we're doing something bad or push people, stuff like that. If you know you have that responsibility, you also take more responsibility for your own actions on and off the field."
Cox said that while she wishes it was not Youssef's last year as a Greyhound, she has left her mark on the program. "We always say to our seniors, please leave the program better than when you joined it. By far Dana has done that," Cox said. " … She's given the younger group an idea of what it means to be a leader, someone who's a performer, someone who is an ideal UIndy women's soccer player."
Youssef's soccer journey may not be done, however. She said she plans to return to her home country of Germany to continue her education and hopes of becoming a surgeon and that there is a special track in German universities for professional athletes that she hopes to get into. She said she has considered playing soccer for SC Freiburg, a professional team in Germany. Youssef said that her biggest piece of advice for others that want a career like her is to love what you do. 
"Do the best you can in what you're doing, strive to become better every day," Youssef said. "It's not going to be a straight road. It's not going to go up all the time. Sometimes you hit [a bump], you're not improving every day, but just keep up the mindset of trying to be better and staying positive. And love what you're doing and the people around you because they're going to help you become better as well."