The University of Indianapolis Greyhounds are currently ranked sixth in the National Wrestling Coaches Association (NWCA) poll, exemplifying excellence in the program. Six UIndy wrestlers that qualified for the 2022 National Championships returned this season, including defending national runner-up redshirt sophomore Derek Blubaugh at 197 pounds. Derek Blubaugh holds the top individual ranking in the country for his weight class, according to UIndy Athletics.
Three additional wrestlers hold spots in the top ten, according to NWCA rankings, including the Bailey brothers—Breyden Bailey and Logan Bailey at 133 and 157 pounds respectively—as well as 165 pound Jack Eiteljorge. Head Coach Jason Warthan, now in his fourteenth season as head coach, said there is a significance to having a veteran crew.
"It's also great to have experienced guys to return, just from the practice standpoint," Warthan said.
During the break between semesters, according to Warthan, the team doubled down on preparing for the remainder of the year. The Greyhounds will make their fourth trip to a non-neighboring state when they go to Springfield, Missouri for the Great Lakes Valley Conference Championships on Feb. 12, according to UIndy Athletics.
At the NWCA National Duals in Louisville, Ky. in early January, the team faced off against three of the top five Division II ranked programs in the country, according to UIndy Athletics as of Reflector press time. Having managed a season of such rich competition, Warthan said he is optimistic about the team's prospects heading into the postseason.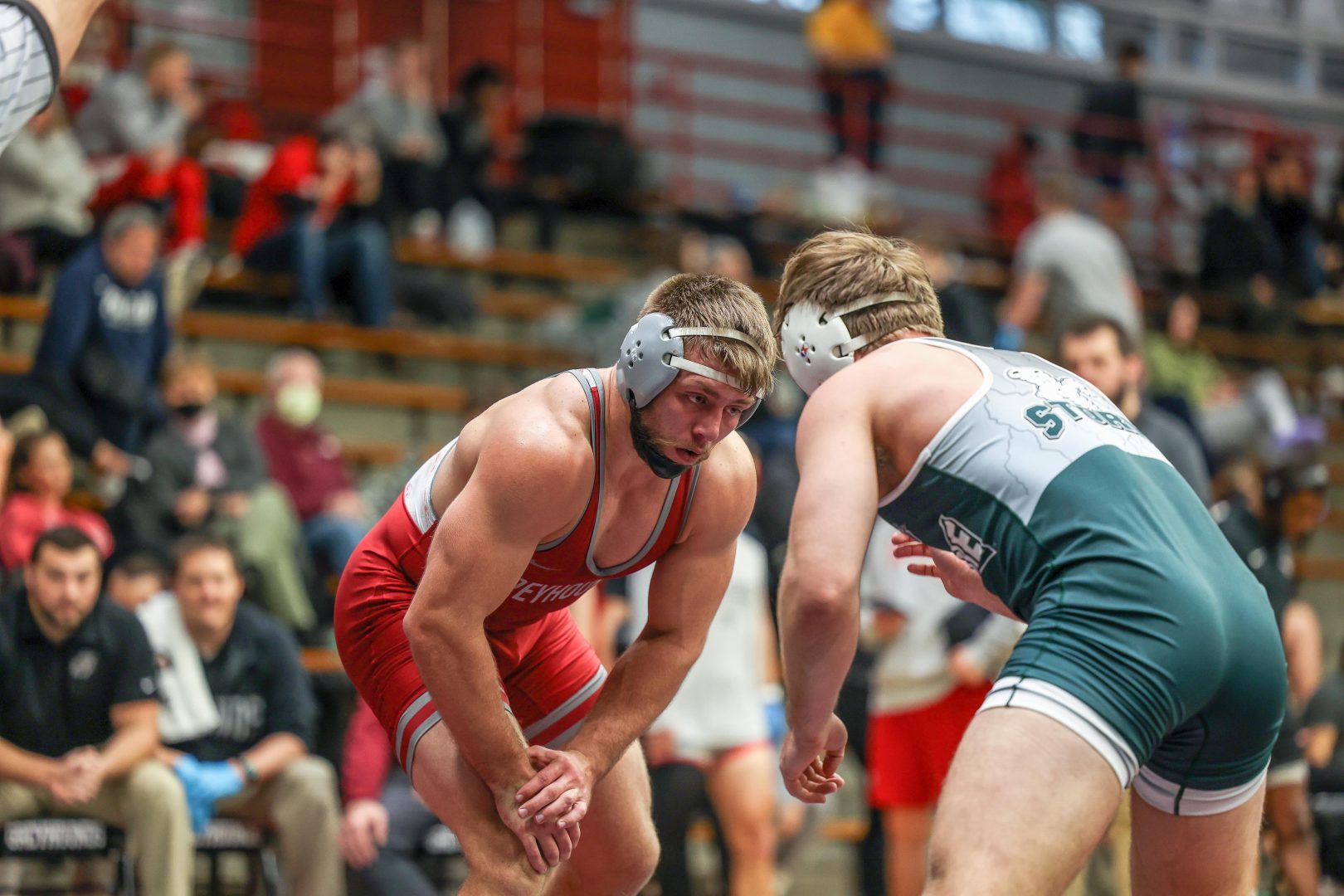 "It's been kind of a tough year," Warthan said. "Hopefully, we can get guys healthy and hit this last part of the home stretch hard."
Coming into this year, Warthan—himself a former Academic All-American—had shepherded 105 Scholar All-American honorees, as well as three NWCA Academic Championship teams, according to UIndy Athletics. Banners for those National Championships hang along the north wall of the Velez/Wetherald Wrestling room.
Engineering major Derek Blubaugh is one such Scholar All-American. Last month, UIndy Athletics reported that Derek Blubaugh won a rematch of the 2022 final by overcoming the Central Oklahoma wrestler at National Duals. That ability to balance performing on the mat as well as in the classroom has not gone unnoticed by the coaching staff, according to Warthan.
"I think if one would come in and watch our practice, I think you would be drawn to him [Derek Blubaugh]," said Warthan. "… He's a workhorse, but he's also very humble."
Warthan, an alum and three sport athlete that graduated in 2001, remarked on Derek Blubaugh's tenacity.
"He does the right things outside the wrestling room and outside the classroom walls too—rise early and eat and drink and sleep; all the right things," Warthan said.
In the 2020-2021 season, Derek Blubaugh was voted a Kelso Reid Mental Attitude nominee, according to UIndy Athletics.
"I was extremely grateful to receive that [Kelso Reid Mental Attitude] award," said Derek Blubaugh. "That, honestly, meant just as much to me as any awards that I would win from wrestling."
Derek Blubaugh's grandfather, Doug Blubaugh, was the 1960 Olympic Gold medalist in Rome, according to the Olympics' website. Doug Blubaugh and his brother Jack Blubaugh, both won Gold at the PanAmerican games in wrestling. Derek Blubaugh said the effects of that lineage mean everything.
"Especially as I've grown, I meet people again and again that want to come up to me and share stories…," Derek Blubaugh said. "It's definitely [been] heartwarming stuff to hear."
As he takes inspiration from that history, Derek Blubaugh said that he is continually motivated by his teammates.
"I am extremely grateful for everyone on the team. I count them as brothers. Guys like Phoenix Rodgers, like Cale Gray, that I wrestle a lot in the room, obviously, have a great impact on successes that I have, and I hope that I have the same effect on them," Blubaugh said. "We definitely try to just build off of each other, not only in the room but also outside the room—going back to that friendship, camaraderie aspect of it. We're definitely a tight knit group."