Performing in costumes, playing festive Halloween songs, all to celebrate All Hallows' Day and All Saints Day. On Oct. 31, the University of Indianapolis Symphonic Wind Ensemble performed a concert that they've come to call HalloSWEen. According to Director of Instrumental Activities and Symphonic Wind Ensemble Conductor Jon Noworyta, the title is a play on words for the alternating subjects of Halloween, while also incorporating the people who are performing in the concert.
"All Hallows' Day is All Saints Day. And the day before All Saints Day is All Souls Day, so that's All Hallows' Eve, Halloween, and so on. So, if you take 'Hallow' and 'Ween', and you put that 'S' back in there, you get 'SWE', which stands for Symphonic Wind Ensemble," Noworyta said.
According to Noworyta, with only six rehearsals, adding up to about a month, the group has exceeded his expectations. Noworyta said he is especially proud of the four senior saxophone soloists for everything they've accomplished in their time at UIndy.
"I literally thought to myself, 'These four saxophone players are all seniors, they're all going to be going out to student teach, except for one of them next semester, so this is one of their last concerts, let's show how much they've grown,'" Noworyta said. "But it's really just an opportunity to showcase how proud I am of these four students and what they've done."
One of the soloists, senior music education major Allie Rico, who plays the alto saxophone, said she was extremely honored and excited to be featured in her last UIndy concert.
"It feels really, really nice. I'm very nervous, though, because it's very high up in the level of musicianship," Rico said. "It's my last semester, so it feels nice to be recognized and it just feels really special."
Noworyta said that regarding the selection of music, he wanted to perform pieces that tie together to create a common theme, while also highlighting his students' strengths and weaknesses. For HalloSWEen, Noworyta chose pieces that signified both sides of Halloween — the ancient mortality side and the traditional spooky/fun side.
"The first two pieces in the concert are a little more serious [and] more somber … The saxophone concerto is really, really cool, but the emotional center of the piece is the second movement. And that is where the composer wrote a piece for a friend of his who died," Noworyta said. "Then, we're going to take an intermission. Everybody's going to change into costume and we're coming back out and playing more fun music."
According to Rico, while the repertoire that she had to play was fairly difficult and she didn't have much time to practice during class, or even after class, Rico said she still had an enjoyable experience preparing for her last concert.
"The composer [David Biedenbinder], actually, recently, just came to the university and listened to the piece. He came this week to work with the quartet and was overall delightfully pleased with what we had done with the piece …" Rico said. "We got through [the piece] really quickly and [he] was really happy by the end."
Even though his students didn't have much time to practice for this particular concert, Noworyta said he was exceedingly thankful that his students were able to play his selections without too many major hiccups their first time through.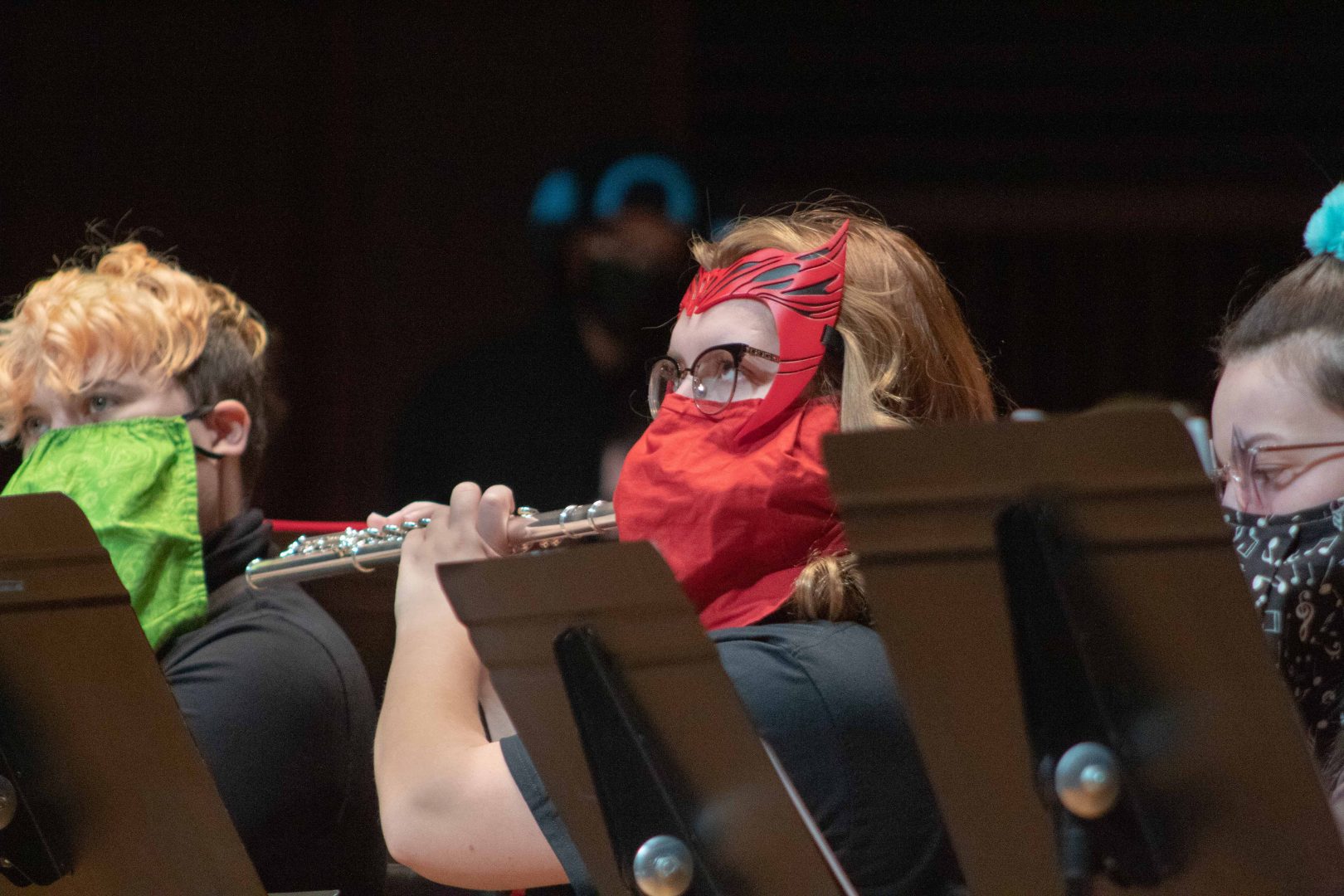 "I said to them when we were preparing the first cycle, 'We're gonna take one day off from this and we're going to read a piece from the second cycle, and let's just go at it and we're going to read it,'" Noworyta said. "And I thought it was going to be the piece that was going to challenge them the most, and they just read it. And, I'm like, 'That's it,' and then I just knew that this was going to be something special."
Although the ensemble had performed HalloSWEen to entertain people, Noworyta hoped that attendees would not only enjoy the concert, but also gain knowledge on the different emotions that Halloween evokes. He wanted to show that music is not only a form of entertainment, but also an educational tool.
"What I'm hoping for is just a lot of fun. I'm hoping that students will come all dressed up and have all this great energy. But then, the idea of exposing them to some literature that's not from Fantasia. [When] many people think of Halloween music, they go to music that was in Fantasia, you know, Mickey with the hat, and so on," Noworyta said. "But, to understand that music is a deeply cultural thing and that transcends time and space."