Associate Professor for the School of Nursing Briyana Morrell presented an escape room to teach cardiovascular content at the Sigma 46th Biennial Convention on Nov. 7 and 8. In an escape room, the participants use their knowledge and application of content in order to progress through different activities and puzzles, according to Morrell. She said she was assisted in facilitating the escape room by senior nursing students.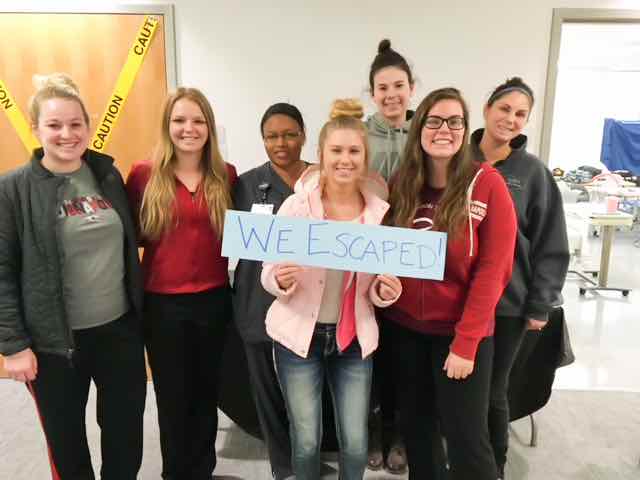 Morrell said she has been using the escape room concept for teaching nursing students since 2017 when she developed the idea with Heather Ball, a masters in nursing education student. Ball came up with the idea after trying to find an idea for a project and Morrell suggested that she could find a way for reviewing content that would be useful and exciting, according to Morrell.
"We did [the escape room] as a review of the content that year, and it went really well," Morrell said. "We then iterated and revised. She was no longer with me, as far as a masters student goes, so I did it for my junior nursing course for cardiovascular content. I've done that now for a handful of years and have published several articles on it and presented on it."
Morrell was asked to present an educational escape room for this year's convention by The International Nursing Honor Society, according to Morrell. She said that she adapted an escape room she had used for her students in the past to make it fit a global audience.
"It's an international organization. They anticipate not a lot will come worldwide because of COVID[-19] and things," Morrell said. "It is a virtual and a face to face conference. So I made changes to it in order to see if it could be useful and interesting …. The content is cardiovascular, and if some people are not cardiac experts or something like that, they might still be able to work in a team to get through the room."
For the Sigma Biennial, the concept being used is that the groups of five participants need to find a key in order to care for a patient that has been locked in his room within 45 minutes, according to Morrell. They are told that the patient is showing signs of shock, which can lead to serious complications and death, she said.
Senior nursing major Shay Fox has done several escape rooms in classes with Morrell as review for exams. He said that the escape rooms are a fun experience that are beneficial tools for preparing students.
"I've only done a real escape room once, but this is kind of challenging in itself because, well, for starters, Dr. Morrell is wickedly smart," Fox said. "So there's some things that are in there that you obviously struggle with. They're fun, they're challenging. Honestly, you really have to know your stuff to get through them, which is obviously the whole point. So I think it definitely fits its purpose."
Fox helped Morrell prepare for the presentation by running through the escape room with other senior students to give feedback, according to Fox. He assisted Morrell during the presentation by being available to help participants and answer their questions. He said that he is thankful to have the opportunity to help with the presentation because it has allowed him to prepare for his National Council Licensure Examination (NCLEX). 
According to Morrell, there are a lot of benefits that come with doing an educational escape room beyond learning the content. The time restraint and group work is where a lot of the learning comes from, she said. 
"I found with escape rooms … the learning is not always the content," Morrell said. "Though there is, that happens too, there's also a lot of soft skill development …. Things like giving critique to somebody else and saying, 'Hey, I really don't think that's the right answer, and this is what I think.' Teaching other people, 'Hey, this is how I got that.' Listening, collaborating, working together, asking for help, whether from the facilitator or from the team. That time pressure, sometimes when we study, we don't have a time pressure. That sense of, 'I really need to get this done in this period of time,' and how people respond to that kind of stressor."