House Bill 1041: Participation in School Sports was vetoed by Indiana Gov. Eric Holcomb on March 21. It had originally been passed in the Indiana State Senate on March 1 by a vote of 32-18. Indiana House Republicans plan to override Holcomb's veto on May 24 when lawmakers meet for technical corrections day, according to a WTHR article about the override.
The bill, which would prohibit transgender girls from playing on girls' sports teams, was authored by Republican Rep. Michelle Davis and co-authored by Republican Reps. Chris Jeter, Joanna King and Robert Heaton. HB 1041 says that any student considered male, based on biological sex at birth and reproductive biology, may not play on athletic teams or in sports designated for females, women or girls.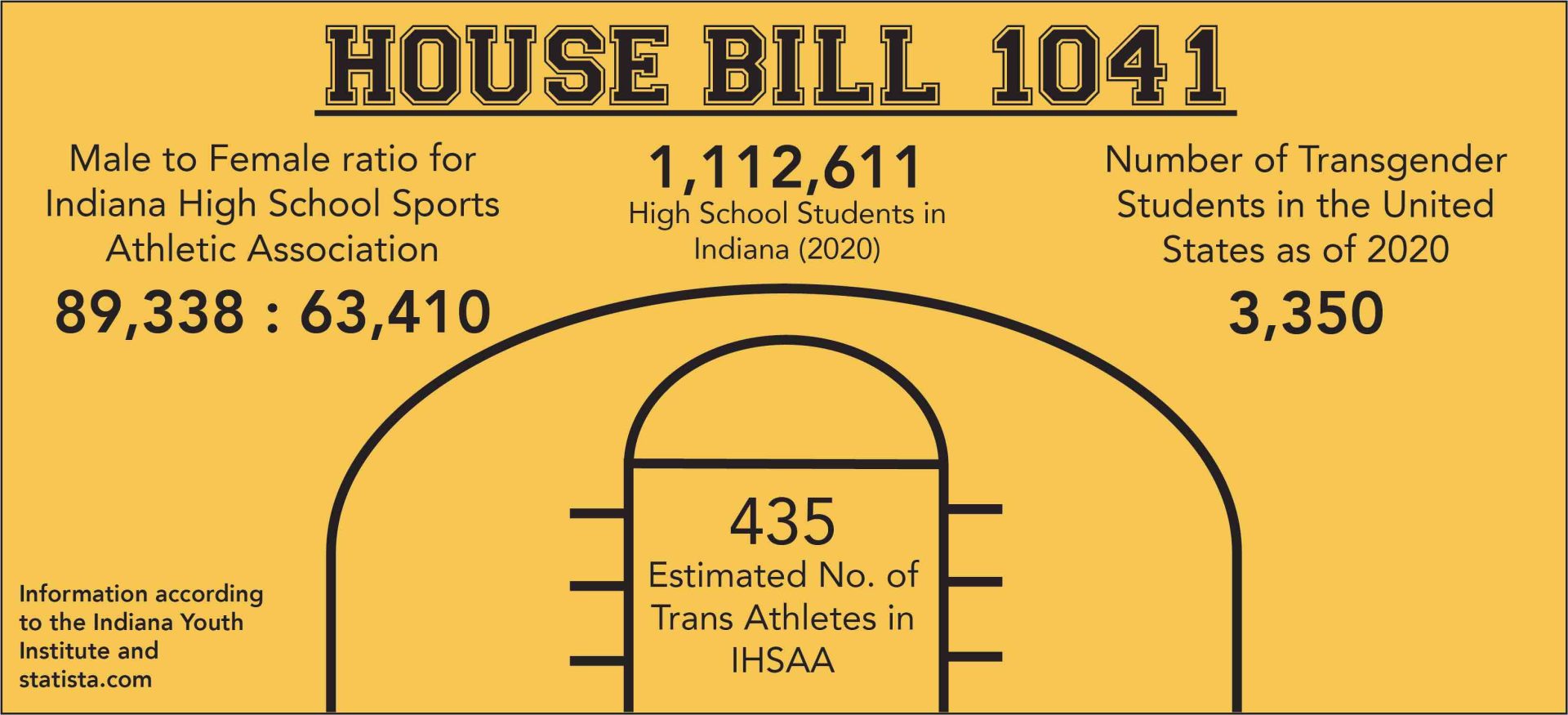 "I appreciate the numerous discussions that went into crafting this bill and moving it through the legislative process, and I look forward to seeing it become law," Davis said in an email statement prior to Holcomb's veto. "As a former college athlete, I believe girls deserve to compete and win on a level playing field. This legislation is focused on protecting fair competition and athletic opportunities in girls' sports in Indiana."
Similar bills have moved forward in other states, such as House Bill 11: Student Eligibility in Interscholastic Activities in Utah, where the bill's veto from Gov. Spencer Cox was overridden, and Senate Bill 83: AN ACT relating to athletics in Kentucky. According to Elizabeth Ziff, assistant professor in the Department of Sociology and interim co-director of the Gender Center at the University of Indianapolis, bills such as HB 1041 would put discrimination against transgender students on the books. She said the concept of fairness is used to shut down further discussion about this issue, despite the bill being unfair to the transgender community. 
"If we're genuinely worried about protecting kids, or making things fair, then let's get equitable access to training facilities," Ziff said. "Or let's get equitable access to get coaches or mentorship. Let's give everybody a way to participate if they want."
The American Civil Liberties Union (ACLU) of Indiana website says that the organization opposes HB 1041, and that such bans have been found to violate the Civil Rights Act and Equal Protections Clause of the U.S. Constitution. Medical organizations have decried such blanket bans on transgender youth participating in sports as unnecessary and unscientific, according to the ACLU of Indiana website, which also said that Indiana's athletics policy for schools is already determined by the Indiana High School Athletic Association (IHSAA). 
According to the IHSAA Gender Policy, transgender students are not allowed to play on teams that do not match the student's birth gender unless there is medical evidence that the student's gender has changed. Ziff said people who are against moving the needle on gender categories have issues with these standards because it still allows transgender people to play on the teams they want to play on.
IHSAA-Gender-Policy-03.31.2021-1

Ziff said the bill predicates the notion of fairness based on the assumption that someone who is genetically male is more athletically gifted than someone who is genetically female. She said that although maybe some biologically driven male categorized advantage exists, it is just one part of the equation.
"First and foremost, we see as much variation within categories [of gender] as we do between categories. So it's a big assumption to make that anybody who is born with a certain set of chromosomes, or a certain set of hormones, is just inherently already going to be better than somebody else," Ziff said. "It might be in an individual case, perhaps, but definitely not across the board. And second, this notion that it's only one's physical abilities or capabilities that factor into what makes a good athlete, that is also not the case. It's going to depend on a lot of different variables."
Ziff said that for young people to participate in sports that align with their gender identity is important. She said that for them to have an activity that also provides social and emotional components from being on a team is beneficial.
"It's a really crucial—or a really all-encompassing—socialization tool," Ziff said. "So it does mean a lot to tell somebody while they're in their developing years ​​and are already navigating a difficult time for all students, but to then restrict them [transgender youth] and bar access to something that we know leads to emotional, social, psychological and physical fulfillment. That's why it really does matter."
Ziff said she would like for people to investigate why bills such as HB 1041 are being created and ask what that really means. She said that considering what a bill is actually protecting is important, because anything justified with discrimination should not have a place in our society.
"I think it's important to also remember that while society has become a lot more accepting of LGBTQ populations, it's still not easy," Ziff said, "and especially going through your developmental years, being a kid becoming a teen, trying to find yourself. We are still just seeing such astronomical rates of self-harm or suicide or significant mental health issues because of the stigma. And you really do need to work towards legislation that's actually going to help people feel [they are] part of the community and seen, and recognize them how they want to be recognized."