The University of Indianapolis Department of Theatre put on a production of the dark comedy "Drowning Ophelia" on April 20-24 via Zoom. The play tells the story of Jane, a woman who has created a separate personality that represents her trauma from being sexually assaulted by a family member, junior theatre major and actor Audrey Panyard said.
"You get to see really what the effects of trauma have on somebody through the show… but the play is also a comedy," Panyard said. "So it's not a super deep thing throughout the whole [show]. It's kind of at the end where it really hits you of what's going on. It's fun and it's lively and it also has that really deep, impactful message at the end."
The play tells a story that has an important message about mental health, according to director and associate adjunct faculty member Grant Williams. He said that promoting mental health among students is important to him.
"I think any play at any time that pushes positive mental health and working for the betterment of yourself and looking at your past and how you can move forward in life is a great moment," Williams said.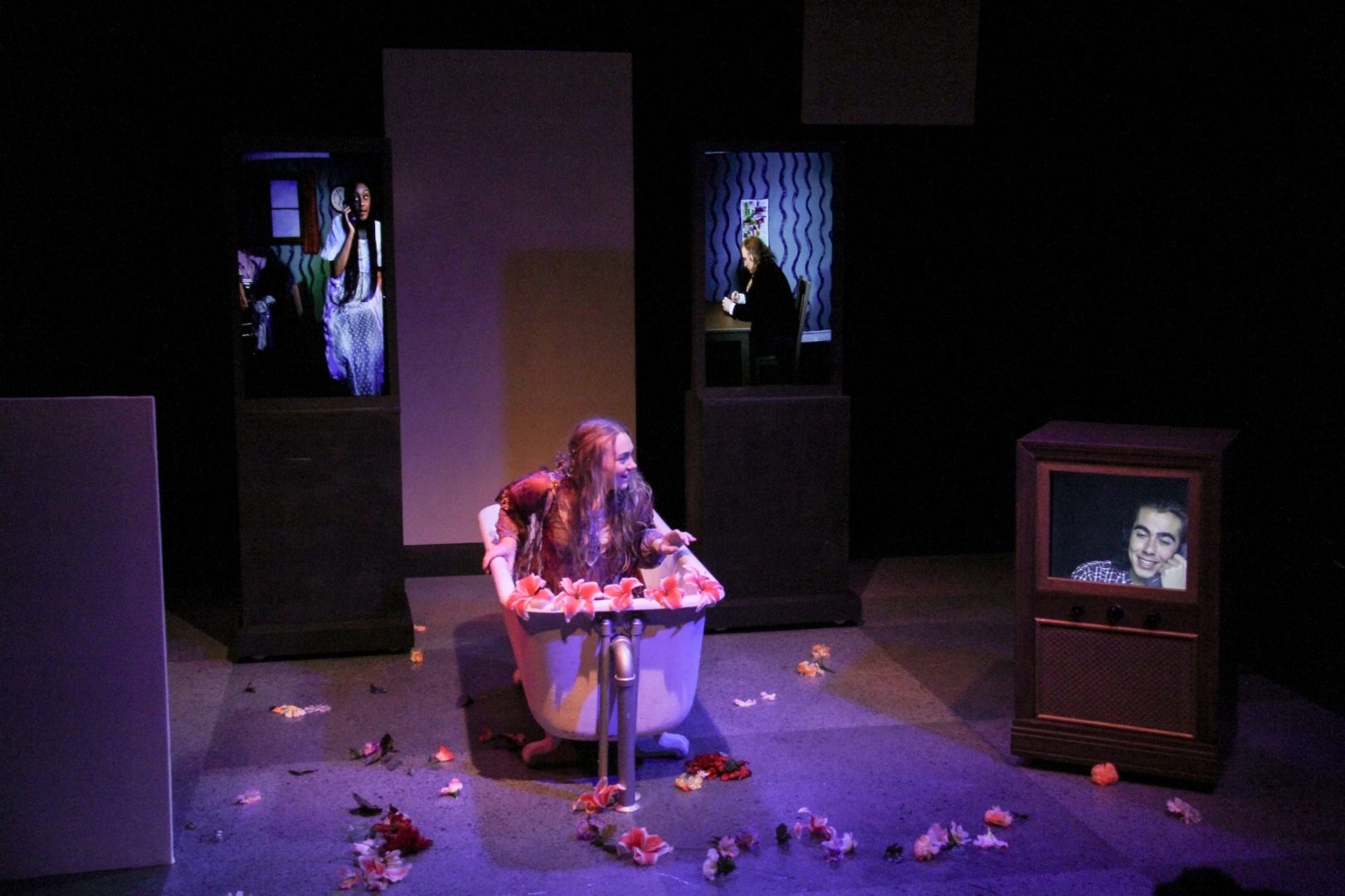 Panyard played the role of Ophelia, the personality created by Jane that represents her trauma. Panyard said that this character is different from ones she has played before, as Ophelia is not her own character, but is something created by someone else. Playing Ophelia also required Panyard to sit in a bathtub full of water on the stage, she said.
"I've never had to do a part where I'm acting completely soaked," Panyard said. "So it's a whole different experience and it's really, really fun."
Being in a bathtub throughout the show was challenging because the water gets cold and she had to be careful not to slip, according to Panyard. Another challenge is that she was physically alone during the performance, she said.
Panyard was the only actor on the stage in Esch Hall's Studio Theatre while the other actors were in adjacent rooms, according to Williams. He built the concept in order to keep the actors separated. The actors were isolated in this production because they wanted to be able to perform without masks on, according to Panyard. All actors are being filmed and projected onto screens that are on the stage, which is all being filmed by one camera, Panyard said.
"It's a really cool thing to see. It's theatre that I've never done before, but it's really interesting and there's a lot of challenges that come with it, with not having that person acting right next to you and having their energy to feed off of," Panyard said. "You're really having to do a lot more as the actor to kind of make up what you'd be given if they were there."
It was challenging to get all the technical elements into place, according to Williams. There were complications with Zoom rehearsals and incorporating distancing, camera feeds and microphones, he said. Williams said it was a fun but very big challenge. He was excited about using a lot of multimedia elements and redefining what constitutes live theatre.
"While we had to make sharp turns from what typical theatre is defined as, I think we're still honoring what live performance is while making it a little bit more interesting, which I think does a great service to this play," Williams said.
Panyard hopes that the audience gained a wonderful experience from watching the show. She also hopes that the audience saw how interesting theatre can be.
"Theatre isn't just one way," Panyard said. "It can just be done in so many ways and there's so many creative elements to theatre. And I hope they also see the full message of what happens to someone who experiences a traumatic event and doesn't deal with it."