I was recently asked to provide one word to describe my study abroad experience in Florianópolis, Brazil. Without hesitation, I said, "life-changing." And I meant it. Spending a semester studying abroad directly changed the trajectory of my life. It doesn't always happen like that, but I've never met someone who studied abroad who said that their life hasn't been impacted. Maybe that means just opening your eyes to different cultures and ways of life, or it could mean what happened in my case — I found my home.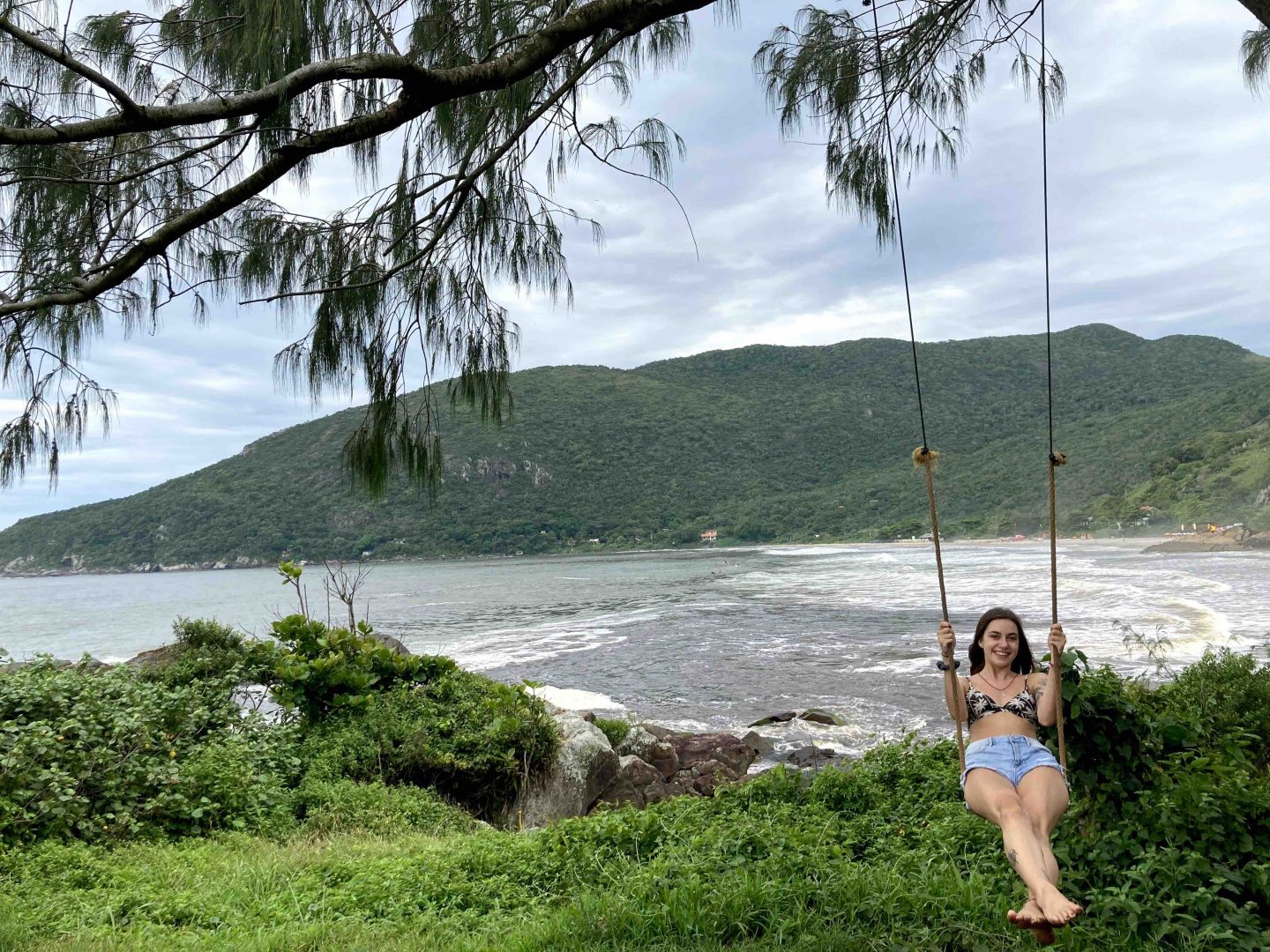 I've known I've wanted to study abroad for as long as I can remember. After living in the same house for my entire life, I was desperate to see the world. I didn't even know where I wanted to go, I just knew I needed to go. I ended up choosing Brazil because my mom's two brothers were adopted from Recife, Brazil, and even though they were adopted when they were babies, I still felt an extremely strong family tie. The Office of Study Abroad at the University of Indianapolis helped me find a program that was right for me, and on February 1, 2020, I started my first day of Brazilian college at the Universidade do Sul de Santa Catarina with the help of International Studies Abroad!
My first days in the island city of Florianópolis in southern Brazil were incredible. I remember so clearly the joy and excitement that I felt as I saw the mountains and ocean for the first time from the plane, and I was even able to see where downtown was (where I spent my first month with a host mom). I barely spoke Portuguese, but I started classes right away and I communicated with my host mom using a combination of Google Translate, hand motions and smiles. I was greeted every morning with a type of Brazilian cheese bread called "pão de queijo" and a glass of homemade strawberry juice, before walking to campus for a day of classes. All of my classes were in English — aside from my language course — and we had breaks throughout the day to leave campus for a coffee and pastry.
I quickly connected with my fellow study abroad students and we did our best to take advantage of the gorgeous tropical island we now lived on. After class we explored downtown, got comfortable using the bus system (most people use public transportation here) and challenged each other to who could visit the most beaches – there are 42 on the island alone! But Floripa, as the locals call it, is not just a beach paradise. There're also tons of mountains covered in thick jungle and a plethora of trails to hike.
One of the highlights of my time with my peers was when we decided to do one of the most famous hikes on the island. A two-hour hike around the side of a mountain, it was the only way to access a secret beach and freshwater lake separated by a small sandbar. Near the end of the hike, we saw poisonous sea urchins and even a seal!
Another time that will live in my memory forever is the week of Carnival, one of the biggest parties in the world. I feel so lucky to have been able to attend the last one before the COVID-19 pandemic hit worldwide. With incredible samba and funk music, crazy outfits and nonstop celebrating, it was definitely a special experience. Unfortunately, the end of Carnival signaled the end of the world we knew. Two weeks after the festivities died down, the world shut down. In mid-March, all study abroad students were evacuated from Florianópolis — three months before we all thought we were going home.
I continued classes at my Brazilian university online from the United States, but it wasn't the same. I had made some connections while I had been abroad, and as soon as the Brazilian borders re-opened in August 2020, I decided that I was going to go back on my own. With a negative COVID-19 test and online classes at UIndy, I got on a plane back to Brazil! The first few months were hard. I felt alone and my Portuguese wasn't great, but once I settled into an apartment, I started going to skateparks and making friends with other skateboarders. I also reconnected with some other Americans there!
After an unexpected trip to Santiago, Chile, where I really didn't do much because of quarantine regulations, I spent my first Christmas and New Year's on the beach with my friends back in Floripa. It felt right and I was happy, not to mention that my Portuguese had improved significantly.
My visa ran out on March 1 and I had to come back to the U.S. While it was nice to see my family and friends back in Indiana, I felt and still feel like something is missing. In Portuguese, there are some words that we don't have in English, and one of those words is "saudade" (pronounced s-ow-dah-jee). It basically means the actual feeling and longing that you have when you miss someone or something, but it's stronger than just missing. Feeling "saudade" for Brazil and my life there just confirmed what I already knew: through study abroad, I discovered my place.
My study abroad experience is unique, but even if I didn't have to deal with a pandemic while abroad, I still would've discovered a place where I really felt like I belonged. I don't know if Florianópolis will be my home for forever, but I'm planning on going back this summer and staying for at least a year.
Moving to another country alone may not be for everyone, but I really do think everyone can benefit from global travel. Interacting with other cultures opens your mind in ways you can't get if you just stay where you are. Many people are worried about the price of studying abroad, but the rewards you can reap from a global experience are priceless. And who knows, maybe you'll find where you belong.
Do you want to study abroad or just have questions? Contact the Office of Study Abroad in Esch 233 or email me at taggartcm@uindy.edu! Don't wait, you have the whole world to explore!
Claire Taggert (she/her/hers) is a junior marketing major. Taggert is also a UIndy Marketing and Communications student employee and a Greyhound Ambassador.