University of Indianapolis football is one of the biggest sports at UIndy and in the past years they have also been successful winning four GLVC championships in the last six seasons. Their current campaign has been pushed to the spring and it is expected that the Hounds, led by second-year Head Coach Chris Keevers, will still be successful again.
Last season, the team saw a very successful regular season with a 9-to-1 record leading them to their second straight GLVC championship before being eliminated from the NCAA Playoffs in the first round by No.15 ranked University of Central Missouri Mules. According to Keevers, despite a successful season they still have to overcome some issues.
"We got in the top 10 at one point we made the playoffs," Keevers said. "But some of the disappointing things… We went on the road after winning six blowout games and then really struggled in a tight game. We've gotta find ways to get our guys to remain competitive after blowing out a bunch of teams."

Offense
The team's offense was led by senior quarterback TJ Edwards, who was sixth in the conference in passing yards per game. Edwards transferred from conference opponent Southwest Baptist University.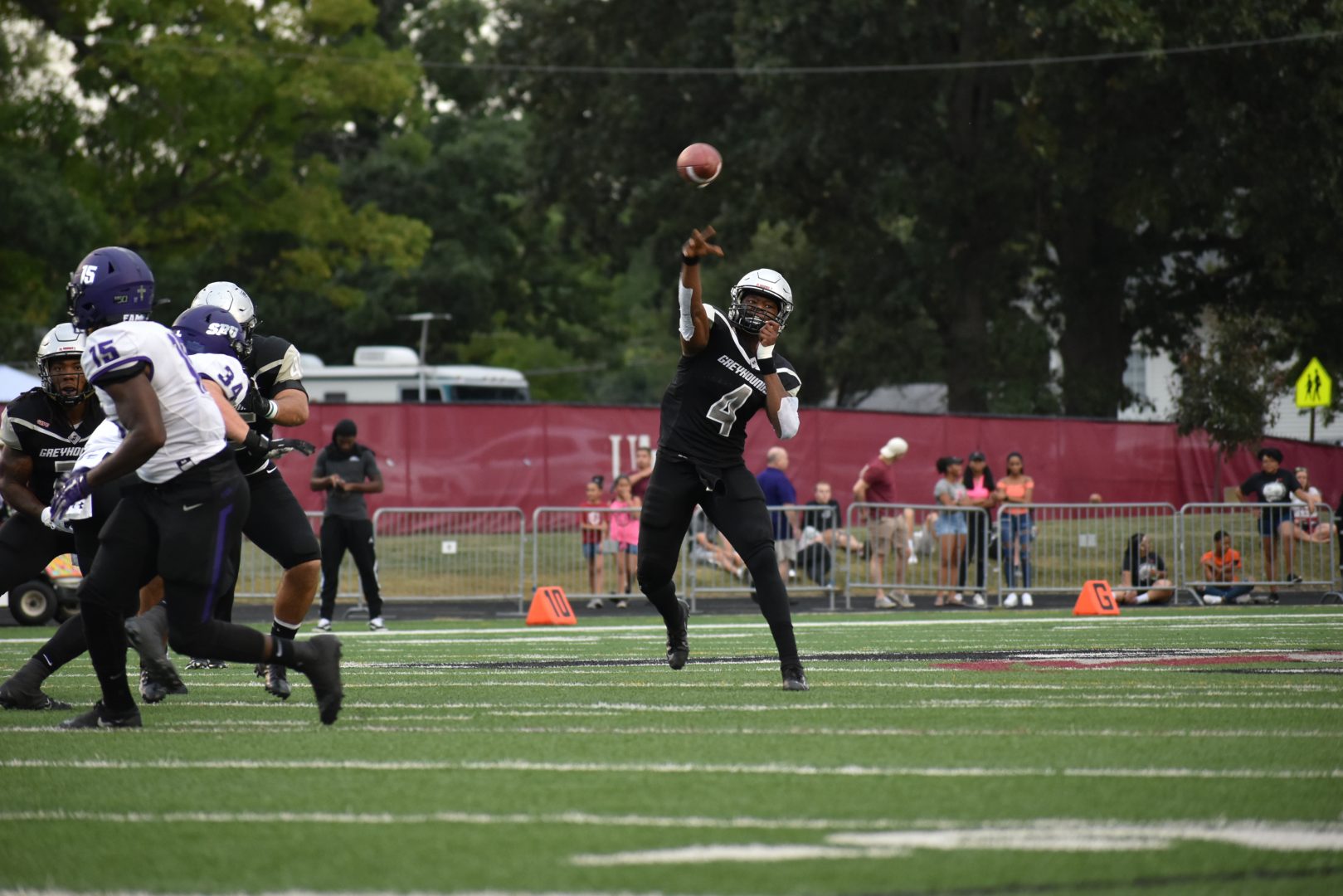 Junior running back Al McKeller led the rushing front for the Hounds and finished first in the conference in rushing yards per game with 102.18 and finished the season with 1,124 yards total and 17 touchdowns moving him into the first place spot in the UIndy record book for career TD's. He unseated former UIndy running back Klay Fletcher. If McKeller has another good season he is set to beat out Fletcher for the total rushing yards record.
The receiving unit was led by sophomore receiver Daveon Bell and senior receiver Maurice Robinson. The pair tied with 38 receptions in the season each and combined for over 1,100 yards of offense. Bell averaged 16.58 yards per game last season with Robinson averaging 14.66, but the overall leader in yards per reception last season was senior tight end Ryan Topper who averaged 22.41 yards per reception on 19 total catches.
Keevers said that the offense unit is going to remain mostly unchanged heading into this season and that we should expect another good offense.
"I think you'll see a very good football team," Keevers said. "We've got seven offensive linemen that have started in different capacities, two or three off the first team, all conference guys, one is an All-American returning. Our offensive line is really good. We've got two of the best [running] backs in the country with Al McKeller and Toriano Clinton, so we're going to be able to run it."
Defense
With the team's defense, the Hounds were able to hold opposing offenses to an average of 17.73 points per game. One of the leaders on the defensive end was redshirt junior defensive back Conner Steeb who led the team in tackles with 65 total with 38 of them being solo tackles.
The Hounds also grabbed 13 interceptions in the season with four of them being snagged by sophomore defensive back William Miles. The team was also able to get behind the line and sack opposing quarterbacks 28 times resulting in 177 yards lost by the opposing teams. Leading in the sack column was redshirt senior defensive lineman Jacob Schmatz who had 4.5 sacks on the season. According to Keevers, the defense lost some seniors last season, but have been heavily recruiting in the secondary.
The football team will begin their season in spring 2021 alongside Volleyball, Men's Soccer and Women's Soccer.
All information according to UIndy Athletics and GLVC.com.