When I first visited SPARK: on the Circle at Monument Circle in downtown Indianapolis, the first thing I noticed was the lively buzz of conversation and movement in the park. People were sitting down chatting with friends, walking their dogs, sipping coffee, playing games with friends and more. As a native Hoosier and an Indianapolis college student, I genuinely have never seen such pure joy downtown. However, the public attraction is currently expected to end in early November per schedule, according to Downtown Indy's website. Critics such as Indianapolis mayoral candidate Jefferson Shreve believe the park does a disservice to downtown by negatively affecting traffic and local businesses, according to WFYI Indianapolis. However, as a citizen of Indianapolis and a passionate art history student, I believe SPARK: on the Circle brings positive change to the city of Indianapolis through fostering community and creativity.
I was brainstorming local examples of social practice art in my "Socially Engaged Art" class at the University of Indianapolis when a few puzzle pieces connected in my brain: SPARK: on the Circle is a work of art. Art institution Tate defines social practice art as including, "… any artform which involves people and communities in debate, collaboration or social interaction," and SPARK is an exact fit to that definition. Created in a joint effort by the City of Indianapolis, local art organization Big Car Collaborative and others, the park provides a free, publicly designated, local, equipped, accessible and modern area for patrons to enjoy. It hosts events nearly every day of the week that promote public participation in the arts such as free concerts, art classes, dance parties and more, according to SPARK's website. There are even some installations that allow visitors to participate in artistic and entertaining endeavors 24/7. Additionally, the park has acted as a public forum in "Ask The City" events where the Indianapolis Department of Metropolitan Development was at the Circle to answer questions the public may have about Indy. When art, community, conversations and politics collide, a better democracy ultimately rises.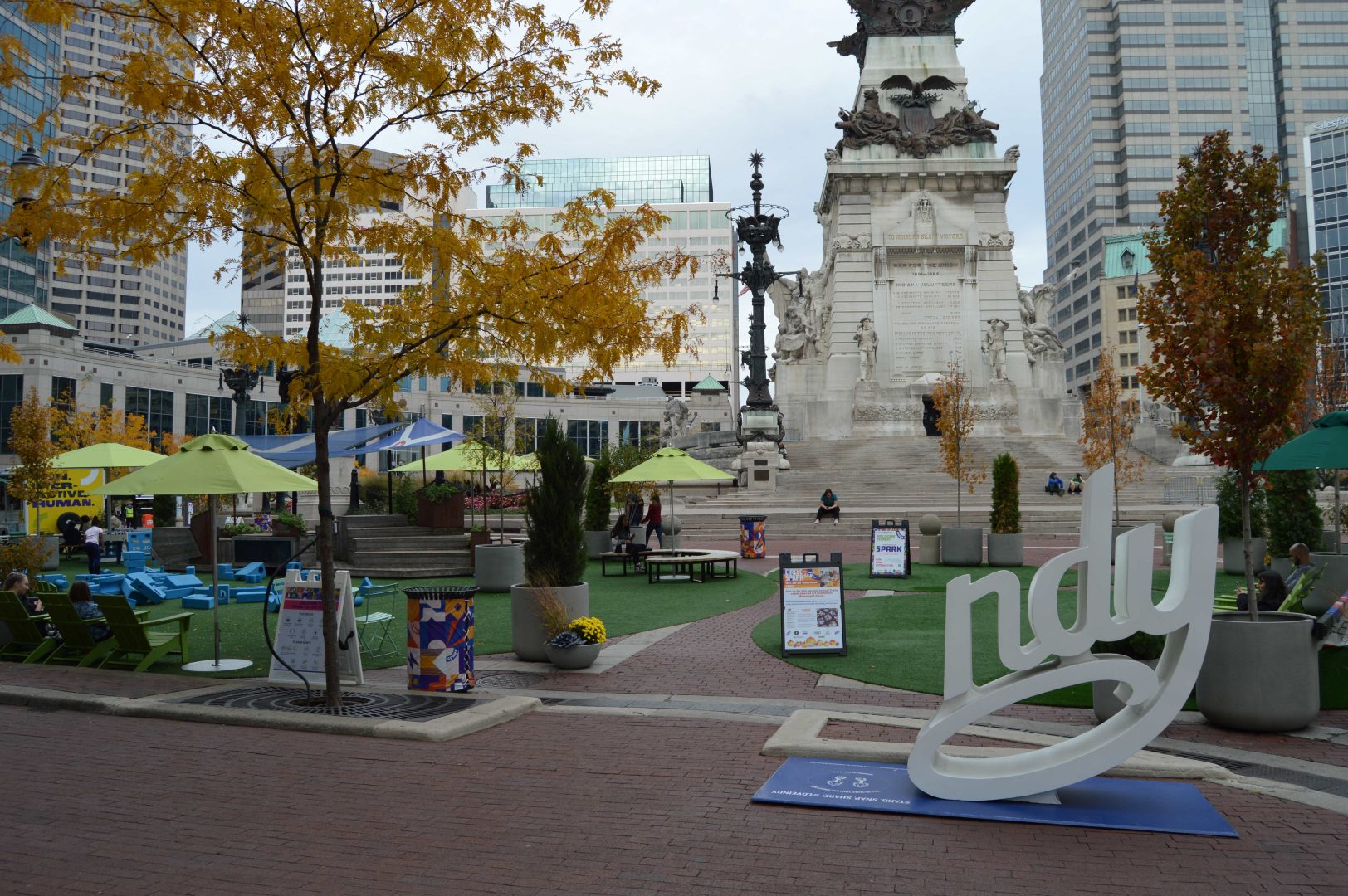 As previously mentioned, Shreve has claimed the partial closure of the street on the circle has damaged local businesses (according to meetings he has had with "downtown community leaders"). However, I see the closure of the street around Monument Circle as a huge benefit to downtown. Mr. Shreve, have you ever tried to walk across the street from the Soldiers & Sailors Monument to the sidewalk on the other side? In my experience, it is quite dangerous trying to dodge oncoming traffic that is not quite sure how many lanes are present. The same goes for drivers attempting to avoid pedestrians darting back to Meridian Street. Additionally, SPARK provides a venue for local businesses and artists to gather more exposure through advertising and foot traffic. Yes, Monument Circle is the "heart" of Indianapolis, but what is a heart without the blood that sustains it, much like citizens sustain a city? If businesses along the circle street truly are suffering, then they should express their concerns outwardly to the public, media and the government—not just privately to political candidates. The point of a socially engaged art project is to support the local community, including businesses, anyway.
As a Hoosier, it is tough to hear those not from your home state talk about how boring Indianapolis is as a big city. It is almost worthless to mention racing, conventions and football to those who have already decided that Indy is stuck in its ways. However, SPARK poses an opportunity for the city to reinvent its greater public image by embracing community and the arts. If accepted and expanded, Monument Circle's park can be a greater hub of entertainment and neighborhood. To the City of Indianapolis, the local businesses, politicians, community members and sponsors of the park: I urge you to keep supporting SPARK: on the Circle due to the immense amount of societal benefit it brings to our city. Our future success as a community depends on it.