Throwing the last pitch of the game forcing a pop-up out, UIndy graduate student baseball player Brady Ware etched his name into NCAA history as the first person to ever throw a no-hitter and hit for the cycle in the same game, according to UIndy Athletics. Ware threw for seven innings, tallying 11 strikeouts to complete the no-hitter, and he hit a single, double, triple and a home run to round out the cycle. Ware said the moment did not really hit him at first, but the rush of his teammates storming the mound was a great feeling.
"I didn't really realize at the time that it was such a big deal," Ware said. "But I think that the feeling of getting rushed by your team on the field [is] one of the best feelings you can have on the baseball field."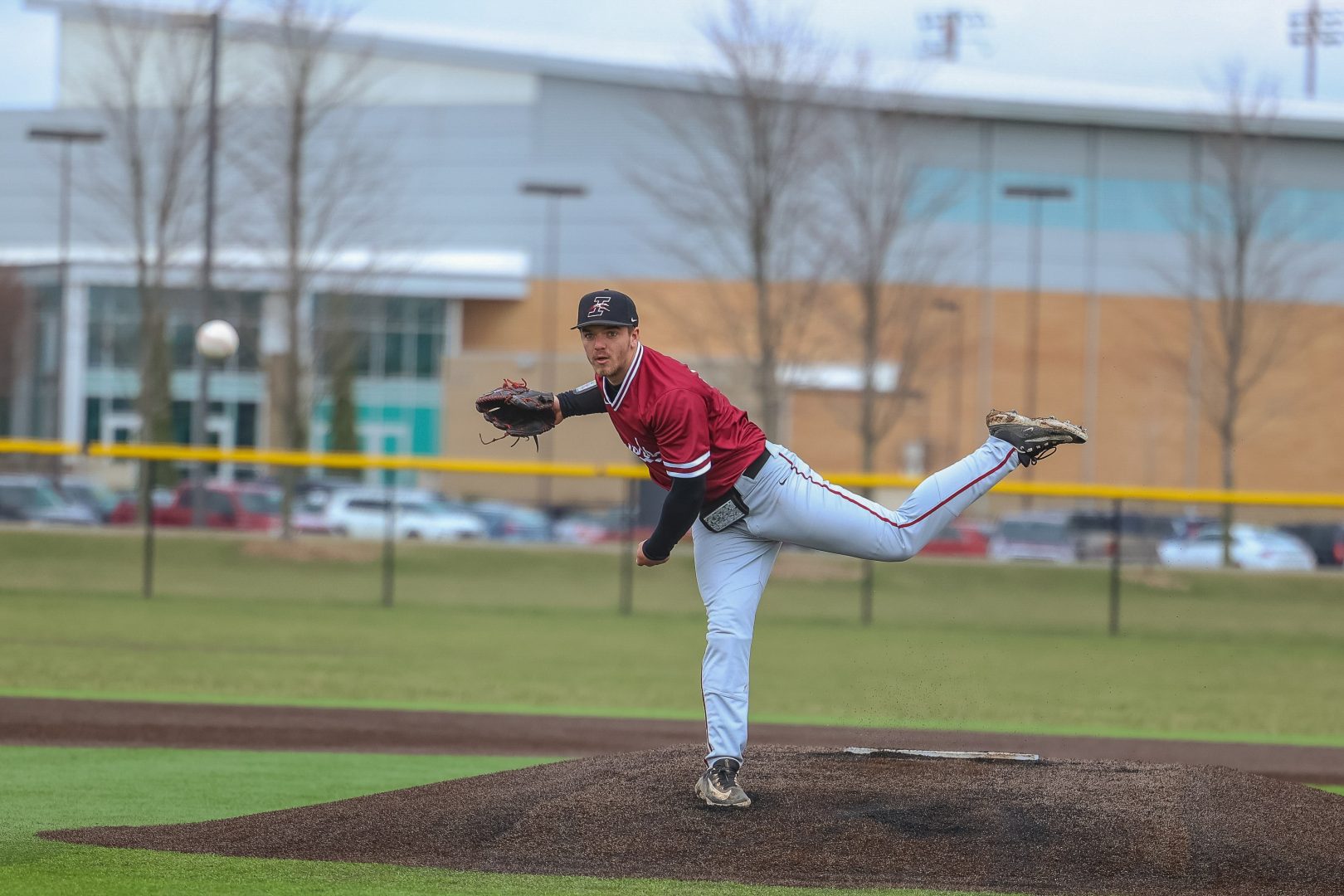 The Greyhounds ended up winning the game 14-0 against Drury University, according to Undy Athletics. Baseball Head Coach, Al Ready, said he shook hands with the opposing head coach, who acknowledged Ware's performance.
"When the game ended, we shook hands, and he looked at me and he said, 'I don't think that's ever happened before,'" Ready said. "'You should have that fact-checked…' And that's when it really hit me. 'Wow, I think you're right. I don't think that's ever happened.' Come to find out it's, it's the first time, anytime [that's happened], something like that; people go nuts for it, and it couldn't happen to a better guy, either. He's just a fantastic kid."
Junior catcher Will Spear, supported the no-hitter from behind the plate. According to Spear, Ware was in control of the whole game.
"It was amazing," Spear said. "There's not a lot of words that I can really put forth to describe how it was other than like it was just amazing. It was my first no-hitter that I ever caught [for.] And I knew that it was happening throughout the game once we got to the fifth and the sixth inning, and there were still no hits. I was like, 'Wow, this could actually be happening.' So, it was very surreal. It was a really cool thing to be a part of."
According to Ready, Ware was coming off injury, so to put together the performance he did was something special. Once the news was released of the accomplishment, Ware's game spread across social media, appearing on The Athletic, FanDuel, CBS Sports MLB, ESPN and more.
"[The attention has] definitely been different," Ware said. "I came out here this year from California and have kind of been on my own, at least, [before I] got to meet a bunch of new people. And so getting that attention, it's been kind of a whirlwind."
Ware also appeared on The Pat McAfee Show and later threw out the first pitch for an Indianapolis Indians game. Ready said the attention has been positive for the program.
"[The accomplishment has] brought a lot of notoriety to our program," Ready said. "Just having, basically, every major sports media outlet picking up the story, it continues to gain traction. I think the MLB Pipeline tweet had over a million views. That is just unbelievable publicity for the University of Indianapolis, for our baseball program here at UIndy, [and] for [Ware] and his family. It has just been great."
Ready said Ware is a humble player but is also an aggressive hitter. According to Ware, he wasn't a pitcher until later in his career, and he credits some of his success to his previous school.
"I would say my coaches in my last school were probably the biggest help in my baseball career," Ware said. "…I wasn't even a pitcher [in high school], and they saw talent in me that I didn't even see in myself. They developed me over the last four years I was with them. And then now [I have been] able to come out here and kind of show off my talents at a different place."
Ware said he got into baseball at a young age because his dad was a baseball fan; they would throw wiffle balls in the backyard as soon as he was able to. Ware and Spear said the opportunity to throw the no-hitter was a special moment for the two of them.
"Getting to throw the no-hitter to our catcher, Will Spear, is probably the coolest thing," Ware said. "The reason being is my dad and his [Spear's] mom both passed away of the same cancer. And they're both the same people; they both loved watching us play…. They just loved watching baseball, [they] loved watching their kids play…. [Spear's] mom passed away pretty recently, and my dad has been [passed] a couple of years, but doing that with him, it seems like [we've] been on a similar path of what's been going on in our life and get to do that with him; it's been pretty cool."
Spear said that he told Ware after the game that their parents were watching.
"I told him after the game that day, 'Hey, our parents were watching that game with each other,'" Spear said. "And that was just a really special moment for both of us and just for both of us to be out there together and just being able to experience that."
Ware said that he isn't sure what kind of effect this game will have on the team for the rest of the season. According to Spear, this shows the special moments that can happen at the ballpark.
"I definitely think that everybody comes to the ballpark with a different set of mind after [a game like] that happens," Spear said. "We all kind of enjoyed being here more [once] we realized that this game can be so special [and] things like that can be a part of this game."