Graduate student and former University of Indianapolis golfer Pilar Echeverria has taken her career a step further as she begins her journey as a professional golfer. Echeverria started playing with the Epson Tour on March 4 at Florida's Natural Charity Classic and said the thought of going professional has been both exciting and scary.
Echeverria said it took her about two years to decide that she wanted to go pro. Something that helped her feel confident in her decision, she said, was the support she received from those around her.
"Once I made up my mind that that's the thing I was doing, it's been super exciting, and everyone here has been very supportive, so it just makes me more excited," Echeverria said. "If I think people that are close to me were kind of doubting it, I'd be like, 'Maybe I didn't [make] the right decision.' But they've all been super supportive."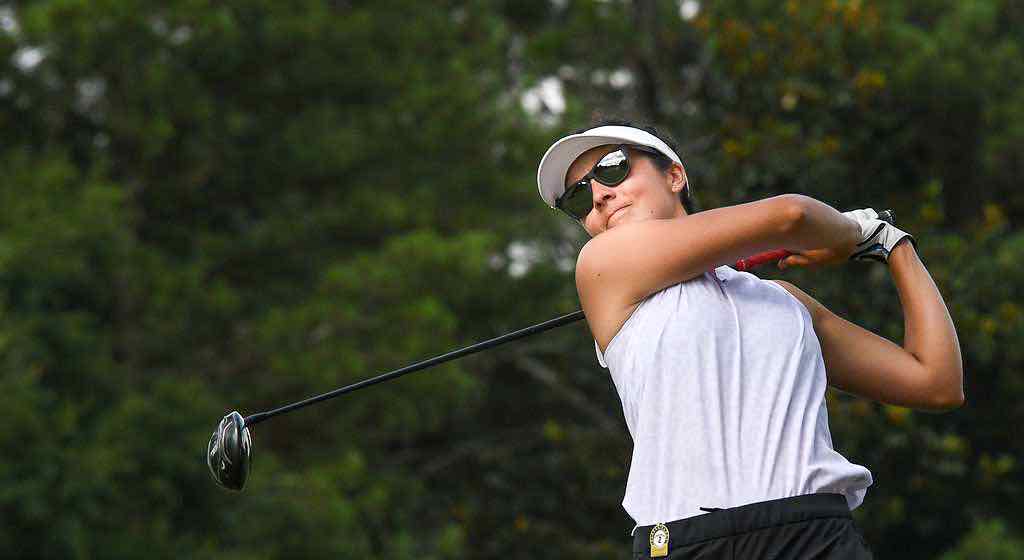 Her golf career really took off at UIndy because of all the support she received, Echeverria said. She said she started to really focus on golf when she was around 13 or 14 years old, but didn't start to show real growth until she came to UIndy.
"I wasn't that good before I came here and it's like, having a plant, [it] depends where you're planted, right? Like if you give it a lot of good soil and water and stuff, and I feel like that's how I was here," Echeverria said. "I was just a little plant and then they just fed me good stuff and water and love. I just grew better here, so I'm super thankful for everything here." 
Echeverria's accomplishments while at UIndy included leading the team at conference championships and at National championships, according to the Head Golf Coach Brent Nicoson. Echeverria was a two time National Player of the Year and was a five time First Team All-American, an achievement that will never be touched, Nicoson said.
But Nicoson said Echeverria's awards are only part of what makes her a great golfer. He said the way she always showed gratitude and never took things for granted was what really set her apart from other talented golfers.
"She's just such a humble and unselfish kid…. A girl that has all the accolades that she has, it was still all about her teammates first. Always," Nicoson said. "Any meeting we had, any talk we had in the office, it was how she could help the team. It wasn't ever about her." 
The hard work that Echeverria put in is unbeknownst to many, according to Nicoson. He said she succeeded at UIndy not only because she was so cared for, but also because of the practice that she put in. 
"What people don't see about Pilar [Echeverria] is that it wasn't easy. There were a lot of tears in the office," Nicoson said. "People see the outside, people see the accolades and all that; they don't see what goes on behind closed doors, and they don't see the extra effort that she put in."
The process for becoming a professional golfer involves qualifying schools and three different stages that determine where they make it, Echeverria said. She said the first stage is played in California, and only about 90 out of 390 make it to the second stage. The second stage, according to Echeverria, opens up to other professional golfers that might want to improve their status, and those who make it through the second stage move on to the third and final stage.
Echeverria's results from qualifying school are what led her to playing with the Epson Tour. She said going through the qualifying school was one of the hardest experiences she has had, but ultimately led to her learning how to better manage her emotions and communicate what she needed.
" … I've never faced a mental challenge the same as qualifying school; just how emotional, and basically everything's on the line–either you make it or you have to wait another year to try it again," Echeverria said.
After leaving her mark on the UIndy golfing program, Echeverria is ready for this next stage in her career. Her end goal includes going to the 2024 Olympic Games, which she said would be important to her home country of Guatemala. Since golf is not very big there, she said it would mean a lot for the sport of golf in Guatemala.
As Echeverria begins her new chapter, Nicoson tells her to just keep being herself. He said she will need to adjust to focusing more on herself and to thinking more like an individual player, but said he knows he will see her succeed because of the impression she left on UIndy golf. 
"The biggest compliment I can tell you about Pilar [Echeverria] is [that] she's irreplaceable. There will never be another Pilar [Echeverria]," Nicoson said. "There might be great players, and there might be All Americans, there might be national champions, but there's never gonna be a Pilar [Echeverria] that helps our program as much as she did."