Over a two-day-span, the University of Indianapolis men's and women's track and field teams competed in the Indoor Great Lakes Valley Conference Championships in the ARC, where the women placed second and the men finished third, according to UIndy Athletics. The Greyhounds had a combined eight gold medals between the two teams. Additionally, program records were broken for multiple events in the meet, according to UIndy Athletics. Senior pole vaulter Treyton Arnold said before the meet, the team—especially himself—was resting in the days prior to the GLVC Championships.
"This week, it's [practice is] just taken lightly, it's more of like a taper week," Arnold said. "I know we're jumping twice this week, but it's just a lot less reps, making sure our bodies are staying healthy and ready to go."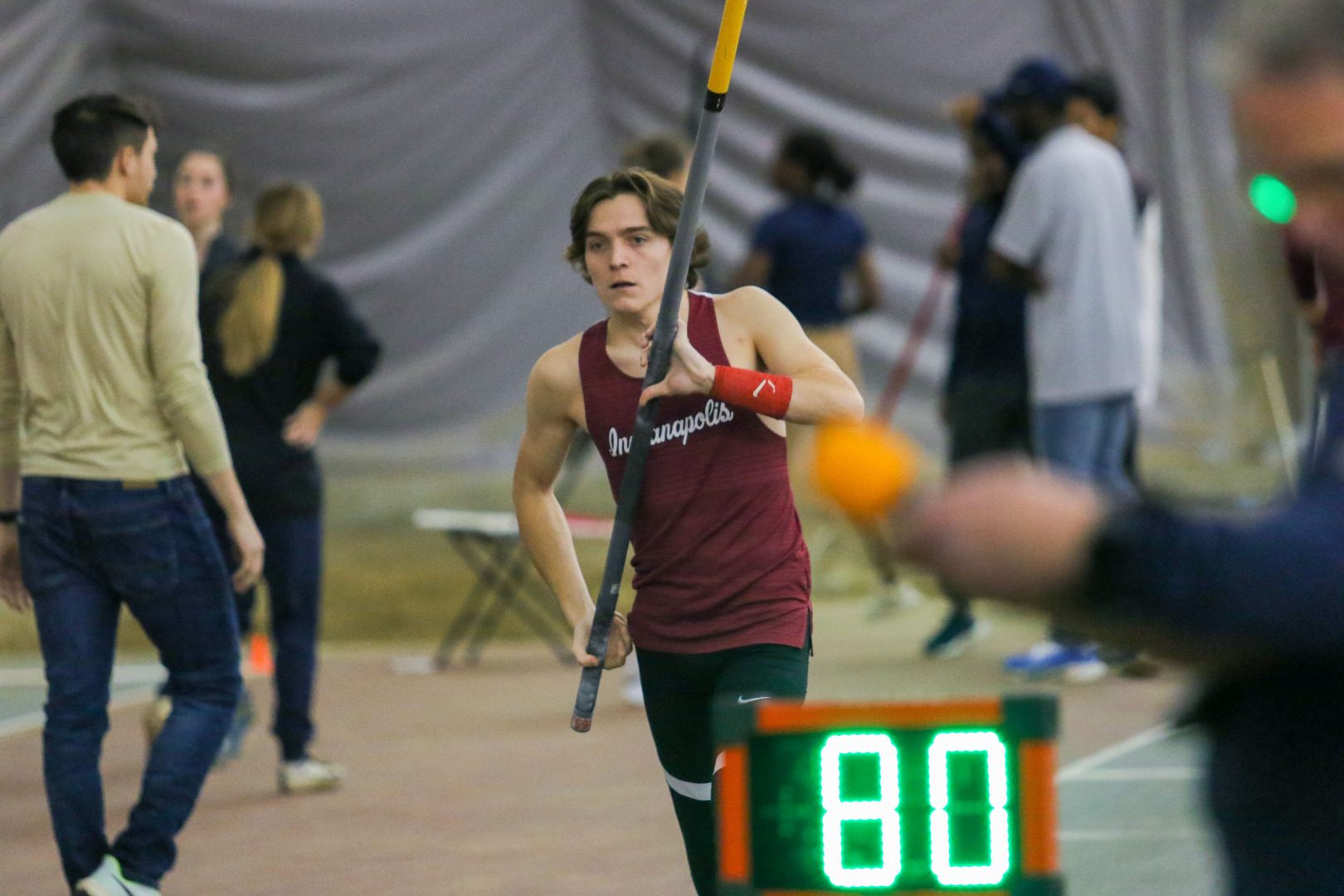 At the GLVC Championships, Arnold competed in the pole vault where he finished as the champion, resulting in a new record for the track and field indoor program, according to UIndy Athletics. This was not the first time Arnold has broken a record for the Greyhounds. He said has been putting on the best performances of his collegiate career this season.
"I just stopped letting things get to me," Arnold said. "Last year, I had a really rough year. I did both indoor and outdoor conferences last year, and I was just putting expectations on myself way too high. This year, I really just kind of said, 'Screw it.' I'm not going to put any expectations on myself. I should have fun. You don't really perform better when you're [not] having fun."
In the coming weeks, the track and field individuals that have qualified for the NCAA Division II Indoor Championships will be traveling to Virginia on March 10-11, according to UIndy Athletics. Junior distance runner Emily Sonderman said with experience in nationals that those who get the opportunity to compete should soak in all that it has to offer.
"Take [nationals] all in; you [have] already made it as far as you can go, and then have fun with it," Sonderman said. "Not many people get the opportunity to [be there] just try your best. And whatever happens [happens.]"
According to UIndy Athletics, Sonderman competed in the 400m for the GLVC Championships. For nationals, the NCAA usually takes a certain number of athletes where you must qualify for your individual event, Arnold said. He finished ranked 15th in the pole vault, stamping his ticket to go to Virginia for nationals later this month along with four other Greyhounds, according to UIndy Athletics.
After nationals, this will mark the end of the indoor track and field season before the team transitions to outdoor. Sonderman said she is excited to get a fresh start for the outdoor season.
"For me personally, I haven't ran that well indoors… [I am more] excited to get out there and go outdoors and prove myself more than I did this indoor season," Sonderman said. "It's given me more motivation to do better and train harder for outdoor [to] try and get those goals that I didn't get for indoor." The outdoor season begins on March 31 with the chance to compete in Indianapolis in an open meet or in Cincinnati for an invitational meet, according to UIndy Athletics.