There are over 10 sports at the University of Indianapolis that have been able to secure a national ranking, and the No. 9 Men's Lacrosse team is one of them. Prior to the start of the season, the team was notched at No. 10 in all of Division II before their season-opening win over the Lewis University Flyers on Feb. 6. According to Assistant Coach Austin Grimes, the team came in with a mentality that the game was theirs to lose.
"We told them at the beginning of the game, 'If we're going to lose, it's going to be on our mistakes,'" Grimes said. "So we got to clean up our mistakes and everything and the guys finally clicked … It was 330 days since our last game, so it's been a long time. A lot of our freshmen didn't have a season last year at all."
In that first game, the Greyhounds came out hot leading 4-2 after the first period. That lead eventually was cut down to only one goal, 9-8, as the team went into the locker room for halftime, according to UIndy Athletics. According to redshirt junior midfielder Brian Robb, the team came out of the second half with a new fire.
"I think in the first quarter we came out really strong and we kind of started to get lackadaisical," Robb said. "And that affected us really bad. And then coming into the half, I think we just thought about it. We talked to the coaches. They let us know what we had to do. We had a little fire in our bellies and came out and worked as hard as we could and stayed composed. That was the biggest thing"
The Hounds did exactly that, outscoring Lewis 6-3 in the second half leading to a 15-11 Greyhound victory. In the win, Robb was tied in offensive production with junior attack Drew Billig at six points each, according to UIndy Athletics. According to Grimes, Billig has been able to mature a lot over the offseason and going into this regular season they, as a coaching staff, have given him control over the offense.
"He's taken the reins of the offense, he's in attack and he's going to be on the field at all times," Grimes said. "Just knowing when to kind of push the ball, go to the cage but then also making the smart moves. So every dodge doesn't need to be a shot. And I think this year he's kind of finally realizing that just being a year older, being a junior now and [having] been a starter since he stepped on campus. So it's kind of nice to have that."
Last season as a sophomore, Billig was able to finish the shortened season second in total points scored on the team and in the process was able to be named as an Academic All-American.
Moving forward in the season, the Greyhounds had their match-up against Maryville University pushed back to Feb. 20, according to Grimes. He said that the GLVC has developed its lacrosse talent and there are plenty of teams that can provide this Greyhound roster with a challenge.
"The GLVC being a deeper conference now, we're one of the oldest ones and we're only six years in," Grimes said. "Rockhurst is always a tough matchup. Lindenwood is too. I think the hidden one is Maryville. They have a lot of young talent. They're very similar to us, but just a couple of years behind. They got a new coach, so it will be interesting to see what they have, what they can do."
According to Grimes this team is set back slightly due the pandemic and lack of practicing required for a sport like lacrosse. He said that the team is still looking to find its groove early on.
"I think just with COVID and not having a fall season a little up and down," Grimes said. "We're still trying to get our stride, but we have the talent, just being a young program, it took a little bit to build, but I think we have the talent, if they can put it together. It's just not being able to be on the field and everything. Some guys are further behind than they should be."
Prior to the season, it was announced that Robb was selected as a 2021 USILA/Warrior and New Balance Preseason All-America Honorable Mention according to UIndy Athletics. Robb said that while the award may be a nice confidence boost, it is not what matters and that the job is not done until they win. According to Grimes, being able to play with other All-Americans in the past has helped Robb emerge into the player he is now.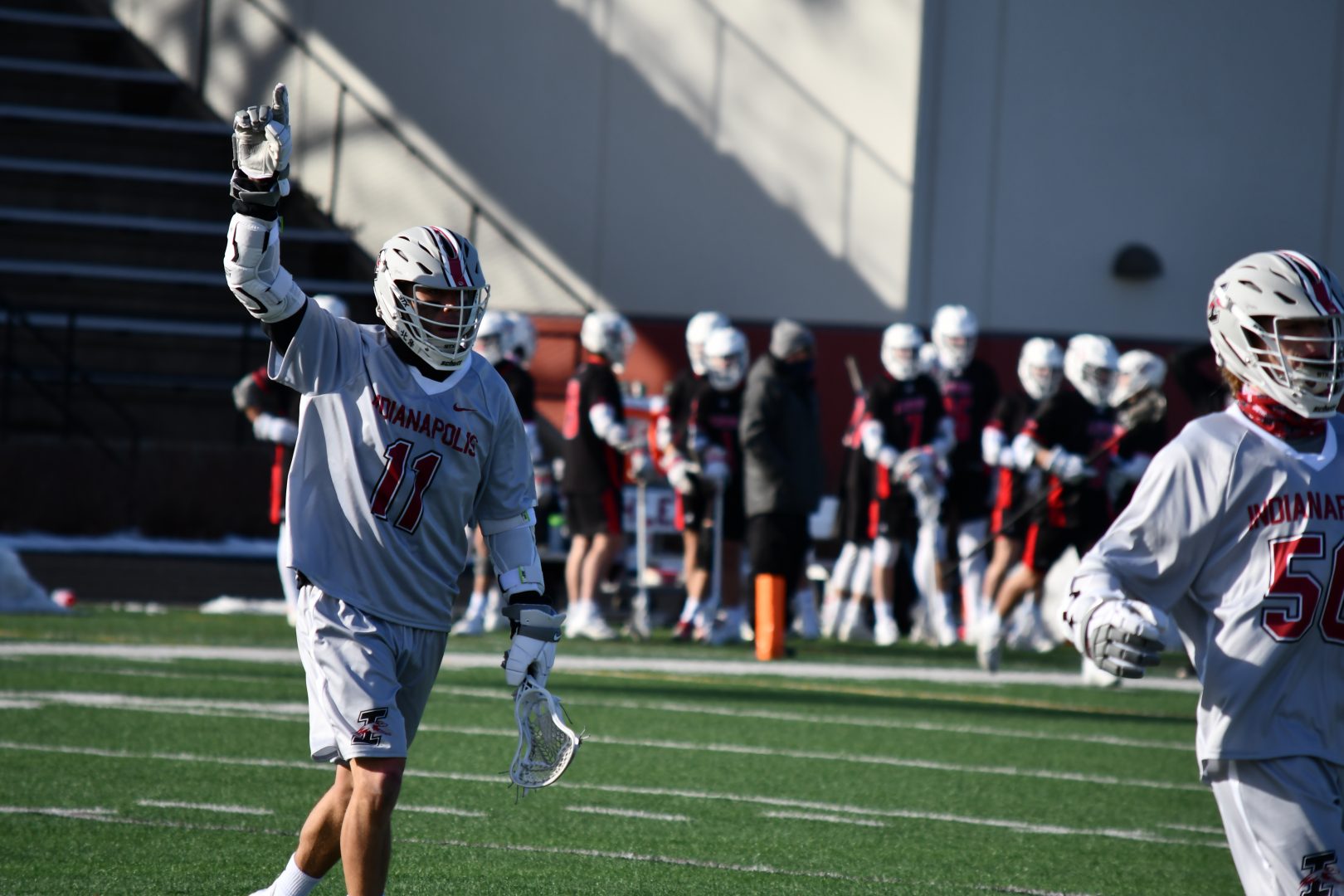 "Brian Robb has been a starter since he stepped on campus for us. He played his freshman year. He played with two All-Americans in Matt Johnson and Sean Kimball. So I think he learned a lot from them and what kind of to expect from the No. 1 guy," Grimes said. "And you never know, with those accolades at the beginning of the year, how they're going to do in the first game. And he's proven that he's worthy of that."
In his past two seasons as a Greyhound Robb has been able to start 24 games in his midfield position according to UIndy Athletics. In his redshirt freshman year he was able to produce 35 points of Hound offense, 25 of which coming from goals and the other 12 off of assists.
According to Robb and Grimes, one of the strengths of this team is its ability to run so many players. Grimes said this team has the ability to throw out several different attack, middle and defensive lines at teams and that will allow them to be successful in the long run. Grimes, who has been with the Hounds for three seasons, said that this is one of the deepest rosters he has been able to work with and that during COVID-19 and the chance of losing players to quarantine, that depth is going to be crucial for this team.
The Greyhounds who are in their 6th season as a program finished last season at 2-3 when the rest of their season was shut down. The Greyhounds were set to take on the Maryville University Saints was set to be played in St. Louis MO but that game was cancelled due to COVID-19 safety protocols within UIndy's program according to UIndy Athletics. They will continue their season on Feb. 28 when they face off with Davenport at Key Stadium.