It was announced on March 21 that the Board of Trustees unanimously chose Tanuja Singh as the University of Indianapolis' 10th president after a global search, according to a press release from Associate Vice President for Communications Garrison Carr. Singh, who will assume the role on July 1, made public appearances on campus the day her presidency was announced. This included a live-streamed event that featured an armchair conversation with Chair of the Board of Trustees David Resnick and meet-and-greet receptions in the Schwitzer Student Center.
Singh is currently the Provost and Senior Vice President of Academic Affairs at Loyola University New Orleans, according to the press release. She has also held positions at St. Mary's University in San Antonio, Texas, and Northern Illinois University in DeKalb, Illinois. While working at Loyola University New Orleans, Singh implemented strategic plans within academic affairs, worked to improve curriculum for the relevance of today's students and strengthened the Office of the Provost to better benefit the campus community, according to the press release. She has worked in higher education and academics for almost 30 years.
"A hallmark of Dr. Singh's career is aligning talent and priority," Resnick said in the press release. "She has been forward-looking in ensuring that her institutions are meeting the expectations of today's learners and employers. As higher education is rapidly changing, and with it the demands of our students and community partners, this makes her the right leader at the right time for UIndy, and we are so excited to welcome her to Indianapolis."
Singh is a self-proclaimed believer in higher education and said it is the one thing that changes people's lives. She thinks there is quite possibly no other profession that impacts lives as much as higher education does. This led her to leadership positions, keeping in mind how she could help students with their accomplishments.
"It [leadership] has involved working very closely with faculty, with industry, with government organizations, to create those kinds of opportunities for our students so that when they graduate, or even when they are going to school, they are doing experiential learning…, they're doing international [things], they're doing high impact practices," Singh said. "And when I was a provost, I was doing similar things, but a little more of creating more alliances with industry, starting new programs, creating opportunities for us to engage much more intentionally with, say, hospital systems, etc. And then, of course, this opportunity came along and I said, 'Well, this is a perfect fit.'"
There are many characteristics that Singh said she brings to the table, including what she calls boundary spanning, where she can convey the serious concepts of academia to people in industry and the government and establish links between academia and the real world. To Singh, she said academia is the real world, so it is important to establish these connections. Additionally, Singh considers herself a "future of work" expert. She said she looks not only at the world today but where it will be years from now and what talents and skill sets students will need to thrive in the future, allowing her to adjust programs to fit those requirements.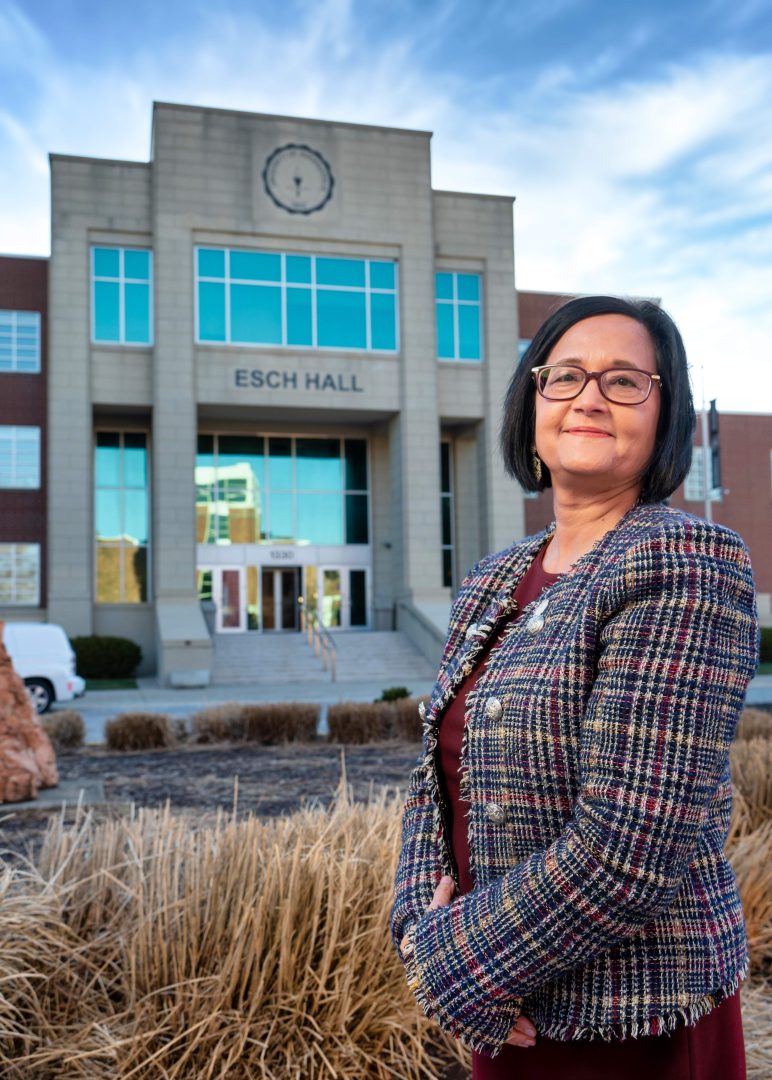 Alongside her background in physics and business, which she said helps her understand how the sciences and business can fit together, Singh said she has a comprehensive and global view that will benefit UIndy. On top of that, she said she has plenty of experience in fundraising.
"Fundraising, in my mind, is not just asking people for money, but really having people invest in your vision," Singh said. "So the way I look at it, fundraising is really developing friendships and deep alliances with individuals, with industries, with organizations, because if they see that what we are doing is impactful for the lives of students and that it helps the university really contribute to the city, they support you. So I have done a significant amount of fundraising as a dean. And then I built a lot of alliances with other organizations in my role as a provost."
Interim President Phil Terry said the candidate pool was narrowed down from over 100 candidates. While all of them looked very qualified on paper, he said he is confident Singh was the best choice. She is perfect for the role, Terry said, and her being the university's first president that is a woman of color is only a plus, showing how open, welcoming and diverse the campus community is.
And while Singh has not served as a university president before, Terry said he personally does not mind if the person hired has not held a presidential position before. What matters to him is the innate characteristics of a person, such as intelligence, integrity and ambition. And based on her experience, Terry believes she is ready and prepared to take on this role.
"​​It was tough, but I think Dr. Singh was the best of the group," Terry said. "And she brings so much to the university in terms of her experience, her intelligence, her ambition, her integrity, her vision. I just can't imagine there is a better person out there for this position than Dr. Singh."
During his time as the interim president, Terry has helped reorganize the university's administration and has begun conversations about doing the same to academics. He said education is changing, and while UIndy has great assets and potential, that must constantly be reexamined in order to remain relevant. And with that, despite the challenges Singh may face coming into this position, Terry feels the university had laid the foundations necessary for her to make the changes needed.
"The university has a great foundation, financially, reputationally, in terms of relationships," Terry said. "So it is poised for whatever challenges the future provides. But it's gonna be up to Dr. Singh to figure out the solution. The long-term solution is for our next long-term leader."
As she comes into the position, Singh said one of her main priorities is enrollment. Terry has acknowledged that enrollment at UIndy has been low following the COVID-19 pandemic and Singh said many universities are struggling with this particular aspect of higher education. Singh plans to address this by looking into old and new markets and building enrollment at the undergraduate and graduate levels, as well as nationally and internationally.
"If we bring more students to Indianapolis, in this great city, we want them to come and contribute to the growth of the city," Singh said. "We have a great university with great programs, but enrollment is going to be one of the things I'll focus on greatly. The other one is, I believe that our university is a very strong university. We need to tell our story a lot more. We need to tell people about how good we are. And I believe that we have the talent and the ability to tell our story and, and really market ourselves much better."
Singh said she is most looking forward to working with the community at UIndy and in Indianapolis. One of her larger goals is to ensure the university is fully engaged with the city. As the University of Indianapolis, Singh said she believes the community should be fully participating in the city, whether that is through economic growth or working with industries.
"I'm hoping for growth for the university, I see a very bright future ahead," Singh said. "And it's a lot of work; there are a lot of challenges here. But I also see opportunities that exist for the university. And that's going to be my goal: to focus on growth, to have this vision of making sure that our students get good jobs, but also we develop them as good citizens that ask the bigger questions, that actually change the world. And that is the goal for the university."