As of The Reflector press time, the University of Indianapolis men's tennis team is 8-0, according to UIndy Athletics. The team has been traveling to different schools to obtain their current undefeated record.
Playing in the Intercollegiate Tennis Association (ITA) tournament this indoor season has been a large focus for the team resulting in large amounts of preparation, according to senior UIndy tennis player Tom Zeuch. They started with exhibition matches with NIS schools to prepare for the tournament. Playing against NIS schools helped the team gain confidence after winning all their matches, Zeuch said.
"It's a better feeling than just practicing against a teammate and it is always a little bit different if you have competition," Zeuch said. "So, we wanted to start this season with a lot of wins, which we did."
UIndy hosted the DII ITA Indoor Team Championship from Feb. 17 to 19. According to Tennis Head Coach Malik Tabet, being able to host the ITA is a privilege, and it is good for the team, the university and the surrounding area. Last year, they were lucky enough to host the tournament as well.
"Having those teams that we never see in this region come and also showcase their skills and to bring the top 18 teams in the country into Indianapolis, it is definitely a special thing to have," Tabet said.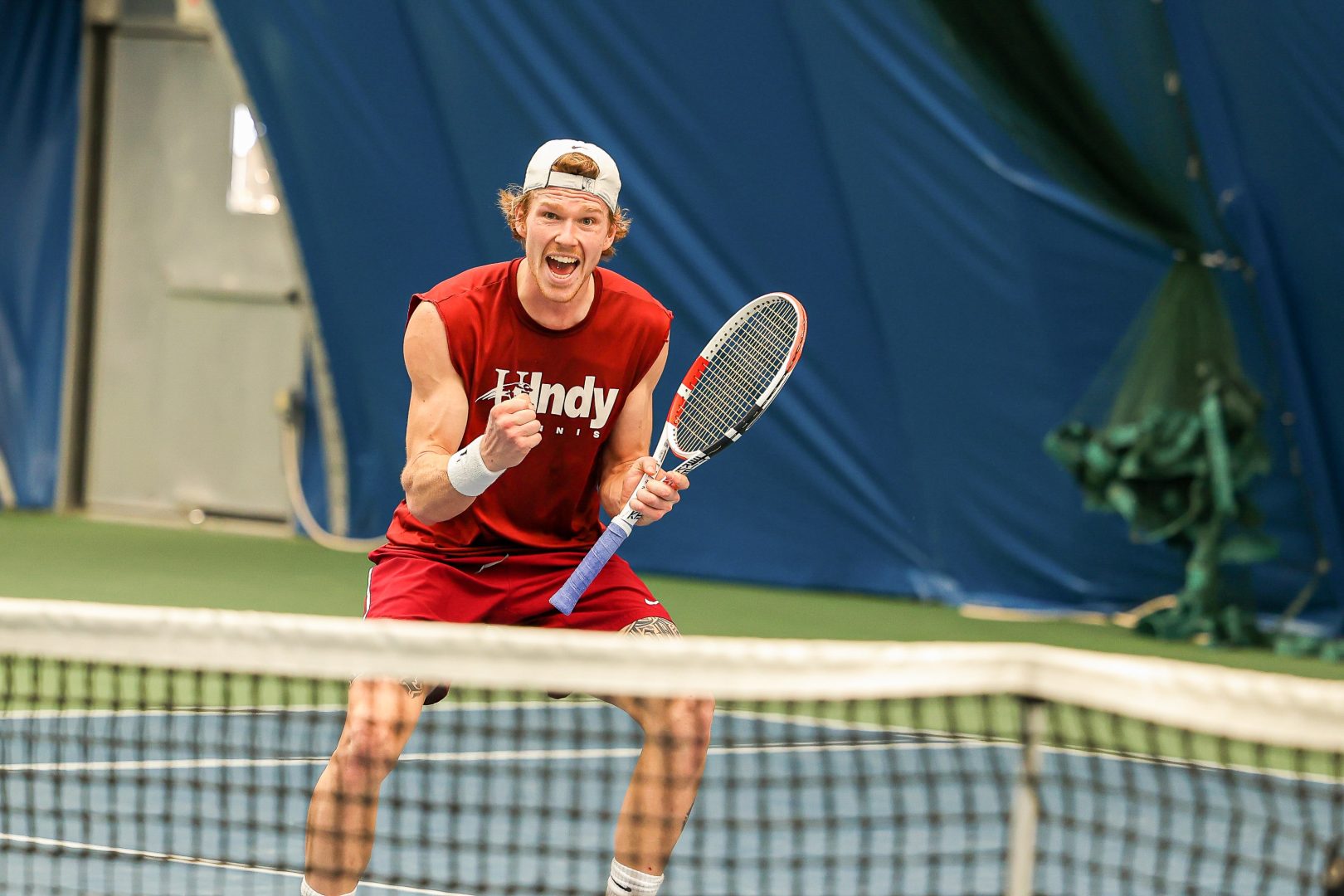 With the team having a high DII ranking going into the tournament, they had their own goals in mind putting the rankings aside, according to Tabet. They are a close team with comradery and team spirit, Tabet said.
"The joy that those kids want to spend time together and play for each other, that is a special thing to have in a team," Tabet said. "The most special teams [that] I have had in my tennis career have always been when the teams play for each other; I see that with both programs."
According to Tabet, the overall goals for the team are to win the conference, qualify for the sweet sixteen, and go to a national championship. The women's side went up in the semifinals last year and the year prior the men's were able to make it to the semifinals. This year they want to be able to reach these goals as a team, according to Tabet.
"They are sharpening the tools the way everybody is doing. They are playing with a very high confidence right now and they know what they are capable of and they know their strengths," Tabet said. "And it's just a matter of going out there and playing."
Zeuch is on his last season at the university, and he said he is looking forward to ending it on a good note and leaving with a conference win, as well as a national championship.
"I am really excited but sad at the same time because it's my last year here," Zeuch said. "I'm a senior, I came here in 2019 and those four years went by so fast. So, I am really looking forward to ending it on a good note to leave my footprint." 
Zeuch and his doubles partner, Edgar Destouet, won the DII ITA's Doubles last October, according to UIndy Athletics. Before the tournament, according to Zeuch their biggest strength as a doubles team is trust.
"Let's say if I had a bad game or I don't really feel that good and I'm making a lot of mistakes, I know that he will find a way to push me through adversity and also help me out to get myself in a better position to help out my body language," Zeuch said. "And it's the same thing for me, if I feel like he's not really having a good day today then I'll be there to tell him."