The past, present and future; tarot cards can help interpret all three of these for someone. However, those cards cannot be interpreted unless someone knows how to read them. For the past six years, junior studio art major Cj Sparks has been able to read and interpret tarot cards for those who want to know what their life holds.
"It sounded fun and I was interested in it in a vague way," Sparks said. "I was on a trip to Chicago and I was in a Goodwill. I found a deck [of tarot cards] in the children's section and I was like, 'Okay, I'll pick it up and start learning.' I spent one summer learning and then my stepmom invited me to [her vendor] at [Indy Pride]. That was my first time reading professionally."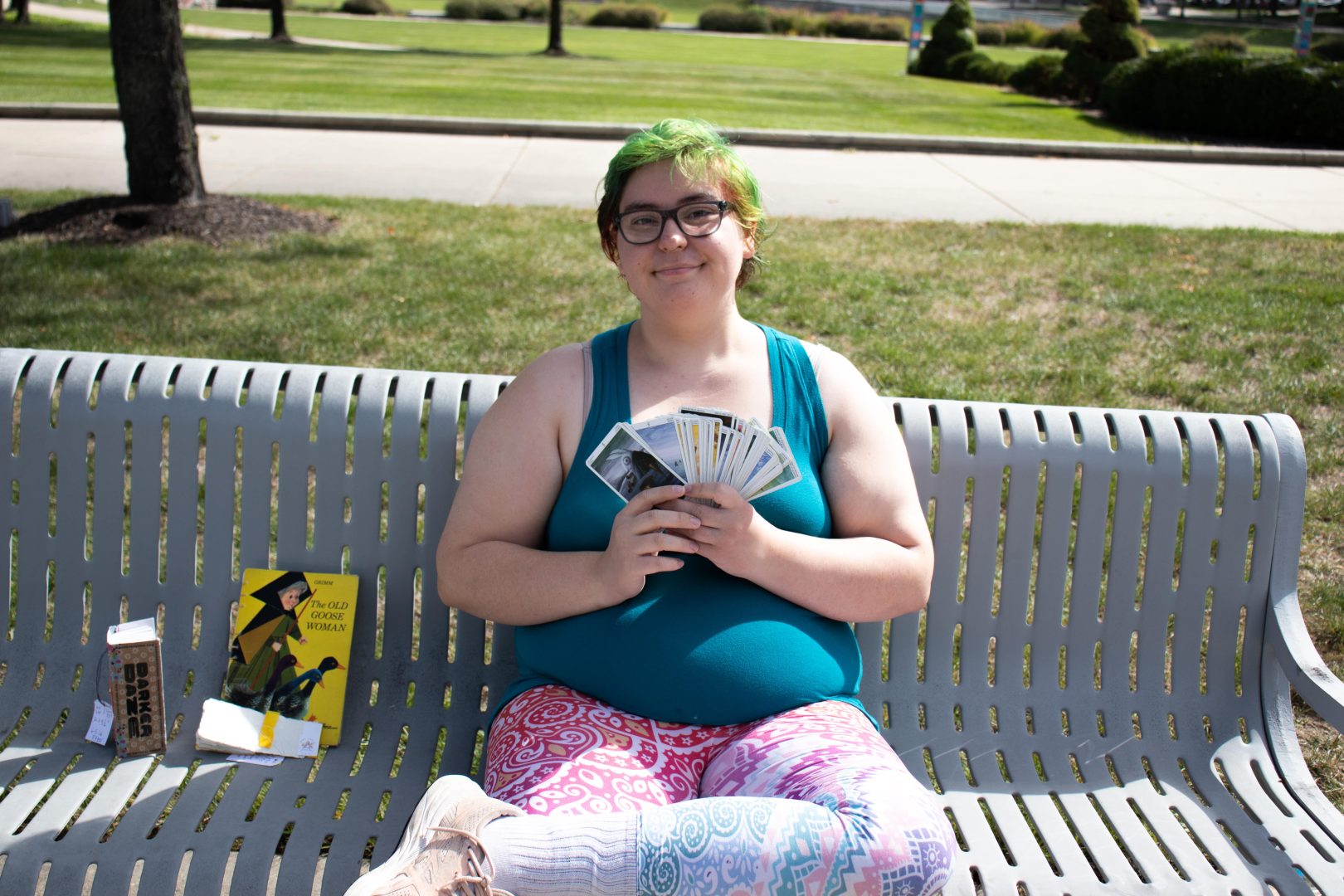 That invitation from Sparks' stepmom would prove to be the start of their career in reading tarot cards at festivals. According to Sparks, they have read for hundreds of customers at festivals such as Indy Pride and the Irvington Halloween Festival.
Sparks said that even though they have been learning how to interpret tarot cards for years now, they are still memorizing the cards' meanings and learning new interpretations. According to Sparks, they still use a cheat sheet for some readings.
Since tarot cards are meant to be left open for interpretation, readers typically all have a different routine on how they go about the reading, according to Sparks. Some readers may choose a deck of tarot cards that best fits the customer, while readers like Sparks let the customer choose the deck themselves.
"I have a lot of different cards. I let [customers] choose which [deck] they feel drawn to. Everyone has a different process of doing that," Sparks said. "Some people like to run their hands over [the decks] and see which one they feel the energy from. Some people like to [ask] 'Which one do you think reads best?' I have an opinion on that, of course."
According to Sparks, the decks of tarot cards have different personalities to them. When read from, certain decks of tarot cards tend to be straightforward and blunt with their interpretations.. However instead of being straightforward, some decks like to omit potentially upsetting details of their interpretations or dance around the truth, Sparks said.
They said they typically get hundreds of customers when they have a vendor at festivals, so they try to make the readings as efficient as possible to ensure that everyone at the festival who wants to can have their tarot cards read to them. Sparks said they typically only do three card readings since it is typically the quickest way to get through hundreds of customers. They said that they also found social and financial benefits when it came to professionally reading tarot cards at festivals.
"It's an easy way to make money. It's also a really easy way to meet people. All kinds of people want their tarot [cards] read," Sparks said.
Sparks said, in certain perspectives, tarot cards are viewed as a device that can help give advice or help give a glimpse into what the future may hold for someone. In other perspectives, Sparks said that tarot cards are simply viewed as a fun activity to do at a festival.
"It can be something that's really deep and really impactful, or it can be something that's just fun and lighthearted depending on how you approach it," Sparks said.
Not only does Sparks read and interpret tarot cards as a business, but they also make hand-made journals. According to Sparks, to make the journals, they typically take items that would normally be thrown away such as old books or hair-dye boxes and turn them into covers. For some journals, Sparks also handmakes paper to use as pages.
At the Art & Design Student Sale, Assistant Professor for Art and Design Katherine Fries said she found the perfect gift for a family member in a hand-made journal from Sparks.
"…One of the things that drew me to [the journal] was [that] it was quite small and stature and I bought it for a family member who loves miniature things," Fries said.
Fries said that buying handmade projects from students helps develop their professional skills. She said one of the enjoyable aspects of the student sale is seeing a student's finished final product.
"I was really proud of Cj, I thought they did a really good job of putting [the journal] together, of taking their interest of bookmaking and doing it in various different ways and interjecting their own kind of stylistic approach by choosing really cool colors," Fries said.
According to Sparks, they have found a new sense of freedom within their business and use it as an outlet for their creativity. To get in touch with Sparks about booking a tarot reading or buying something from their business, contact them through their business Instagram @SeeJaySparksStudios.
"… I feel very independent and that I don't have to rely on a 9 to 5 job or anything. It's really freeing in that way. With my creative business, it lets me make things I love…," Sparks said.