In mid-September of this semester, UIndy Athletics announced the resignation of former Vice President for Intercollegiate Athletics, Scott Young, who had served in the position, as well as athletic director, for two years. Associate Provost and Interim Athletic Director Mary Beth Bagg has temporarily assumed the positions left vacated as a result.
"It's always interesting when somebody leaves and you're in an interim period," Bagg said, "… and so my being here is also really because I have worked at the institution for a long time. I know the systems, I know the people and that's a good thing for us right now, to have somebody who really can work with our system and understand it."
A lot of what goes into the responsibilities of these positions is keeping athletics moving forward, making sure operations are running smoothly, and overseeing things like the budget and problem-solving, according to Bagg. Students, more specifically student-athletes, remain her priority during her time in athletics.
"… I hope they will see in me a person who is an advocate for them and for this department," Bagg said. "I hope they [students] will see that the most important thing to all of us is our students on this campus, period."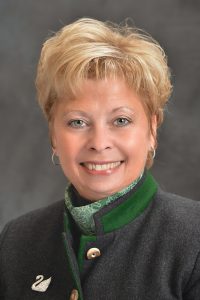 The hiring process of who will replace Young permanently is still in the works and is being led by Interim President Phil Terry, who said that the hiring process is challenging because of uncertainty in the athletics department.
"The uncertainty we have in athletics at present, we're still wrestling with where we think this university ought to be long-term in terms of whether it [UIndy Athletics] should be Division I, Division II, stay status quo, make some changes," Terry said, "I think that's the biggest challenge is to first decide as a university where we think we best fit and then that should help inform us on who the right person is for AD [Athletic Director]."
The positions left vacated have left a large task set in front of Terry: finding the right person to do the job. Terry elaborated that UIndy is looking for someone with excellent character, integrity, intelligence and ambition to take the reins.
"If you've got someone with character, integrity and intelligence and ambition, you can give them everything else they need to be a success," Terry said.
The future athletics director is also tasked with setting the standard for UIndy Athletics as an organization beyond any administrative tasks they complete on a day-to-day basis, according to Terry.
"The athletic director is the leader for the whole department…," Terry said, "But I think, like with any leadership position, the primary role of that person is to set the tenor for the organization, to set the standard for the organization…."
With whoever will take the lead in athletics, UIndy students are Bagg's priority and that's the reason she goes to work every day, she said.
"I always used to say my two favorite days of the year were freshman move-in day because you just see all these students who are excited, they're nervous. They're wondering what these next four years or however many it is, are going to be," Bagg said, "And commencement day when I see all the students who walk across the stage and their smiles are so grand because they did it… all of us who can be a part of enabling that success for students—that's why we're here."