A new bus line will be available for University of Indianapolis and the public when IndyGo's new rapid-transit Red Line begins operation.
IndyGo has been constructing the Shelby Street Red Line station next to campus since June 2018, and now that station, along with the rest of the Red Line, are set to become fully operational Sept. 1. Throughout the month of September, the Red Line will be free for everyone to ride.
The energy efficient, electric battery-powered buses will run throughout Marion County, going from Broad Ripple through Downtown Indianapolis to UIndy and will stretch 13 miles. IndyGo Director of Public Relations Lauren Day said that the plan for efficient public transportation for Indianapolis has been in the making since the early 2000s, and the Red Line is one of the first steps in building a larger, more efficient transit system.
"At IndyGo, we are committed to being a part of that mobility conversation," Day said. "With ridership, we definitely see that this is going to be an efficient, improved service that's going to make a difference [for those] who have been relying [on] or using IndyGo for a long time and for those who are looking to use it more often."
The Red Line station was built near UIndy's campus for many reasons, Day said. The university is along a path where IndyGo's ridership is high and is expected to increase. Day said that IndyGo brought in an urban planning expert, who found that along Shelby Street was a good north-to-south route for the Red Line.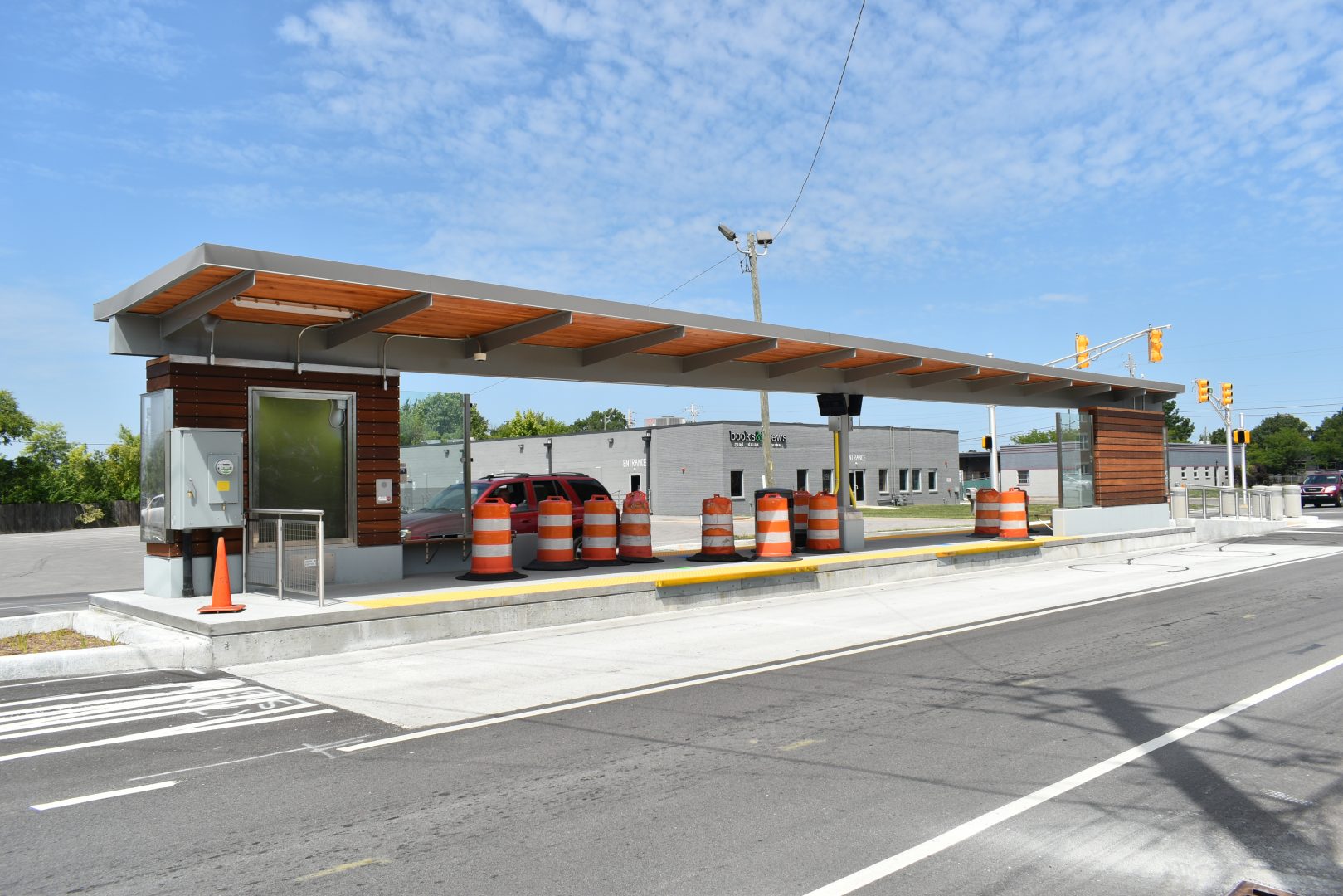 IndyGo also found that connecting students and other community members to places such as Fountain Square, Downtown Indianapolis and Broad Ripple would cultivate growth in ridership and add a sense of community with using the Red Line buses.
While riding the bus will be free throughout September, starting on Oct. 1, the cost will be $1.75 per ride and $4 for an all-day pass. Riders will be able to purchase tickets online through a mobile app called MyKey, Day said, which allows scanning at a validator at the bus stop and on the bus. The validators let riders know whether their bus ticket is valid for a ride or for the day. The electric battery-powered buses will charge at IndyGo's hub during the night and breaks during the day.
In the future, IndyGo plans to install contact charging pads at the various Red Line stations to charge the buses. To charge the battery, the driver parks the bus on top of the charging pad. For now, buses will charge via battery charging and through a process called regenerative braking. In regenerative braking, as the driver brakes, the energy from the driver's input goes into the bus' battery. To get used to this form of braking requires extensive training, Day said.
Throughout the process of creating the Red Line, University of Indianapolis Associate Vice President and Special Advisor to the President for External Relations Corey Wilson has been in charge of informing the UIndy community members about the Red Line stop near campus. Wilson said he's very excited to see the Red Line finally come together because the UIndy community can benefit from the new connections it will bring.
"The things that I would hope students take advantage of are the connectivity they now have for $1.75 to get to Downtown [Indianapolis] and to Broad Ripple, and all other spaces in between," Wilson said. "I would also like to add that there's a number of employers and jobs within the Indianapolis market that students may not have thought about, different businesses that now they're connected [to through the Red Line]. Whether that be their part-time job that they're working today, or something that they want to do aspirationally, they now have a way to get there that wasn't available at this time of year last year."
IndyGo is planning a series of events throughout September to celebrate the opening of the new transit system, and Wilson said that UIndy is going to step in and plan events where they see fit as well.
"I am so excited that the Red Line connects to the University of Indianapolis…"
Wilson said that IndyGo is looking for volunteers to sit on the bus and answer questions for curious riders. According to Wilson, those interested in volunteering can go to indygored.com for more information about the volunteer opportunities, as well as bus routes, schedules, videos about the energy-efficient buses and more.
Day said that she thinks riding public transit is a good way for residents to be a part of their community. She said the Red Line is a tool to allow new connections to be made, and can play a part in helping people think about their relationship with others in the community. Community members can think about how they're all going to the same place in the end and should respect each other, Day said.
"[The] University of Indianapolis is an example of a group of people that are really going to be able to make a difference moving forward and shift that conversation and shift the behavior and be examples of leaders or what kind of city we want to be," Day said. "I am so excited that the Red Line connects to the University of
Indianapolis and that the city connects to UIndy."