With the 2021-22 season underway, the University of Indianapolis men's basketball team was selected fourth in the East Division in the GLVC Men's Basketball Preseason Poll, according to UIndy Athletics. Head Coach Paul Corsaro said the team does not put a lot of stock into preseason rankings and that the main focus is on his team getting better everyday and being ready to go for the season, Corsaro said.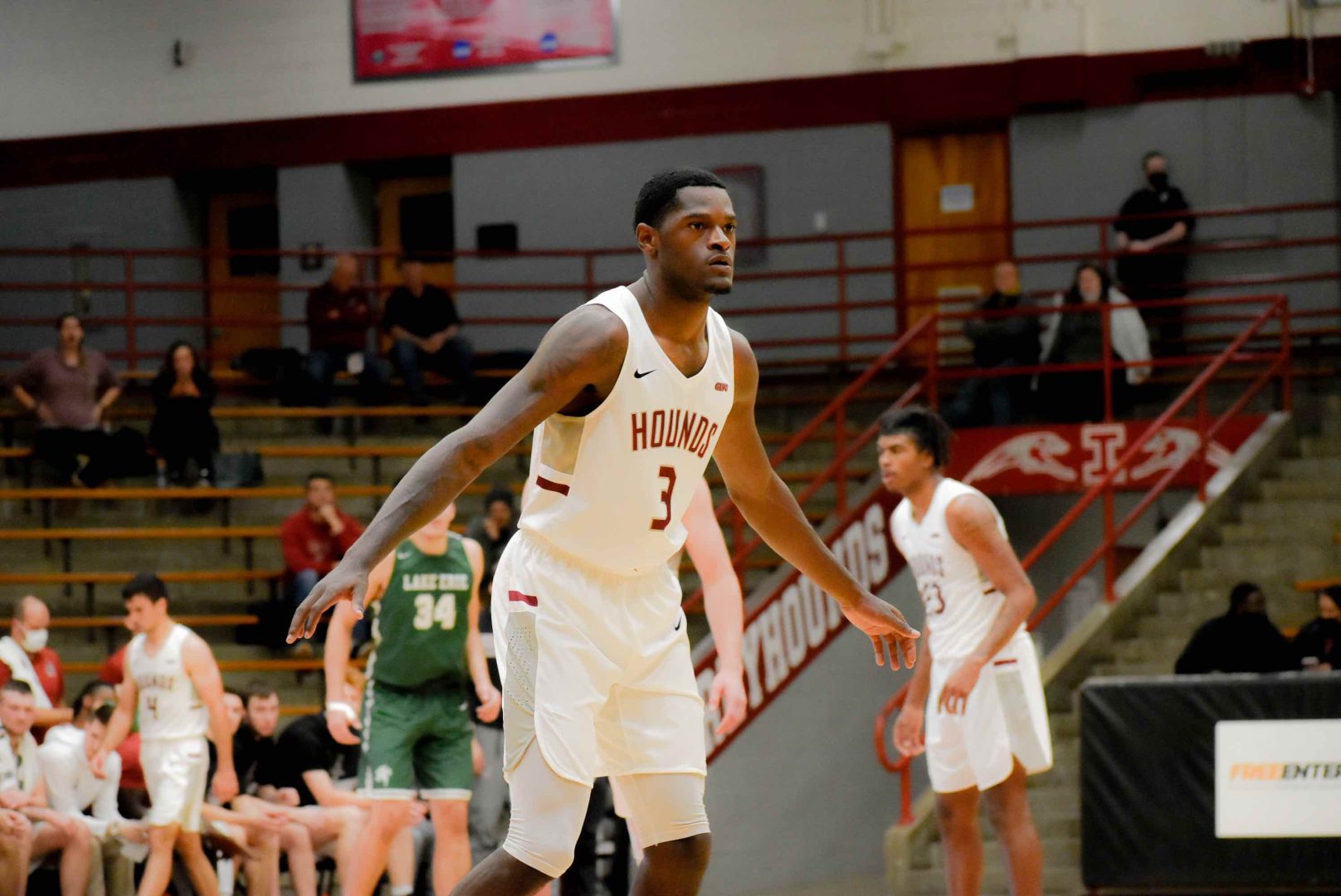 Last season Corsaro led the team to an 11-12 record in which the Greyhounds got off to a slow start by opening 0-7. They were able to get things on track midway through the season, racking up 11 wins in their final 16 games, according to UIndy Athletics. Roosevelt Jones, a former Butler standout joined the UIndy staff prior to the 2020-21 season, according to UIndy Athletics, after spending three seasons at Indiana University-Kokomo.
"We finished off strong, but our overall record wasn't that good, so you can kind of see why we were picked that way," Jones said. "I feel like it's kind of motivation for our guys to come out every single game knowing where we were picked in the Division."
The team is headlined by redshirt sophomore forward Jesse Bingham, who averaged 12.5 points per game and 5.8 rebounds, while also leading the team in three-point field goal percentage at 45.3% and blocks with 23 in the 2020-2021 campaign, according to UIndy Athletics.
"Things still didn't end how we wanted, you have to take that type of stuff on the chin because we know that record really means nothing when you step on the court," Bingham said. "We just got to go out and show that we are better than the spot they give us."
The team opened their season with exhibition games against three high level Division I schools, No. 17 Ohio State University, No. 7 Purdue University and Butler University, to get ready for the regular season. Corsaro said the games were based on connections and the Purdue University game was supposed to be played last year. Purdue Men's Basketball Head Coach Matt Painter was gracious enough to honor that game again this year, Corsaro said. He said the Ohio State and Butler games solely happened because of Jones' connections, specifically Ohio State Head Coach Chris Holtmann, having played for him at Butler.
Corsaro said that those exhibition games were about improving every day. According to Corsaro, every game that they went out there and played, the team got better. Those exhibition games saw the Greyhounds fall to No. 17 Ohio State 82-46, No. 7 Purdue 86-64 and Butler 73-68, according to UIndy Athletics.
"We got better from Ohio State to Purdue, and from Purdue to Butler," Corsaro said. "That's what you want to do is you want to grow every time you head out to the court. I think it was noticeable that we improved every time that we played and hopefully we continue to do that."
Bingham said the team played well and that it was some of the hardest he has seen his teammates play. Bingham sat out the Purdue and Butler games with a strained hamstring, but that gave him a front row seat to see how far the team has come.
"Over that week, I've never been so proud of my teammates," Bingham said. "To just be a part of this team because I feel like we played with all our heart and gave everything we had, we played very solid basketball, so I feel like we can just carry that on and use it as momentum into the season."
The coaching staff has high praises for the Warren Central alum, Bingham. Corsaro said Bingham is a high-character individual and that he loves having him in the program.
"He's a joy to be around," Corsaro said. "From a player standpoint, he's a coach's dream too in terms of he's so versatile, he can play three or four different positions. He's a two-way player, he plays on both sides of the ball at a high level and he has a tremendous work-ethic. I'm expecting big things from Jesse [Bingham] … I think the sky's the limit for Jesse and his potential."
According to Jones, when Bingham first came to UIndy he was looked at as a power forward, now he's in the shooting guard or small forward positions, and then hopefully he might end up running some point guard by the end of his tenure with the Greyhounds. Jones said that Bingham has been bringing that leadership quality and running the offense in practices so far.
"In my mind, I think [Jesse] should be a player of the year candidate in the conference just because of everything that he can do and the way he is evolving his game during this season," Jones said. "I think as Jesse keeps growing and days keep going, he's going to keep elevating his game, he's going to be a hell of a player in this conference."
According to Bingham, the challenge of the season is staying focused every day. Bingham said the team is prepared to endure a long season and end up with a winning record.
"I'm just looking forward to seeing everybody play and play our team basketball, and watch them excel in their roles," Bingham said. "It is all a blessing to have this opportunity. I just look forward to it all really."