Since 2014, the University of Indianapolis wrestling team has not sent seven wrestlers to the NCAA DII National Championships, but that changed this year when at the NCAA Super Region IV. Seven wrestlers graced the podium notching their place at the national meet in St. Louis on March 11, according to UIndy Athletics. Not only did the Greyhounds have seven podiums, they had two regional champions in redshirt sophomore Jack Eiteljorge (165lbs) and redshirt junior Andrew Sams (174lbs) both bringing home championships. According to Head Wrestling Coach Jason Warthan, the success came down to preparedness.
"Those guys have been preparing, I think mentally they were ready when they stepped on the mat," Warthan said. "They were excited to wrestle, go see kind of where they're at. Our schedule has been really tough all year. And they were well prepared and ready."
The group that will be heading to nationals alongside Eiteljorge and Sams is freshman Logan Bailey (149lbs), redshirt freshman Derek Blubaugh (197lbs), freshman Cale Gray (285 lbs), redshirt junior Breyden Bailey (141lbs) and redshirt sophomore Dawsome Combest (157lbs). Sams said the large group the team is sending is awesome.
"Everybody we're sending, I feel like can be in the finals, can be on top of the podium," Sams said. "We have some of the best seven kids in the country at that tournament, and I think we're prepared, we know that. And just going with each other, being able to wrestle with each other every day, makes us so much better."
For Eiteljorge, this is his second regional championship win having won previously in the 2019-2020 season, while for Sams it is his second trip in a row to the national meet and his first gold in the 174 weight class for the regional, according to UIndy Athletics. Sams said a large goal of his this year was to improve upon his second place finish from last year's regional. He felt like last year he was just happy to have made the national meet, Sams said, but this year his goal is much higher. He said what sets him apart from last year is versatility.
"I feel like I'm really good in all three positions," Sams said. "I know I'm incredibly hard to score on my feet, on top I really improved. I think I can ride people to win matches, and on bottom, constantly getting better and better. And if I'm really hard to score on a single position, I don't think anybody can beat me."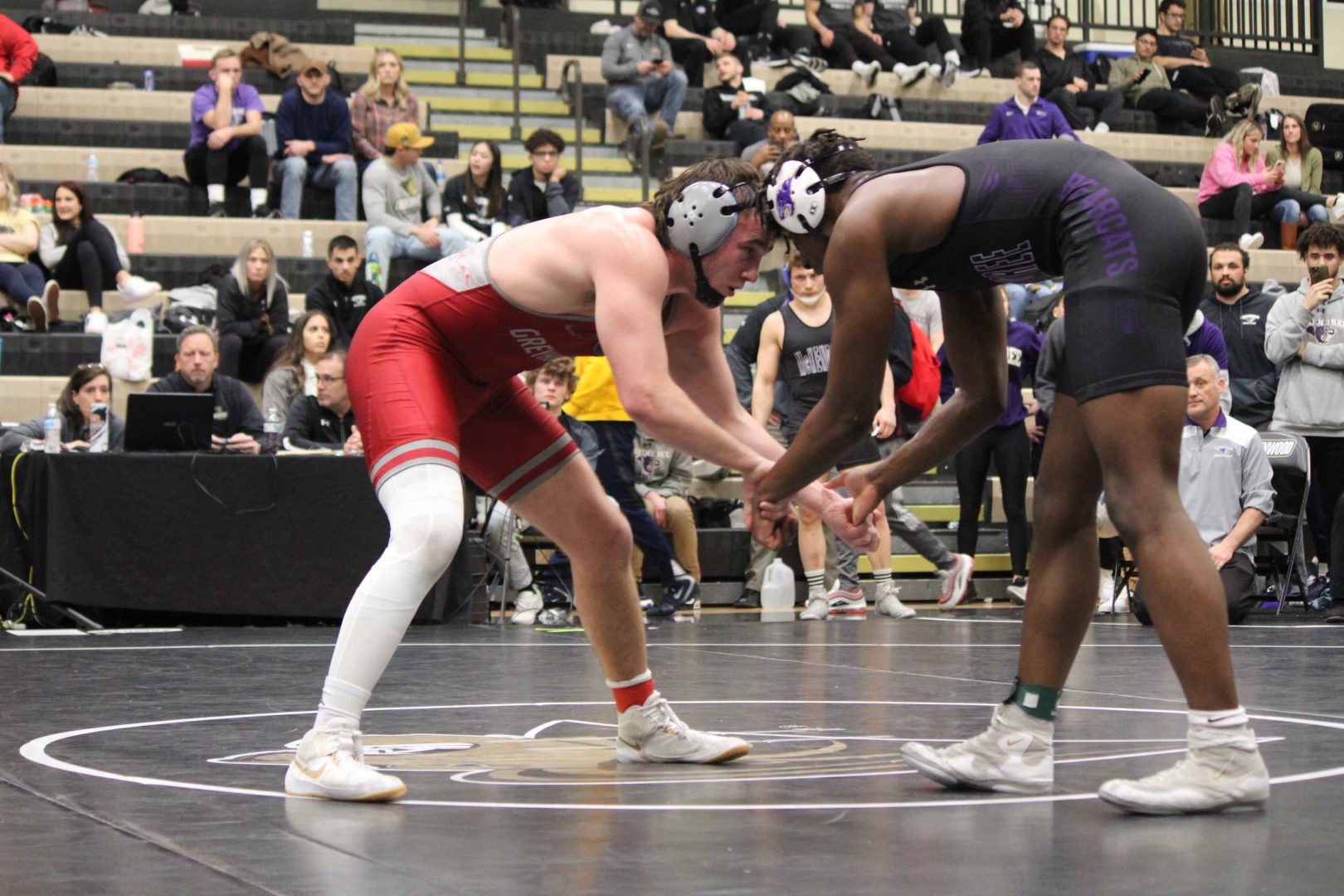 Warthan said both Eiteljorge and Sams have worked against each other in practice all year and that plays into the confidence they both carry onto the mat. That confidence does not stop at the pair of champions as Warthan said the entire wrestling room's skill is what makes them such a quality team this year.
"One of the themes was that they're not going to see anything that they haven't seen before [because] our room is so good," Warthan said. "That when they go out and they have the number three kid in the nation, it's not better than their practice partners….They know that their opponents aren't going to have anything on their drill guy. It gives them confidence knowing we have assistant coaches and All-Americans at 157 lbs and All-Americans at 174 lbs and two-time national qualifiers at 184…. We have built a really strong group, and so to have those strong guys and practice just gives them confidence that they can do it on the mat."
For Eiteljorge specifically, Sams said, it was confidence in knowing how skillful he was as a wrestler and knowing that when he wrestles like he does in practice, nobody in the country is better. Warthan said Eiteljorge is one of the most coachable wrestlers he has had come through his program and even with how good he came in as, he has still continued to work and get better.
"I was so happy for him, he's been wrestling well, he put in a lot of work over the summer," Warthan said. "… I think the biggest thing for him was he had put in the work and wasn't seeing the results happen as easy or as much as he would like, or as quick as he would like. He took a couple close losses where in the past, he'd beat some of those guys, and I think he just needed to relax and trust who he is and let some of those things come to him. And he was firing on all cylinders this weekend. He wrestled composed and relaxed but also was aggressive."
Warthan said Sams is a student of the game and not only understands where he needs to improve but understands his opponents. His ability to get takedowns from his feat in tough situations is really what sets Sams apart from other wrestlers, according to Warthan.
"He also has this confidence that he can go and get a takedown when he needs it, and so if you look at his record, he has a lot of wins against the Top 10 in his weight class, and a lot of them are close, where he's went and got to take down to the last 10 seconds of a match," Warthan said. "I think during the Midwest Classic his quarterfinals and semis and finals, he was able to get a takedown within the last 10 seconds of a period and that's huge… He's done that in a couple other big matches. That's a pretty nice skill to have, to know that if I need to go get one, I know exactly what I'm doing and I know how to do it."
Besides the confidence of the team, Warthan said a lot of their success comes from the incredibly tough schedule they have faced this year. Throughout the season, the team have had nine duals where they have battled Top 25 competition with a 4-5 record in those matches, according to UIndy Athletics. Warthan said keeping with the theme of no competition is going to be the best they have ever seen and that most of the preparation is done for the national meet.
"We're ready I think as far as competition goes; there's not going to be anything we haven't seen before, and a lot of these guys have been to the national tournament or been in stages like this before," Warthan said. "…The coaches watch a little bit of film and make sure that we're prepared that way…Guys know who they are and what they do well, and really, that's what you want going into a match. It's not necessarily what your opponent does is kind of knowing your strengths and weaknesses and wrestling to your strengths."
This current roster is a fun one, Warthan said, and they all come in with different strengths and personalities which creates a diverse and fun environment. He said as much as he does teach them, he learns from them just as much and that this current roster might have the capacity to be one of the best to ever exist at UIndy.
"We always think about the best that's ever come through, and we always kind of set the bar at the 2014 team," Warthan said. "… I think the most we've ever had is four All-Americans in one year and we keep thinking like this could be a group that surpasses some of those great all time teams in the past and I definitely think it's within reason that we can do that."