The University of Indianapolis Men's and Women's Swim and Dive team stole the show at the NCAA Division II Championships on March 12, with the men's team placing third and the women's team placing second, the highest finish in program history, according to UIndy Athletics. 
Interim Head Coach Brent Noble said the team had high expectations going into the championship, but the overriding emotion is motivation to continue to do more. It was going to take a good meet to do better than fourth on either side, he said, and second and third were good finishes the team had to earn. 
"We have a lot of third-place trophies," Noble said. "The men had been third three times already before this year. The women were third last year. So I think that's a stepping stone goal, to break the string of thirds. So that was good. We had a lot of talent, a lot of good performances performed well. But it's a stepping stone."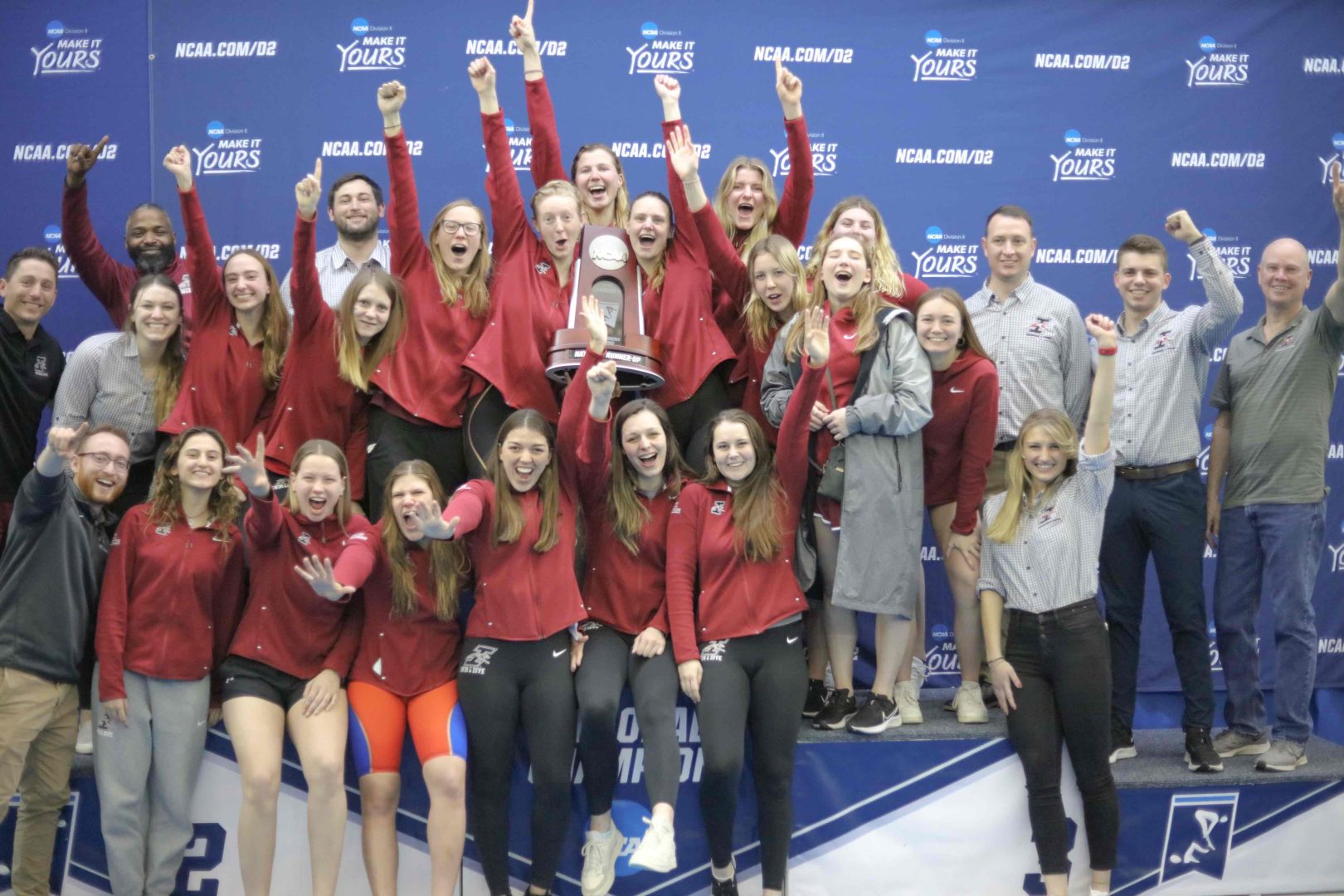 Noble said there were many moments from the weekend that stood out, including relay wins and dominating on the diving boards, but there was a top to bottom aspect during the weekend.
"I think the difference this year is we had very, very few athletes who went and didn't score at all, which, qualifying is one step, but getting there and making a final heat and scoring is another good top to bottom," Noble said. "And a lot of people … like Isabella Revstedt is one that didn't score last year individually. And she ended up pulling out a 200[-meter] backstroke that we didn't expect. And so there was a lot of that up and down, that helped us."
Senior Marizel Van Jaarsveld was one of the most successful swimmers on the women's team at the championship, capturing titles in both her 200 and 400-meter individual medleys (IM), second in the 100-meter breaststroke and third in the 200-meter breaststroke, according to SwimCloud. Jaarsveld said it felt amazing to score so well, especially because it is her last year of college swimming. These achievements were something she was aiming for, she said, and she is happy to go out with a bang. The event that stood out the most for Jaarsveld at the championship was the 400 IM, she said.
"In that race, my goggles actually filled up with water. So I couldn't see the race," Jaarsveld said. "And I just raced with my heart and did a time that I've never done before and broke the school record. And I was so happy with that race, just because I could put all of the things that gone wrong aside and still perform. And that showed me that [it] was a really good race to be able to do that."
Junior Cade Hammond dominated as well, placing first place for the one-meter dive and fourth place for the three-meter dive, according to SwimCloud. Overall, Hammond said he had a tough season mentally, and having Diving Coach Dave McKown be understanding but also push Hammond beyond himself was a major contributor to his success, in addition to his teammates, friends and his girlfriend. For Hammond, he said winning the national title was a major accomplishment, but the three-meter dives were more difficult because he had not done some of them since before COVID-19, but it was still a personal victory.
"I was watching the scoreboard. And I just remember, seeing that freaking out and just kind of like, falling to my knees real quick, because I didn't believe it, and just kind of a blur from there," Hammond said. "And then three-meter, I was just really surprised to even make it to finals, let alone to be a point or two away from getting a podium. I set my expectations very low on three-meter and really surprised myself, I think, so that was cool."
Noble said the teams are a group of very talented people in order to build a group with principles that are held in high regard. They all care about each other, work hard together and are determined to accomplish big goals individually and as a group, he said.
"Swimming is a sport where you put your face in the water, and you go, and you work hard," Noble said. "And diving is a sport where you stand on the board, and you stare down something pretty daunting. And so they come every day, and they do it. And your coaches and athletes, we just have worked hard at it with these goals that we were confident we could attain."