After receiving No. 7 and No. 2 Intercollegiate Tennis Association rankings for University of Indianapolis Men's and Women's Tennis teams respectively, Head Coach Malik Tabet and his Greyhounds look to further improve on their game this season. Tabet said he wants his athletes to compete at the highest level and play top teams every season.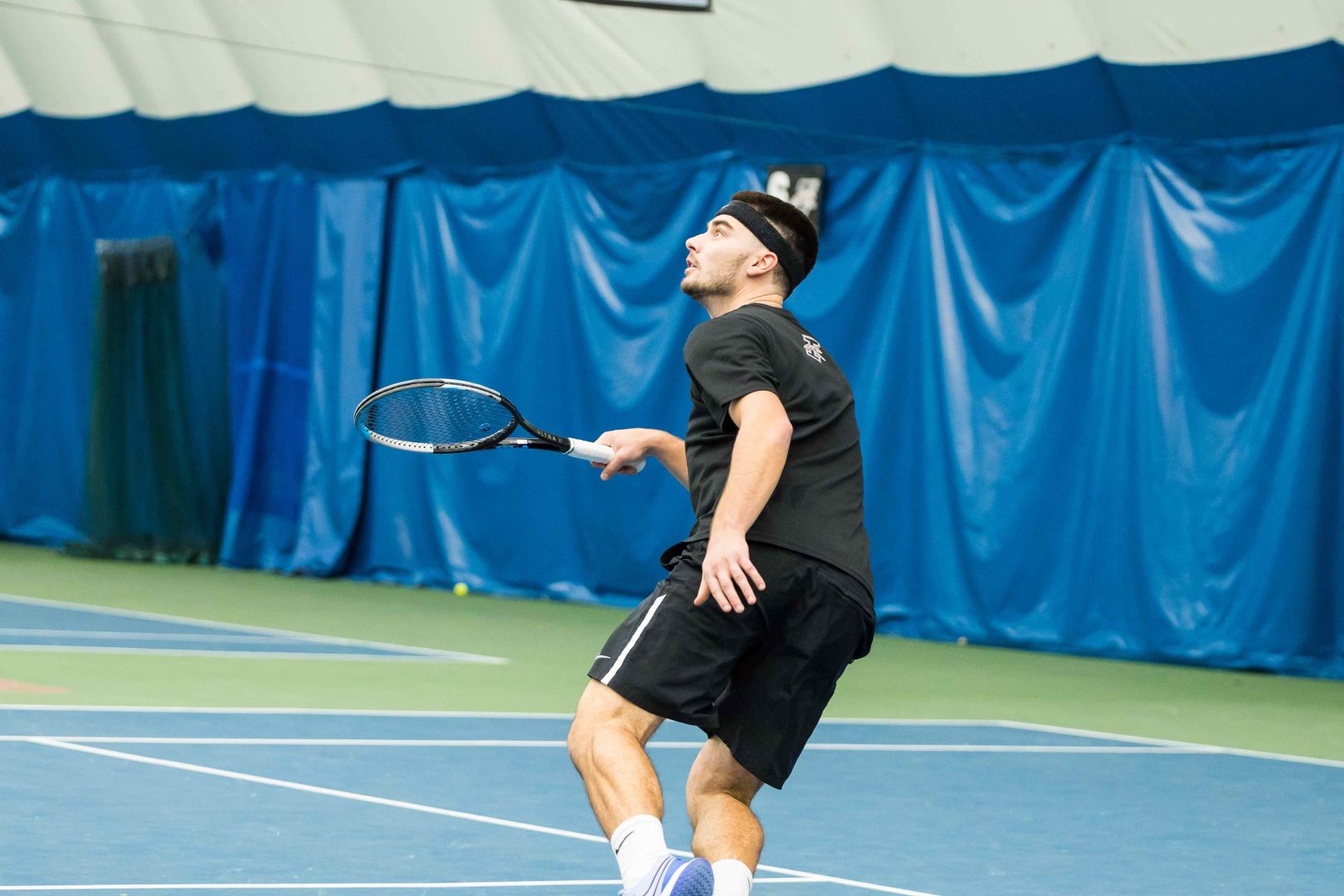 "You always want to try to reach. The star for us would be the national championship," Tabet said. "We feel like we are getting closer and closer every year. Last year, we played [in] the semis. We ended up in the final four again. So this is the second time [we've made] the final four in four years…. It's exciting to see that we're getting closer as a program."
According to Tabet, he is very happy with everyone in the tennis program because they are good ambassadors of the sport, excellent tennis players and students and they are good citizens within the community. Although much of the tennis team are returning players, because of the COVID-19 season, Tabet said he feels as though he has a young team of veterans.
Fifth year graduate student Zac Faveri joined the Greyhounds this year after leading Western Michigan University to three Mid-American Conference Championships, according to UIndy Athletics. Faveri said his chemistry with his current doubles partner, Junior Tom Zeuch, is reminiscent of his doubles partner at WMU, Jannik Opitz. Faveri said Zeuch and Opitz were childhood best friends and Opitz recommended Faveri to consider coming to UIndy because of his relationship with Zeuch.
"Coming here, I knew that UIndy was a top school in [Division II] in the whole country," Faveri said. That was one of the main reasons that I wanted to play for UIndy, and after the fall season and the start of this season, I've really noticed just how good we are."
According to Faveri, their success can be attributed to how close of a team they are on both the men's and women's side of the program. The program has a big family dynamic, Faveri said, which helps them push each
other along. He said that his goals for this season are individual goals that impact the team as a whole.
"I think my main goal is, I want to try and lead by example and I want to bring over some of the things that made my previous school a championship winning program and culture," Faveri said.
How athletes bring their attitudes to practice, what kind of mentality they take into matches and the energy they bring are among some of the nuances that Faveri said he hopes to bring to the Hounds' courts. Faveri said he hopes to provide expertise as a fifth year student to the younger athletes on the team.
"I know the goal here isn't just to win our conference championship, [but] to win the entire NCAA title," Faveri said. "… We haven't done that, but I'm really looking forward to trying and competing for that big trophy."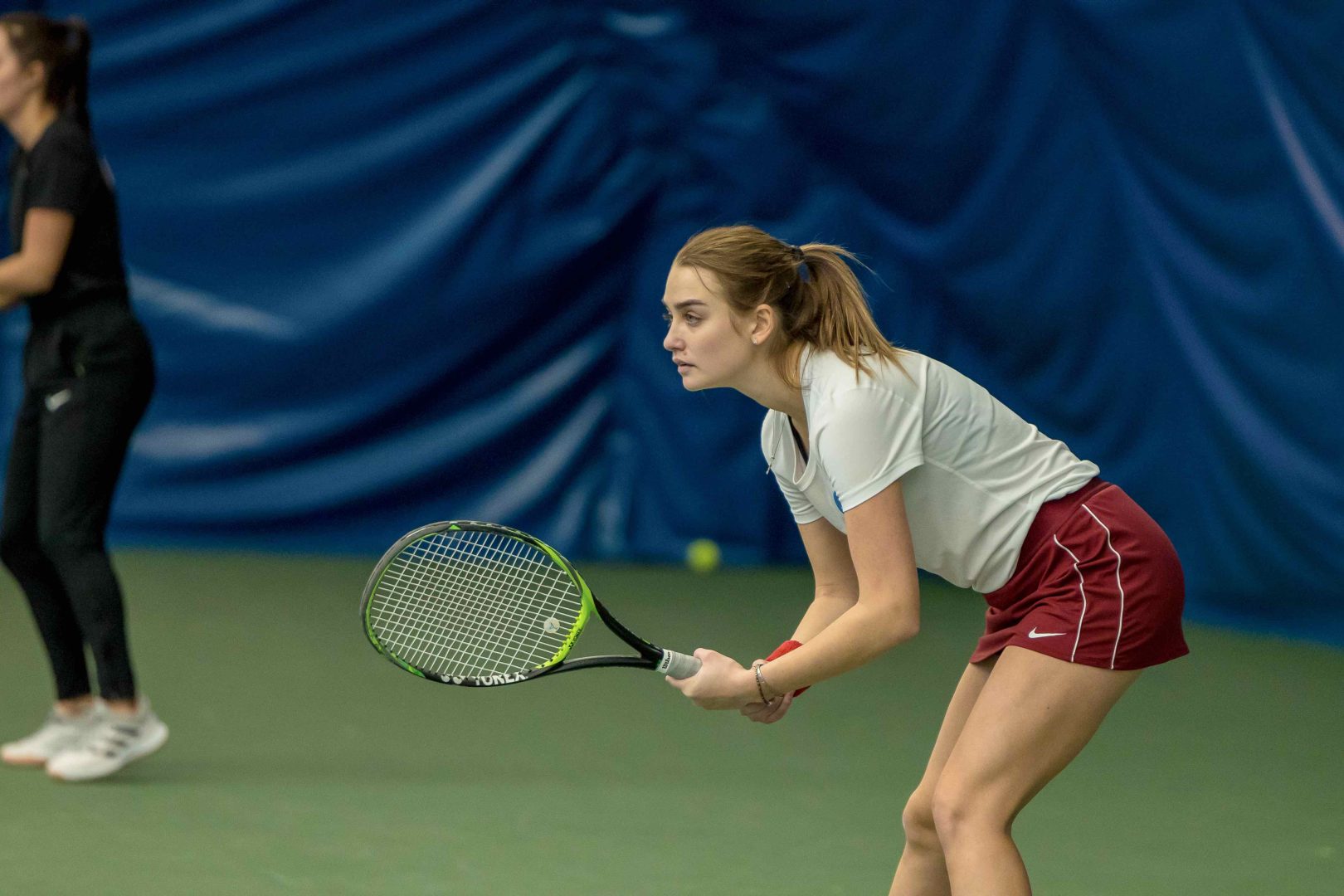 Women's tennis is also looking to compete for the NCAA title after losing in the national championship the previous season. Senior Maria Solnyshkina said the team comes and plays as though they want to play the next match better than they did the previous one.
"Unfortunately we lost in outdoor nationals, and we're really upset about that," Solnyshkina said "Now, we know what we need to work on [we're] trying to do our best. So I hope our season 's gonna go well and we're gonna win."
Solnyshkina said to mitigate mistakes from their national championship loss, the team needs to work to focus more on the important points in the match. Avoiding mistakes on run shots, lunge shots, returns and playing directionally are things that Solnyshkina said she and the rest of her team all have to work on this season.
"It's just the culture, what we have in the tennis program," Solnyskina said. "Everyone treats each other equally. We talk [about] what we need to improve [on] as a team, so it's [a]really cool atmosphere on our team."
Faveri said people should come take a look at one of their matches if they are eager to watch fast-paced action. While there is fast-paced entertainment in basketball and football, according to Faveri, when people see them hit a serve more than 120 miles per hour, they are shocked to see the level the tennis athletes play at.
"I'd encourage people to come out and take a look because it's a lot of fun," Faveri said. "It gets bumping in the bubble at the University Tennis Center. So come and take a look and it'll be a good time. You won't regret it."
Both teams face off against Washburn University in O'Fallon, Ill. on Feb 12. as they look to extend their scrimmage win streak further into the regular season.