After making their second consecutive NCAA Final Four appearance, the University of Indianapolis Men's Soccer team fell to the University of Charleston on Dec. 9 in a double-overtime game that would be decided by penalties 5-3 in the Golden Eagles favor. The Hounds lone goal in the 1-1 double-overtime contest was by senior back Kendall Allen assisted by freshman back Felix Schuetz.
"I think this time around though, there's a much better mentality about us in terms of, [there's] still a bit of a job to be done," Head Coach John Higgins said. "I think in 2019, when we got here, we were kind of swept away with the emotion, and I think we were just happy being in the Final Four. I think throughout this whole NCAA tournament run, there's been an expectation that we win games, there's been an expectation that we get here, I think everybody almost expected to get back here. And I think there's a bit of a sense of unfinished business this time around."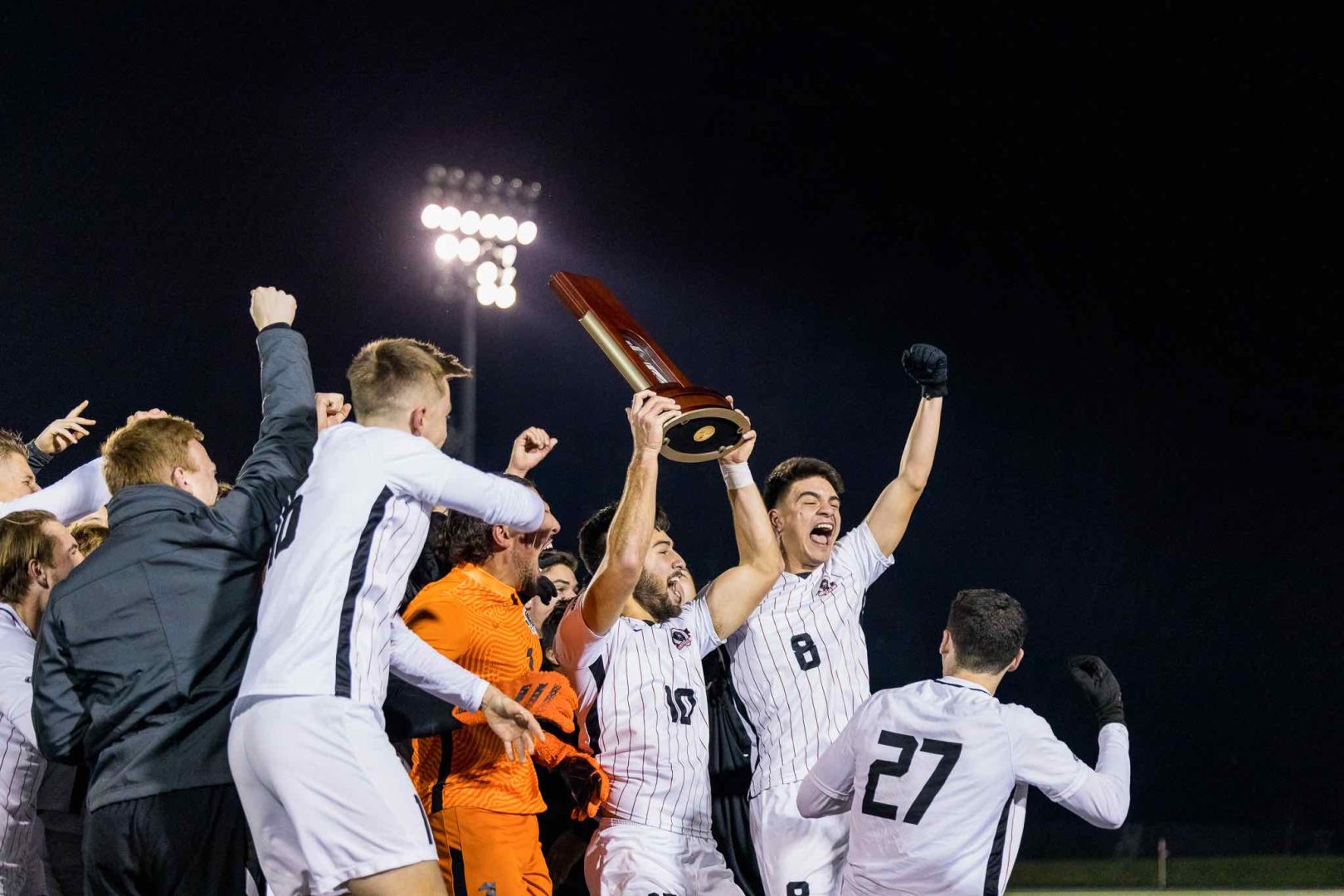 Higgins said that in the 2019 run they entered the tournament as a No. 9 seed, but this time around there was a positive sense of confidence around the entire team, the belief that they deserved to be where they were. He said the 2019 run was crucial for the success of this year's team.
"We obviously lost in [20]19, we left for the winter break and we came back in the spring of [20]20, and it was the best UIndy team I've ever seen," Higgins said. "Just from a pure mentality standpoint, we trained like we were one of the best teams in the nation. We acted like we were one of the best teams in the nation, and without making that run in 2019."
On the way to the Final Four, the team took down Cedarville University, the University of Illinois Springfield and Fort Hayes State University all at Key Stadium. The entirety of the NCAA Midwest Regional Tournament was hosted at UIndy and because of this UIndy had the ability to see their opponent's matches prior. However, for the Fort Hayes match, Higgins said he did not allow them to watch because of what it had done to the team for the Cedarville match.
"I thought we were a little complacent against Cedarville [University] because we'd watched them," Higgins said. "And because it's very, very high confidence in ourselves, we stopped the boys from watching Fort Hayes, it was just the staff."
The team only gave up one goal across the regional tournament, according to UIndy Athletics, which continued the trend they had shown all season ending with a goals for and against ratio of 55-16. According to junior back Makel Rasheed, the moment when they had defeated Fort Hayes and were heading back to the Final Four was special.
"Not really a sense of relief, but just pure happiness, I felt like this group, we were a huge family," Rasheed said. "Experiencing that with their family is just different gravy, it's different feeling that with the boys that you spent most of your days with every day, and the amount of hard work we put in, and it paid off on Saturday. It's just a good feeling."
Throughout the season, the team routinely had big second halves, with the match against Fort Hayes being another example with both of the Hounds' goals coming in the second half. Throughout the season, the Hounds scored 32 of their 55 goals in the second half, according to UIndy Athletics. According to Higgins, this is due to the expanded coaching staff that the team employs and also the numerous substitutions they do in the first half.
"We've got a really talented staff and I think that gives me much more opinions than potentially other Division 2 head coaches are getting a halftime so I think there's a tactical component to it where we've got an adjustment or two to make," Higgins said. "I think the second thing is that we make subs in the first half that other teams are not willing to make so you'll see us, in the first half, we'll make anywhere from five to seven subs, which is really a lot, and it doesn't help us necessarily in the first half. But it helps us later in games. Fort Hayes was a great example of that. We made all those subs in the first half, we actually lost a little bit of control of the game because we made the subs and they kept their top line up out there. But it paid dividends in the second half because we were much fresher than they were."
Higgins said that while the goal, of course, is a National Championship at the end of the year, he also wants UIndy Men's Soccer to be one of the premier programs in the country. He said that he wants people to think of UIndy when they think about Division 2 men's soccer. He said that he wants to get to that point for those that he played with at UIndy and for those that have supported the team for the last ten years. He said that these playoff pushes are going to lead the team to where they want to be.
"That's really really where I want to be for UIndy, for the guys that I played with for the alums, for the guys that had spent the last 10 years with me trying to get to this point, and the players that have gone through it. That's what it's all about, there's nothing better than being on these runs and hearing from the alums," Higgins said. "Because the standards are the same, the experience is the same. We just simply got a bit of a better mentality now and a bit of an expectation that we go and do it. I wouldn't even at times say we're more talented than any of those teams have been," Higgins said. "I think 2013 was maybe the most talented team I've ever had. But we did not have the level of expectation we did not have just the mentality that that took at that point to be national champs. I believe we've got that now, if it happens this year [then it's] great. If not, my belief is that the expectations will continue to get back to Final Fours and we'll get over the hump at some point."