The 45th annual Richard Lugar Symposium was held on Dec. 4 and was held in person for the first time since it was moved online last year due to COVID-19. The event gathers high school juniors from across Indiana to talk about key issues going on in the country and the world, Vice President of Enrollment Services and Executive Director of the Richard Lugar Symposium Lara Mann said. They ask high schools to choose students who show leadership potential, she said.
"Normally, we've got 200 to 400 students from various high schools in Indiana," Mann said. "… The main way that it will be different because of COVID[-19] is that we've limited numbers. Instead of the two to four [students per school], meaning we could have 600 people on campus, we really limited it to about 150 students, and then we'll probably have about 80 adults with us. We've really tried to contract the numbers a little bit so that we can social distance and make sure that we're doing this in a way that's respectful of COVID[-19] policies that we've created."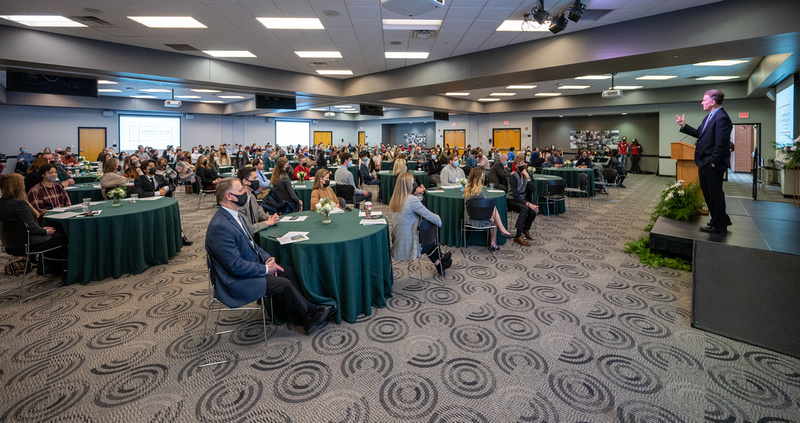 With the passing of Senator Richard Lugar in 2019, the symposium had to find a way to go on without his presence. Before he became a senator in 1976, Lugar was a professor at the University of Indianapolis.
"In his [Lugar's] first year of Senate, he started this [the Lugar Symposium] with us because of this relationship that we had with him," Mann said. "His idea was to be able to talk about current events with future leaders, and to be able to model how to have conversations that are respectful and civil. It's a talk about current issues … "
This year, the symposium featured Steve Inskeep, a journalist for National Public Radio (NPR). According to Mann, Inskeep and Lugar moderated a panel together at UIndy and kept in touch. Mann said Inskeep took the place of Lugar in his talk about current events. Inskeep said he was happy to stand in and deliver a keynote speech.
" … It's an honor to be associated with something that has to do with Senator Lugar because I admired him as a kid growing up," Inskeep said. "I understood, regardless of anybody's politics, people were proud of him. People maybe didn't agree with him about every issue, but they knew that he was a national figure and a thoughtful guy. When I grew up and moved to Washington, I found out that that was true. He was a Republican who would work with Democrats, who would offer his best wisdom to whoever needed it, who thought about serious issues, whether they got him on television or not."
Inskeep's talk about current events focused on how the United States has influenced the world, particularly in the media. He said he got the idea from his teenage daughter who urged him to watch her favorite television shows.
"They [the television shows] have these deeper meanings in them… Maybe the clearest example is this program called 'My Hero Academia,'" Isnkeep said. "…The central superhero is this guy named All Might, who is basically an American superhero. He throws a punch, and it goes Texas Smash. But he's got this wound, and is slowly losing his power and has to find someone to help him take over. That to me becomes this gigantic metaphor for the world we're living in, and what America has done in the world and America figuring out what we do next. I find several programs like that to be starting points for the discussion that I want to give."
The symposium had many other panels covering various topics such as American politics, police reform, systemic racism, the Middle East and how sports communities responded to the pandemic, according to the Lugar Symposium website. 
Two panels brought in guest speakers. According to the website, the police reform panel featured Lieutenant Brandon Pate of the University of Indianapolis Police Department. The sports panel brought in Sr. Vice President of Penske Entertainment Allison Melangton, President and CEO of Penske Sports and Entertainment Mark Miles and Executive Vice President for Corporation Communications, Community Engagement and Facilities Operations of Pacers Sports & Entertainment Mel Raines, according to the website. Finally, students participated in a panel focused on college life where they could have their questions answered, Mann said. 
"It's because these students will go to college soon," Mann said. "The student panel is, 'let's talk about university life while you're here on campus, like what does it mean to be a college student? What does my day look like? If you're curious about college in general, how can we help answer questions about what it's like to be a college student?' We get a lot of good feedback about them."