Assistant Professor of Communication Stephanie Wideman, Associate Professor of History and Political Science Laura Merrifield Wilson and Assistant Professor of Communication Whitney Tipton presented their research at the C-SPAN Conference on Oct. 11 and 12. Hosted by Purdue University, the purpose of the C-SPAN Conference is to present research on what the government is doing, increase transparency and explore and analyze the connection between politics and communication.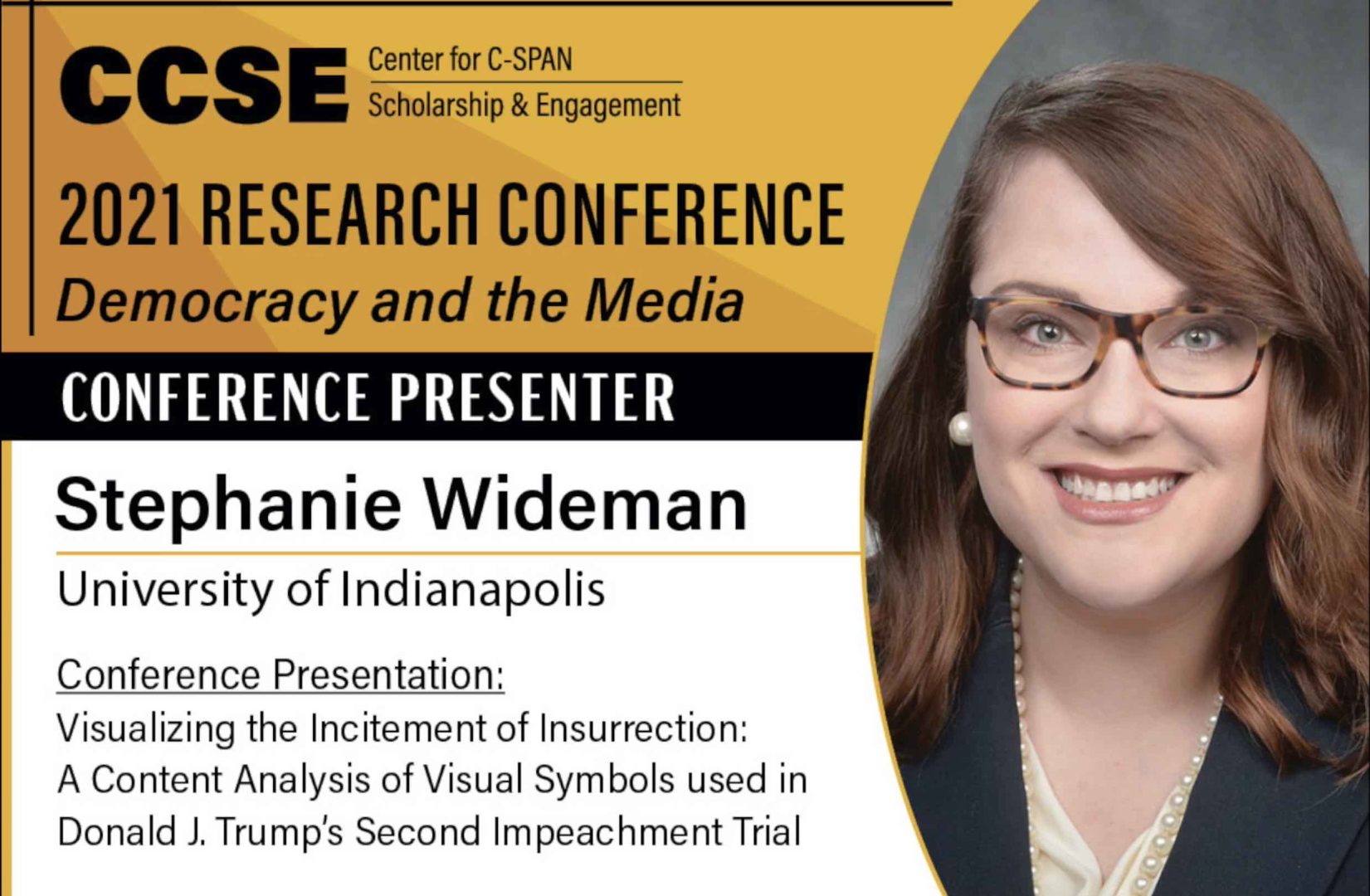 According to Tipton, all of the research presented during the conference will be compiled in a book called "The Year in C-SPAN Archival Research" where Wideman, Wilson and Tipton will collectively have a chapter. According to Tipton, their research was focused on former President Donald Trump's second impeachment trial, which was related to the Capitol building insurrection and riots in January 2021. Tipton said the group studied visual aids and how they were used during the trial, they looked at each visual aid, made note of it and categorized them. Each professor possesses different strengths: Tipton has a background in research methods, Wideman has a background in visual rhetoric and Wilson's background in political science all came together to research and present their findings on this topic. 
"I think, each of us coming with a different background, obviously we had to explain things to each other through the process but I think overall it was a really well-rounded team," Tipton said. 
Tipton said that visual aids can be a powerful way to accentuate an argument but you have to be aware of the ethical implications of showcasing so much emotional content. According to Tipton, Wideman, Wilson and herself looked at over 800 visual aids that were used during this trial, sometimes more than once, and some of them being violent and or graphic.
" … The emotional toll of having to watch hours of violent footage," Tipton said. "It's not like a movie where you know it's fake—it's real people and they talk about their families. It was, I think, very significant in terms of research but also very emotionally difficult to complete."
Tipton said the purpose for them presenting this was to further research with the use of video as a visual aid in an impeachment trial, which is something that hasn't really been done before. 
"This impeachment trial had a heavy reliance on video as a medium," Tipton said. "So we knew that there was a lot of research of visual aids and politicians, but not in the context of an impeachment trial."
Their goal was to see if the existing theories related to visual rhetoric and political science applied in this particular context, Tipton said. Wilson, who went back to rewatch the trial and search for images describes the dynamics of the images used in the trial. 
" … We saw the use of images that we really have never seen before," Wilson said. "It's really important in terms of understanding communication and politics."
Tipton said that the result of this research contributes to the research related to visual rhetoric because of the new uses of visual rhetoric from politicians. When looking at the visual rhetoric during this trial, there were certain things that they were looking for, according to Wilson. While looking at the over 800 images, the team characterized them into different categories: emotional, rhetorical, historical and more.
According to Wilson, the C-SPAN video archive library was used for their research and they were able to obtain footage of the trial. Wilson said she was tasked with rewatching the trial and making timestamps for every time a visual aid was used. They collectively went back and analyzed these visual aids, looking at how and why they may have been used. The images that were used during the trial by the defense were of a wide variety, according to Wilson. She said there was actual video footage of people breaking into the capital and going into the senate and house chambers. Maps were also used to show where people were throughout the capital, as well as tweets that may have led up to the events that took place at the capital. 
Politics and communication were a big part of the research when looking at former President Donald Trump, Wilson said. He was the first president to use social media the way that he did as somebody in his position of power.
"To be able to analyze and assess what this means for presidential responsibility, for the role of a president in something like this, there's a lot that we can talk about on the communication side …," Wilson said. "But for the political side, we're talking about the power of the head of state, the leader of our country and understanding the role that communication really plays within that, especially through of course the impeachment trial," Wilson said.
Wilson said she wanted to present this research because of the lack of current research on it and the timeliness of it as well. She said she credits Wideman and Tipton for being able to complete their research in a matter of months. 
"We all have the same common goals and interests, but we're bringing something different to the table," Wilson said. "I think we also believe this is really timely and important for the American public. And it's important for our disciplines."
The project is still in the stage of transitioning from research to a written chapter in "The Year in C-SPAN Archival Research" book. Wilson said the takeaway she wants the public to have by viewing this chapter is understanding the incredible power that social media gives to all people, but especially elected officials. The book chapter is currently going through the early stages of being revised before being turned back in to be published in December, with the book being set for release in February or March of next year.
"How much do we hold them [politicians] to influencing people?" Wilson said. "Even if they don't explicitly say 'You should do this,' if they're doing other things, if they're saying other things, at what point does it not have to be explicit to still be very true and impactful?"