The University of Indianapolis football team defeated Truman State University, 46-29 for the first ever inaugural GLVC Championship game. The game at Key Stadium on April 24 wrapped up the Greyhounds' shortened and strange season.
Senior quarterback Bryce Stancombe for the Greyhounds, proved that he is the man to lead the Hounds under center, finishing 26-for-36 passing for 292 yards, two touchdowns and no interceptions against the Bulldogs, according to UIndy Athletics. Along with Stancombe, junior running back Toriano Clinton ran for 235 yards and also had three touchdowns. Senior wide receiver Daveon Bell also became the school's all-time leader in career punt return yards.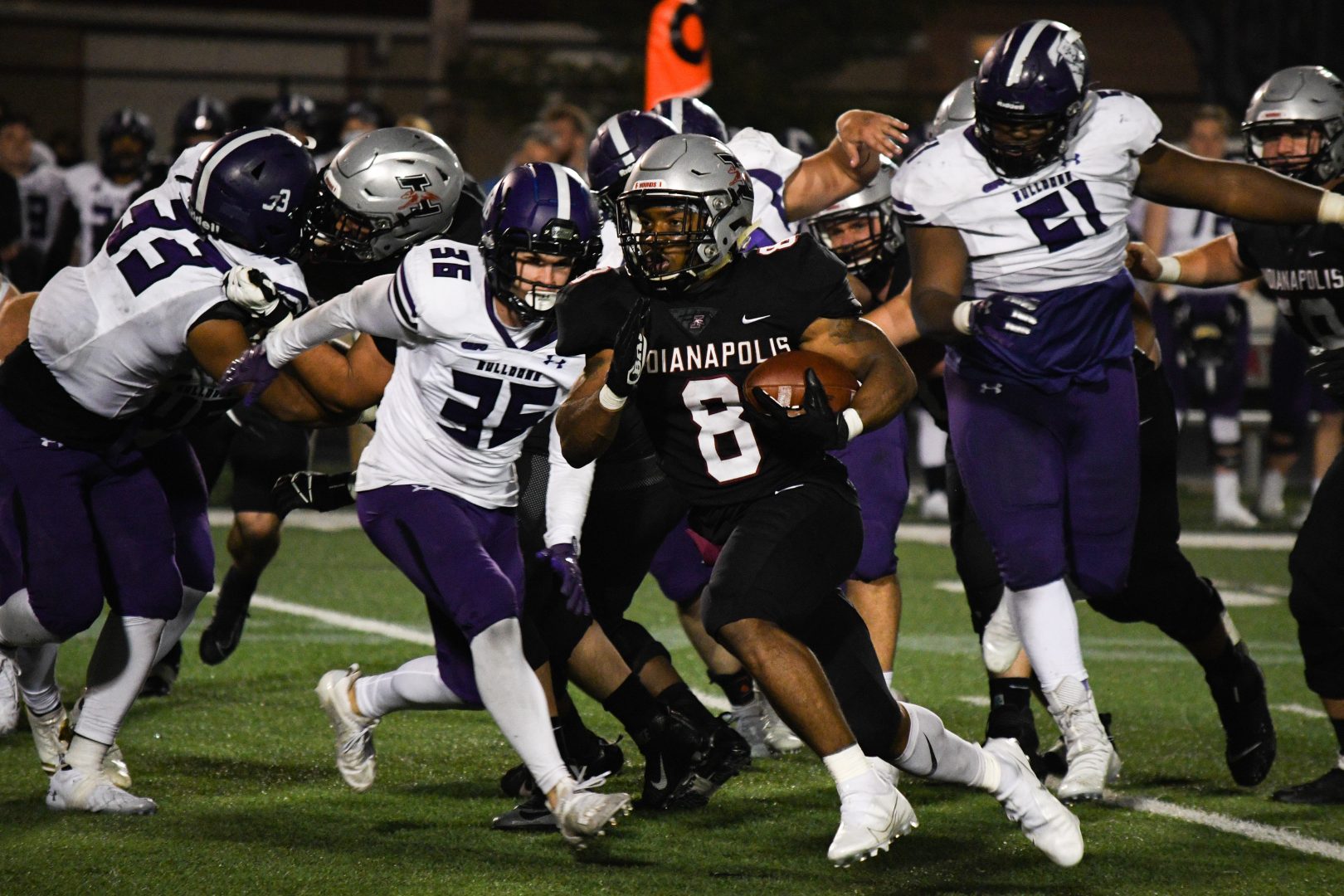 Truman scored first and held the lead until the very end of the first half. An 11-yard TD pass from Stancombe with eight seconds on the clock put the Hounds up 24-21, which gave the team the momentum for the rest of the game.
"As far as big plays go, coming back I think it was right before half, we scored, and it felt like that momentum switched," Stancombe said. "And then obviously towards the end of the game we were able to run it out and our defense was able to hold them off just in time".
UIndy Football Head Coach Chris Keevers said the Truman Bulldogs gave them a challenge all game. A combined game plan by Keevers and efforts from the Hounds on both sides of the ball led to the UIndy defense holding the Truman running effort to 22 yards and a conference title for the Hounds.
"We wanted to run the ball, which would set up our passing game and open up some big things for our senior quarterback and our three senior receivers," Keevers said. "And on defense we wanted to stop the run, so we were able to do what we wanted to do, but they were a good football team. It was a struggle for a long time".
Even though the season was a shortened one, the efforts behind the scenes by both the players and the coaches should not go unnoticed. The rules and protocols that were to be followed introduced new challenges for the Hounds to tackle according to Keevers. Keevers said that these included new contact-tracing steps to take for athletes and also the amount of players able to be together at once.
"It was very difficult, it was a struggle, you had to plan out everything and then you had to throw that plan away and start a new plan," Keevers said. "And 110 kids got tested nine weeks in a row every Tuesday and Thursday. It was hard, but it was great for our players. And I am glad we finished this way because they deserved a championship".
Keevers said he was aware of the difficulties that this season would bring for his players. It took a lot of dedication to do what this team did this season despite the obstacles in their way.
"I learned that our kids are pretty tough and committed. I mean to do what they did and not go out in big groups and make that commitment for nine weeks and we didn't have one positive COVID test," Keevers said. "They made that commitment and wanted it, we have really good players and human beings on our football team".
The risks that teams such as the Greyhounds took by playing this shortened season included the quick turnaround for the upcoming season. This will see the student-athletes playing an increased amount of games than they're accustomed to in one calendar year
"It is a really quick turnaround, we haven't experienced this," Stancombe said. "And just us, we dealt with a lot of injuries already, and some of those guys are not going to be able to recover in time for the fall, so these next couple of months to get ourselves healthy and in shape to play in August and September".
Keevers also mentioned how the unfortunate injuries of some key players will affect the next season. Keevers said he believes that the risks that this season brought could suit the team well in the future.
"We had some injuries that guys will miss next fall, a couple guys that makes it a difficult situation," Keevers said. "That's why some of the teams didn't play, but just the opportunity to play for a championship and the time we had when we won that championship and how we felt and how the kids celebrated, I think it was worth it and I think that momentum will help us in the fall".
While this season was shortened and the team was only able to showcase their talents and skills for three games, their sights are set on the next challenge. That next challenge being a run for a national championship.
"We're giving them three weeks off to clear their heads and get healthy. And then we're going to get after it like we always do," Keevers said. "We're going to get ready to win a championship again."