Since the beginning of the COVID-19 pandemic, masks have been an everlasting feature in students', and many others', lives. Eta Sigma Gamma, a health education honorary at the University of Indianapolis, has started conducting research about the UIndy students' populations perception and feelings regarding masks, their effectiveness and the activity of mask caring, which is the cleaning and sanitizing of maks, according to senior public health education major and ESG President Samantha Mundt. She said that this type of research is one of the core pillars of what it means to be in ESG.
"Part of ESG is we have four core goals and one of those four is research. And so it's important that each year we're engaging in some type of research, whether it's with other ESG," Mundt said. " … but we're partnered with two other ESG chapters from other schools on this project."
The project is partnered with two other universities' ESG programs across the country, Central Michigan University and The State University of New York at Cortland, according to Mundt. ESG has a connections network that they will use for projects like these that connect schools' ESGs programs from all around the country, Mundt said. However, she said for this project that was not used and the connections were found through UIndy's ESG Sponsor, Associate Professor and Director of the Health Sciences Program Heidi Hancher-Rauch.
Hancher-Rauch works within the professional organization linked to ESG called the society for public health education; she said had a relationship already built with the ESG sponsors for CMU and SUNY Cortland and that they had approached her with the idea of the project collaboration.
"My areas of expertise are advocacy and policy …. In that work, I have become really good friends with the ESG sponsor at SUNY Cortland … Dr. Alexis Blavos, and then the sponsor at CMU … Dr. Jody Brookns-Fisher," Hancher-Rauch said. " In one of our many calls related to other activities, they were like, 'Hey, with our ESG chapters, our students are saying, they're really interested in studying this whole face mask issue and what we're seeing on our campuses. Are you interested in participating … to find out at our various campuses what we're seeing similarly and differently among our students?' And so that's how it originated."
Mundt said that there was a large amount of research and planning ESG had to do prior to sending out any surveys to the campus, such as, finding the methodology of the research, piloting the research with professionals within the field and submitting an request to an institutional review board for approval for the research. She said that once that process was completed there were a lot of rules that needed to be followed; one of the rules was based on the way they could word the dissemination of the survey.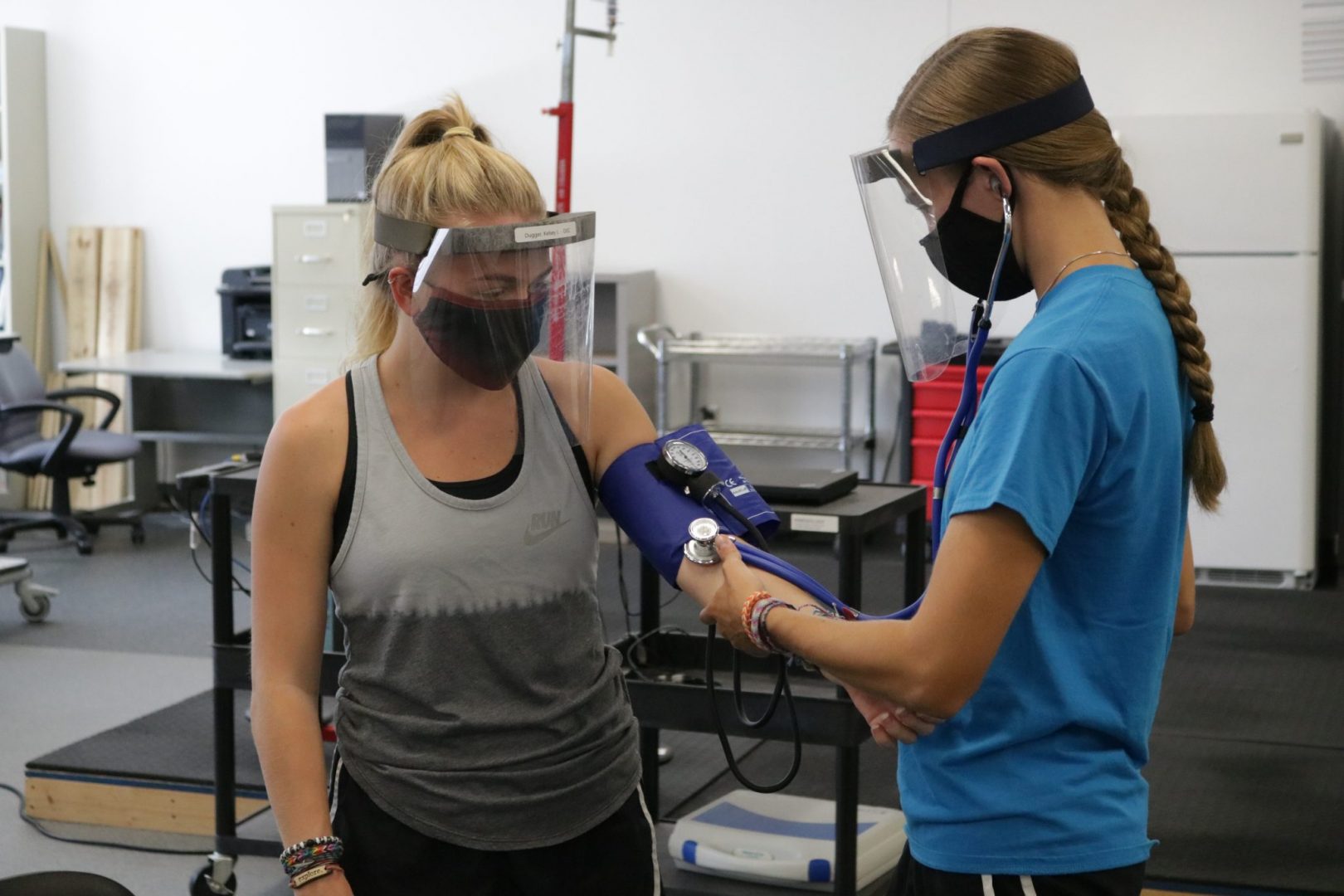 "So, even that little blurb that you see on Kory's [Vitangeli's] email is word-for-word, what we're allowed to say, and we can't deviate that from that," Mundt said.
The message could only be sent out five times to the population, and Mundt said that it has made getting enough responses to the survey one of the more challenging aspects. She said their only method of dissemination has been through Vitangeli's weekly emails and that they would love to use things such as the UIndy App or social media, but the ESG rules do not allow for that. According to Hancher-Rauch, one of the largest aspects of the process that was a challenge was communication across the universities with all of the different leaders. She said that allowing the students to take the lead at times was difficult.
"The other piece is when you're a faculty member and you've done quite a bit of research, you often have very specific ideas about how things should be done," Hancher-Ranch said. "So stepping back and letting the students really take the lead and just helping to guide them can be a challenge sometimes."
Mundt said that once the research is finished she and the rest of the ESG research team are going to perform an analysis on the numbers not only with UIndy, but with the numbers they get from the other universities. The end goal being to compile the data into a report that they will then look to publish in the ESG journal for others within the national ESG organization to read. Mundt said they really hope to have a better understanding about the perception of masks from college students.
"Ultimately, the main goal is just to have more of an understanding of student mask perception because the reality is that masks are probably going to be around for a while," Mundt said. "So by gauging students' perceptions of these, we can eliminate barriers and add more, not incentives, but add more factors, which make it easier for mask wearing."