Each year, the University of Indianapolis awards honorary degrees to individuals who epitomize the university's mission and prove themselves as leaders and role models worthy of the student population, according to University President Robert Manuel. This spring, UIndy chose to recognize Daniel Pink and Diane Carlson Evans for their accomplishments in their specific fields. Pink is the bestselling author of six books on human behavior and business. Some of his books include "When: The Scientific Secrets of Perfect Timing," "Drive: The Surprising Truth About What Motivates Us" and "To Sell is Human: The Surprising Truth About Moving Others." Evans was a combat nurse veteran who served during the Vietnam War and was responsible for building the Vietnam Women's Memorial. She is also the author of "Healing Wounds," a book about her experience founding the memorial. Both recipients will be honored on the WICR commencement program that will air during the graduation parades on May 8 and 9.
Manuel said UIndy has awarded honorary degrees since its founding. He also said researching candidates is a community process that faculty and staff contribute to. They identify people meaningful in their fields that produce accomplishments in line with UIndy's mission that benefits other people, Manuel said. However, he said degree recipients do not necessarily have a connection with UIndy.
"There are moments in the university's annual cycle where you celebrate the highest levels of achievements and aspirations of humans, especially those who have made an impact in people's lives consistent with the mission of our university: service to others or thinking about how to connect people and provide true hospitality," Manuel said. "Those are things that are important to us. An honorary degree is a way to look at someone's life achievements and match them to our mission and show the world in a public way what our hopes and aspirations are for every graduate."
Manuel said that both degree recipients embody the kind of missional standards the university has and hopes to promote to its students. Receiving an honorary degree is very prestigious, but Manuel said giving them out reflects well on the university and shows that it can connect with talent like this.
Pink describes his life as such: "I wake up in the morning and try to find stuff out and then tell people about it."
Pink was born in Columbus, Ohio, and said that receiving an honorary degree in Indianapolis is almost like coming home.
"I like the Midwest because people are humble, they're friendly, they're lowkey, and to be honored by humble, lowkey, friendly people is a double honor," Pink said.
When Manuel reached out to Pink about being awarded a degree, Pink said he was shocked but accepted it immediately. Although Pink said he is not a scholar himself, he said he sees himself as a translator from the world of research into the world of human behavior.
"What I have tried to do in my books is look at large bodies of social science and try to extract lessons from them that people can apply in their work," Pink said. "And so, at some level, it's consistent with the University of Indianapolis' mission in that it is a mix of scholarship and action."
Pink said that he primarily writes books he would want to read himself. The topics and ideas he writes about can be inspired by certain problems or emotions he faces. For example, Pink said he was inspired to write "When: The Scientific Secrets of Perfect Timing" because he wanted to optimize his schedule and figure out the best time to do things. His latest book on the emotion of regret was inspired by his experience at his daughter's college graduation, where he said he found himself reflecting on his own college experience and the regrets he had.
"What I'm trying to do in the books is help people see the world differently, but also equip them with specific, practical tools so they can do things a little bit better," Pink said.
Carlson Evans said the reason she got into nursing was because of her mom, and also because she found great happiness in serving others. This eventually led her to serve as an Army Corp nurse in Vietnam for six years. But even after her service was up, Carlson Evans had another battle to fight.
After returning from Vietnam, Carlson Evans said she realized military women and nurses have been taken for granted, kept in the background and unrecognized, even though they provided enormous value to the war effort. To remedy this situation, Carlson Evans wanted to build a memorial honoring women and their contributions to the military. Unfortunately, she said many others did not share her sentiments.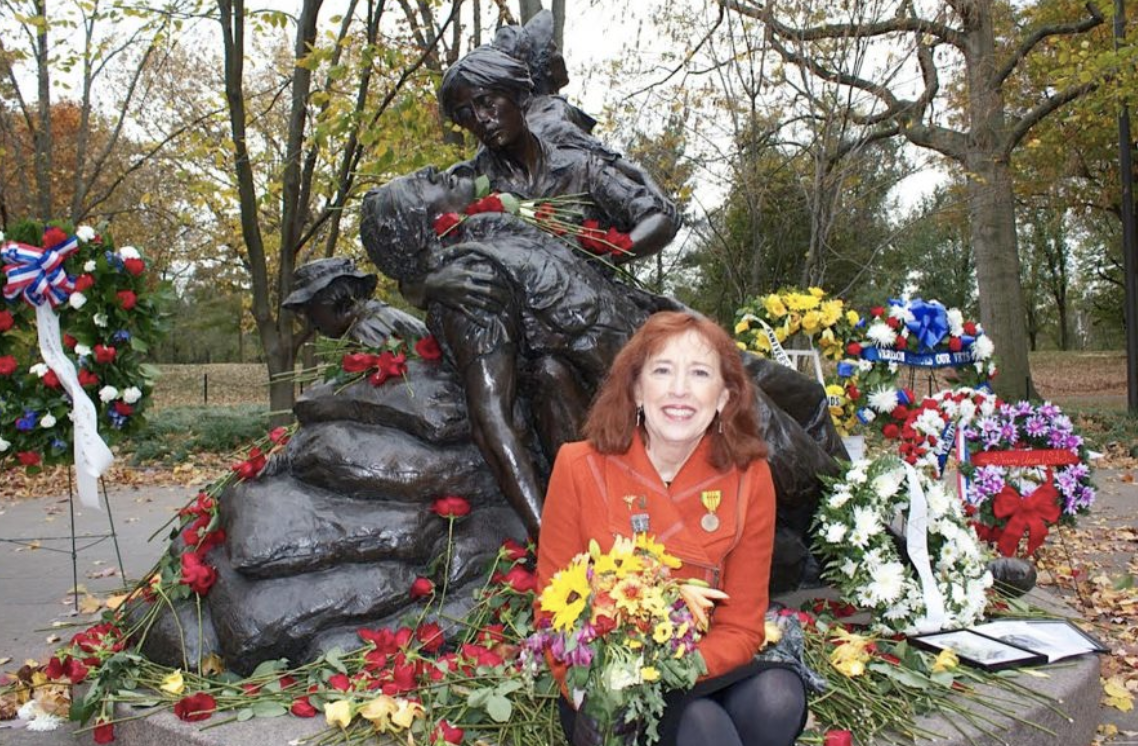 "I soon realized I was going to have to convince people of what I thought was the right thing to do, and that was to recognize women," Carlson Evans said. "But I didn't realize there would be so much pushback, so much animosity and misogyny directed at us women."
Ten years of lobbying had to transpire before a monument was eventually built on the National Mall in Washington, D.C. According to Carlson Evans, this memorial was also the first of its kind to recognize any military women in the entire Capitol. Carlson Evans said the Vietnam Women's Memorial complements the Vietnam Veterans Memorial to honor the women the way the men were honored. The sculpture is built to scale with the Vietnam Veterans Memorial, according to Carlson Evans.
"What I feel so humbled and honored but proud of is … I raised the awareness of the importance of the nursing profession and the importance of military women and civilian women who have served in support of the armed forces," Carlson Evans said.
By accepting the honorary doctorate, Carlson Evans said she felt like she was accepting it on behalf of all the women who served in the military. Over 90% of them served as nurses, according to Carlson Evans.
The struggle to get a monument to honor women was a long and difficult one, according to Carlson Evans. She said she had to take it one day at a time and break things into doable parts. She started locally in her hometown, but gradually sought the assistance of organizations such as the American Legion, Disabled American Veterans, Purple Heart Organization and Vietnam Veterans of America at the district, state and national level to assist her efforts. She even said she received a segment on "60 Minutes" that let her tell her story to millions of television viewers. However, Carlson Evans said she could not have accomplished all she did without the support of her family.
"We don't heal alone and we don't survive alone," Carlson Evans said. "If we can just hang on to that better tomorrow and help each other do that, that's our basic human instinct and it's what will bring us a better world, a better life and a better tomorrow."