Starting out like many communication majors, University of Indianapolis alumnus Joey Mulinaro said he wanted to work in the sports industry. He has amassed 318,000 Twitter followers, 157,000 Instagram followers, 137,0000 TikTok followers. He has been featured on ESPN, Bleacher Report and other media outlets with several videos in the million-plus views range, and now working for one of the biggest sports media companies in the world, he has established himself as a well-known figure in the sports industry. Mulinaro said the natural route for him was combining the things he always had liked.
"I always felt like I was a fairly good communicator," Mulinaro said. "I could speak well, and I love sports. And on the side at the time, I was like, 'I like to be entertaining, like to make people laugh.' But it wasn't the top priority because I didn't really know what a realistic route to an entertainment career was. So I was like, 'All right, I'll match the communication with sports, get into sports broadcasting [and] sports radio hosting.'"
Mulinaro said that passion for sports led him to UIndy. He said he spent his freshman year at Ball State University but felt like he would have to wait forever to get a chance to do what he wanted to do. Before his sophomore year, he transferred to UIndy and became a communication major. He said one of the things he loved immediately was how early he got to work on the things he cared about.
"The thing I loved about UIndy… is just that they threw you into the fire right away, and they didn't throw you in without caution," Mulinaro said. "They have a very systematic and good program that teaches you while you're also gaining really valuable experience that you don't get a whole lot of out of other places."
While at UIndy, Mulinaro served as sports director for WICR and eventually became operations manager, according to UIndy Communication Faculty Member and General Manager of WICR Scott Uecker. Uecker said that he wished there were more students like Mulinaro, because he had the ability to bring up those around him and push others to do their best.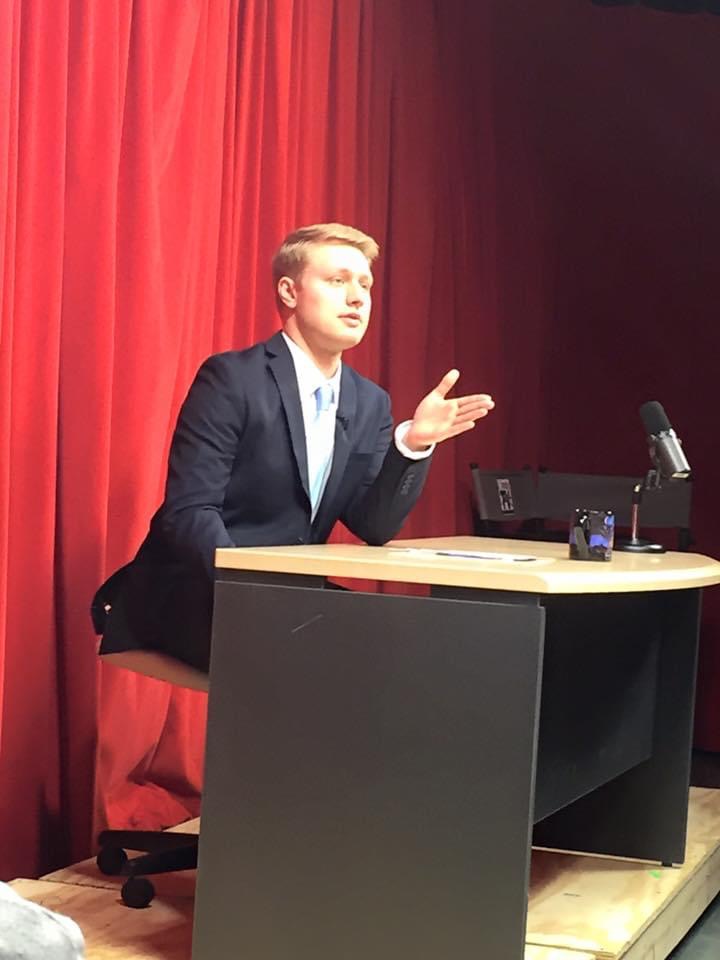 "He was, and still is, an incredibly creative young man. He's driven. He is an excellent writer, and I would call him a leader as well," Uecker said. "I mean he makes the people around him better, and that's one of those things that isn't always the case with students. But Joey was one of those… he really lifted up the people around him and made them better, made them want to work hard, made them want to create."
In addition to working at WICR, Mulinaro said he also was able to work part-time for Emmis Communications, which eventually led him to his getting a job with 1070 The Fan, the ESPN affiliate radio station for Indianapolis. Uecker said he has had multiple students work part-time with Emmis, but Mulinaro's experience was different because he was a transfer student.
"So because of that, we had to speed up the process a little bit with him," Uecker said. "But he was more than capable of handling it, and I think that his academic experience and what he did for WICR while he was here uniquely prepared for him to go into Emmis and be successful."
According to Uecker, it was not only Mulinaro's education that helped skyrocket him to where he is, but also his creativity and drive. Uecker said that there are many people like Mulinaro who are creative, but not everyone can put that into quality content as Mulinaro has, and that is one of the things that is going to take him far.
"Joey is one of those few people, at least at a very young age, that's able to take an idea and then turn it into something tangible, where it's going to find an audience," Uecker said. "So I'm not surprised at all. But I think he's not done…. The pinnacle, if you will, for someone like Joey would be 'Saturday Night Live,' and that is a really tough get. There's only a handful of people that ever achieve that. Not to put any pressure on him, but I think Joey is one of the probably handful of students I've had over the years that he'll make it to the top of whatever path he goes down. He's just got to figure out what that looks like for him."
Around that time at Emmis, Mulinaro's internet popularity skyrocketed. According to Mulinaro, the moment that made him say "wow" was his Thanksgiving skit about University of Alabama Head Football Coach Nick Saban.
"The first real one [skit] that was just different from everything else was the Nick Saban Thanksgiving impression, Thanksgiving of 2019. That's when I put it out, the day before Thanksgiving, and then all of a sudden on Thanksgiving Day, ESPN and Bleacher Report and Barstool–before I was even working there, they [Barstool] had picked it up and posted it," Mulinaro said.
Mulinaro said that since then, he has had several videos surpass that one million views mark, and it has gained him notoriety within the sports entertainment landscape. Through the years working at The Fan, Mulinaro said he would see comments by people saying that he would be a perfect fit for Barstool Sports, a brand focused on comedy and sports. Mulinaro signed on with Barstool Sports in March 2020, right before the COVID-19 pandemic hit.
"I'd been a fan and followed them for so long," Mulinaro said. "… as time went on when I was still at Emmis and still just doing all that on the side, a lot of people would be like, 'Oh, well, Barstool has got to come calling, right? Like, that'd be a perfect fit for you.' And at the time, it would be like, maybe they will, I'd love to, but I didn't know. And so then when they finally did, it was like, 'Wow! OK.' This is crazy just because they're the top of the game when it comes to digital media and comedy and sports. And so it's just an honor to be here."
Mulinaro said that he had planned to move out to New York to work with the entire Barstool team, but due to the pandemic that was put on the back burner. He said now that Barstool has set up its own branch in Indianapolis, he is extremely happy to have his home city experience growth in the sports media world. Mulinaro, an Indianapolis native, said he is excited about the future of Barstool in Indianapolis
"I just hope that I can provide a little bit of inspiration or hope for people that want to be in entertainment or sports media or whatever it is–that you can make it happen," Mulinaro said. "The fact that we're getting bigger, growing here, like I said, I love this town. I will go to war for this town every day. And so I've always been pushing for a bigger presence here."
Mulinaro said that everything, though, goes back to his days at WICR, where he got his start. He said that for people who want to be like him and pursue a career in the sports entertainment industry, they cannot be afraid to fail. He said they should use the time they have in college to explore and learn while they can.
"I remember being in college and being a junior and a senior, and I was doing everything I could to put my best foot forward. Being on management, taking extra hours, getting all these broadcasts in, working on my tapes, working at Emmis, and I was like, 'Man, I'm going to be ready to go. Like, I'm going to be a hot commodity coming out of college because I've busted my [butt] here,'" Mulinaro said. "And it was a little bit of a rude awakening–like it tested my patience; it tested my belief in myself. So from that, [I learned] if at first you don't succeed, continue to try and try again."