The University of Indianapolis Theatre Department will be taking the stage Feb. 26-28 and March 4-6 with their latest production, "Kill Move Paradise." For this latest performance, the Theatre Department has teamed up with the Black Student Association and the Office of Equity and Inclusion. The play tells the story of four African Americans who are forced to face their pasts while in the waiting room for the afterlife. Kelli Thomas, a sophomore theatre major who will be playing the role of Grif, knew she could use her talents to bring attention to issues facing the black community.
"It was important that me as an actress and me as a black woman [that I] was able to be a part of something so important, especially since, over the summer… I went to a lot of protests," Thomas said. "So it was important for me to use my voice [and] use my craft as a way, for this school specifically, to bring awareness to this topic."
While Thomas will not be the only woman on stage when the stream goes live on Feb. 26, her character is the only true female character. The rest of her fellow counterparts in the afterlife are male, with one being played by a woman according to Thomas. The play was originally written for four black males, however, the department wanted to add a black woman's perspective to the mix. Thomas plays the character of Grif, who she describes as a peacemaker.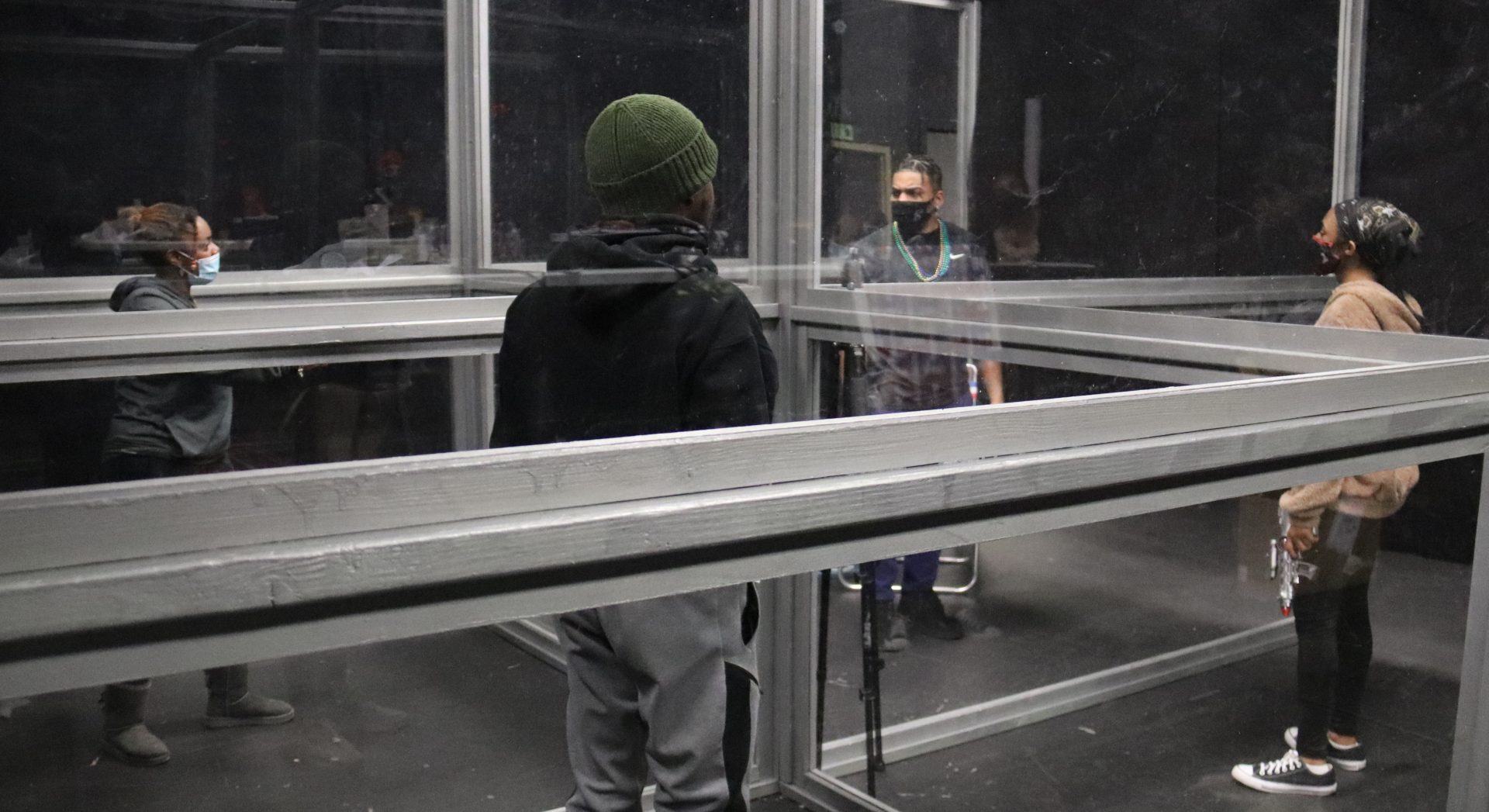 "It's kind of been a challenge to find my place in a male show because we talked to the playwright to see how we could incorporate the woman," Thomas said. "[Grif's] just very strong, [Grif's] had to be strong all of her life because she's had [to face] many obstacles… She just wants everything to be okay at the end of the day…," Thomas said.
According to director Ben Rose, "Kill Move Paradise" is providing the actors with a unique opportunity. He is excited about the fact that the talent is getting to take on roles where there is a significant cultural connection.
"A lot of times you don't get the opportunity to do plays that are culturally relevant to you," Rose said. "These are four young black actors that have probably done a lot of Shakespeare, done a lot of things that weren't necessarily [in] their cultural back pocket, so this is something that they really get to vibe out with each other and feel comfortable just expressing what they know is already a part of them."
Because COVID-19 has led to restrictions on large gatherings, "Kill Move Paradise" will be live-streamed for students. Thomas admits that play preparation looks a little different during a pandemic. In order to stay socially distanced and safe, the actors and actresses will each have their own little piece of the stage to work with. According to Thomas, plexiglass cubes have also been installed to help separate the actors on stage. Thomas said that the plexiglass cubes add to the story, in that the characters are trying to figure out where they are and what they are doing.
According to Thomas, while the cast understands why there is a need for separation, the plexiglass cubes do limit their acting at times.
"We all know it's for safety reasons so we're okay with it, but it just makes it a little more difficult," Thomas said. "We're not able to show as much physically as we're used to as actors, so we kind of had to adjust, but so far it's been going pretty good."
Even with all of the hoops the cast has had to jump through, Thomas feels like she and her fellow cast members have done a nice job adapting to the changes. Thomas said that with no live audience, cameras have been placed inside the individual plexiglass cubes to help give the viewers the sensation that they are seeing the play up close and not on their computer screens. Freshman theatre major Robert Gurley, who plays Daz, said he is hopeful that "Kill Move Paradise" can be a learning experience for the viewers.
"I want people to walk away with better knowledge of how today's society actually works," Gurley said. "Because in the play it's a lot of little things just being a hint to that. I'm hoping that everybody that watches the play actually catches on and picks up on those little things because those little lines speak volumes."
Thomas said she wants viewers to take away something too: It is not easy being a black person in the United States.
 "America has just been sitting there watching and doing nothing," Thomas said. "I hope this gives people better insight that they could be doing more and they could stand with us and that this is real for a lot of people. These stories aren't just made up stories. These represent real lives, and that deserves to be represented. It's really important that we start doing things now. So I hope people just get a better insight into this life, because it's not easy."