The jungle-themed 13th annual University of Indianapolis Dance Marathon fundraiser had to take a different format this year to adhere to COVID-19 guidelines. The event was held on Saturday, Feb. 13, in Schwitzer Student Center where there was food, decorations and dancing.
Senior public health major and UIndy DM President Jessica Koons said the yearly fundraising event included three rooms for social distance morale dancing, games and raffles and a Twitch livestream for those participating from home. According to Koons, the event was split into two sessions with the groups rotating between rooms to keep the capacity at 25 people or less per room. She said sanitation periods between rotations were implemented to keep the areas clean.
"It gives me a lot of pride… that we were able to persevere through everything and figure out a safe way to host this hybrid marathon so that we could give people part of the in-person experience, while also keeping them safe and letting them continue regardless of if they were needing to be in-person or online," Koons said. "I'm just really proud that we were able to pull that off."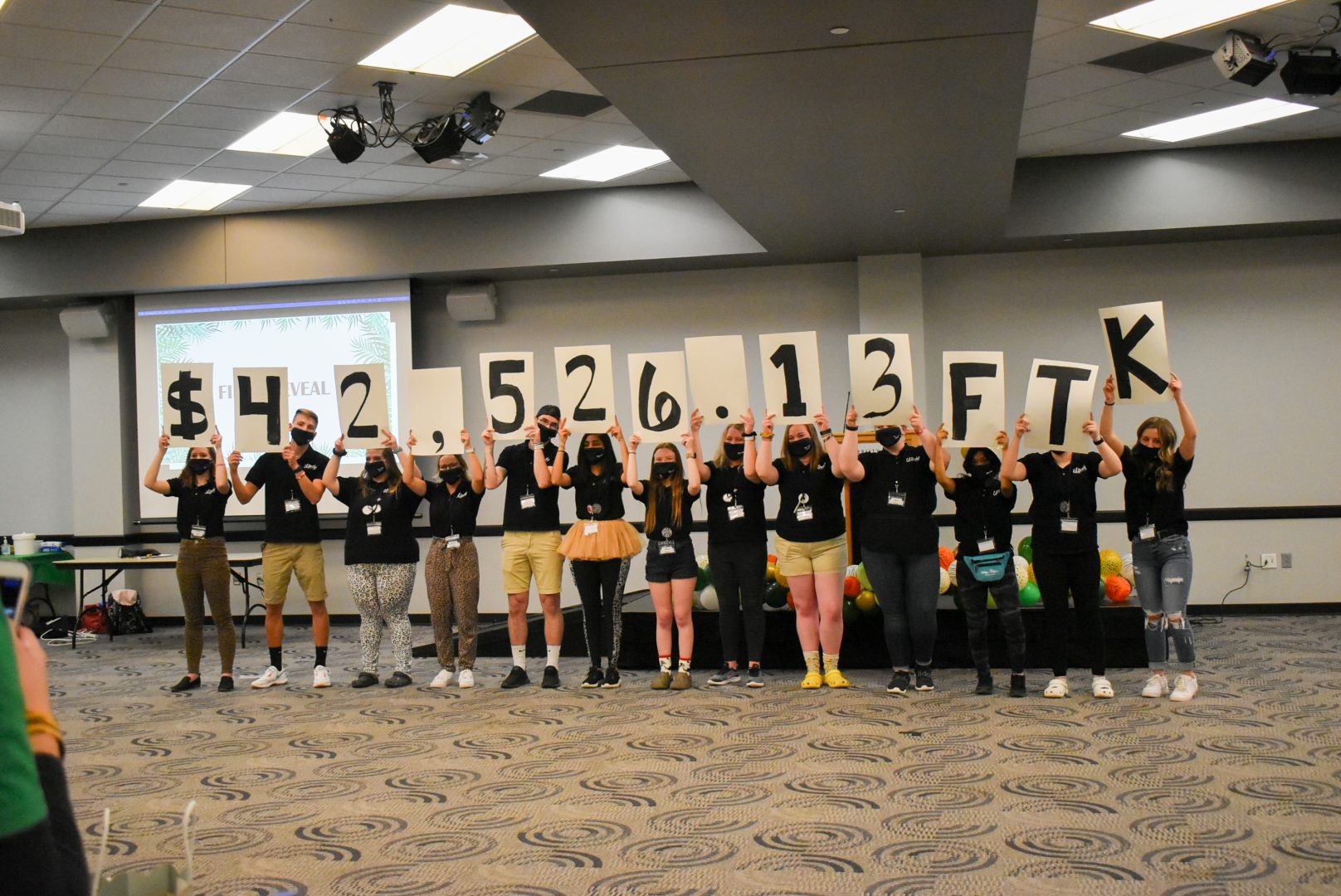 According to Koons, the money raised by UIndy DM helps fund child life programs and research at Riley Hospital for Children. Half of the donations go to the Herman B. Wells Center for Pediatric Research and the other half goes to the different child life programs in the hospital.
"Not a lot of other marathons get to fund research and child life, so we really like that because it directly impacts the patients there. It's nice to have that connection," Koons said.
Dance Marathon's closing ceremony revealed the team's $42,526.13 fundraising total. Koons said this ceremony was limited to the executive team and the top ten non-executive fundraisers to keep capacity low. The award for top executive fundraiser went to the UIndy DM executive board's Vice President of Finance Kyle Kamminga who raised $2,704, the award for top committee member fundraiser went to Rosemary Hemmelgarn who raised $1,070 and the award for top dancer fundraiser went to Kaylee Rulong who raised $406.
Junior communication major and UIndy DM Director of Operations Erin Phillips said the practice of live streaming this event was new this year, allowing participants to be involved virtually if they were uncomfortable attending in-person. She said depending on how it goes this year, UIndy DM hopes to continue to livestream in the future. Phillips said the Riley children who usually come to this event to share their stories were unable to attend this year due to safety concerns.
"We hear motivational stories about people who have overcome what they were in Riley for and now they just go for yearly visits, but we also hear from families who are at the hospital all the time and who have struggled for years," Phillips said. "It is nice to hear both those motivational stories, but as well as hearing people who are going through the struggles of being at the hospital but those stories are what motivate us to fundraise I feel like."
Phillips said these stories were still able to be told at Dance Marathon 2021 in pre-recorded videos sent in by Riley children and their families rather than in-person.
"They've been sending us videos to play throughout the day so they can share their stories with us and share why they love Riley and appreciate Dance Marathon," Koons said. "So, I think that's a really good part. It brings you back to why you're doing this in the first place when you get to hear from a Riley kid." Koons said she encourages everyone to join UIndyDM for their Spring call-out meeting, though students can get involved at any time with a $15 registration fee that is donated directly to Riley Hospital for Children. Students can also email UIndyDM@uindy.edu with questions about Dance Marathon and how to get involved.