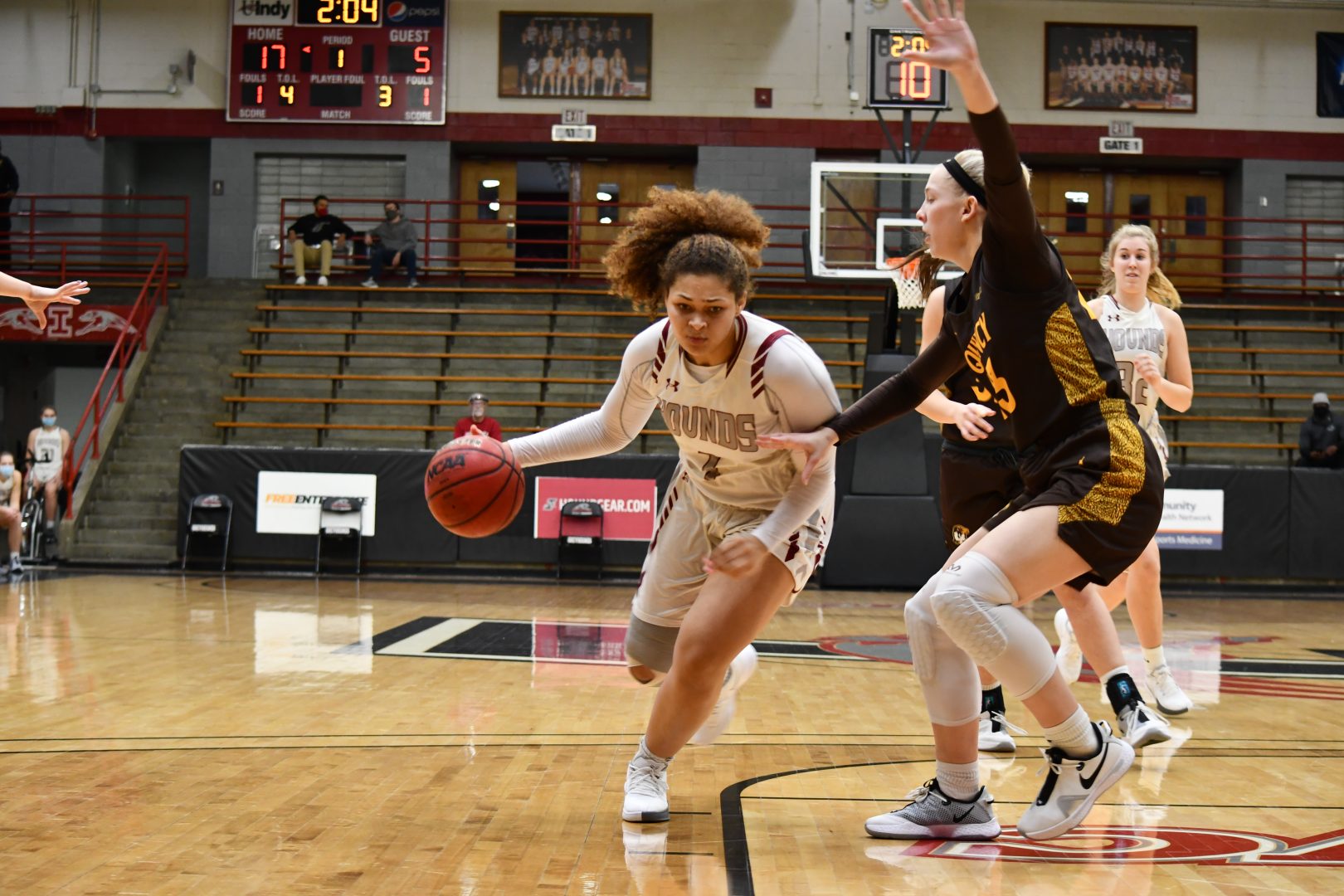 With just eight games remaining in the regular season, the University of Indianapolis women's basketball team is making a push to land a spot in the GLVC Tournament. Head Women's Basketball Coach Kristin Wodrich's squad sits at 8-8 after upsetting the No. 24 ranked team in the nation Truman State University on Feb. 4. On that night senior guard Mickey Sasson had a career night putting up a career high 20 points and 18 rebounds to help the Hounds win in overtime. The Greyhounds may have come away with the win, but Sasson said she knows there is still room for improvement down the stretch.
"I think we're getting closer to executing the way Coach Wodrich wants us to, but we're not quite there," Sasson said. "We have more to do to take that next step because we're not playing our best game right now."
Indianapolis ranks 12th in the GLVC in turnover margin, turning the basketball over roughly four times more per game on average than their opponents. In a 69-63 loss to Illinois Springfield on Jan. 28, the team turned the ball over 25 times, one turnover shy of their season high.
"We come in with energy," Sasson said. "We all listen and we focus in, but now it's like executing [and] doing things right. [That means] meeting our passes, not turning the ball over 25 times a game."
UIndy had success avoiding turnovers in their game against Quincy, only turning the ball over 12 times through the entire 40 minutes. Not only did they do a better job of protecting the basketball; they dished out a season-high 25 assists, according to UIndy Athletics. Sasson, who leads the team in assists, snatched a career-high 11 rebounds while also contributing eight dimes.
"I trust [Sasson] on the floor at all times," Wodrich said. "Her aggressiveness offensively has gotten a whole lot better. [Her] just becoming a better leader has been really good for us."
Sadie Hill, a junior transfer from Murray State who is listed as both a forward and a guard, also continues to be an integral part of the game plan for Coach Wodrich. She has played 20 or more minutes in seven straight contests according to UIndy Athletics. Hill has started the last three games, and in the process, she is shot 50% from the field and 60% from three.
"She can always work with her advantage," said Sasson. "She can drive against the post [players] and she can post up smaller guards. She's a threat pretty much everywhere."
The Hounds have six remaining games in their season with four at their own Nicoson Hall and two on the road. They will take on Rockhurst University, who knocked off No. 1 Ranked Drury University, on Feb. 11 followed by a match up against Southwest Baptist University and then they will have a challenge on their hands facing off with the No. 1 ranked Drury on Feb. 18. So far the Hounds have a 2-5 record in Nicoson Hall but have found road success holding a 6-3 road record according to UIndy Athletics.
Sliding into the GLVC Tournament will not be an easy task, but it is a task that this team, which has grown even closer as the result of the COVID-19 pandemic, is willing to take head-on, according to Sasson.
"Toughness is a lot of things, it's not only the physicality," Sasson said. "It's meeting your pass so the other team doesn't steal a pass. It's seeking to see who's hot on the court [and] who's playing their game and looking for mismatches. The thing that's really going to help us make it or fall is just the toughness."