Indiana Gov. Eric Holcomb won re-election on Nov. 3 as the Republican candidate for governor. His win was expected, but the margin was surprising, according to University of Indianapolis Associate Professor of Political Science Laura Merrifield Wilson. Overall, Holcomb is a relatively popular incumbent, and his biggest liability this election, according to Wilson, was probably not being necessarily well-known.
"He [Holcomb] became a lot better known to Hoosier voters in March and April, especially as the [COVID-19] coronavirus was taking hold of not just the country, but specifically the state of Indiana," Wilson said. "He was talking about what he was doing to stop it. He was using his executive authority and leadership to try and curb its expansion in the state. And so he became a central force in especially the statewide leadership in terms of tackling that problem."
The issues that Holcomb will focus on are the same ones he ran on four years ago: education, economics and workforce development, along with the addition of COVID-19. While Holcomb is at his term limit now and does not have to appease both parties, his party does have the supermajority in the state legislature, Wilson said. She said that Holcomb has been and will continue to be a governor of all parties in Indiana.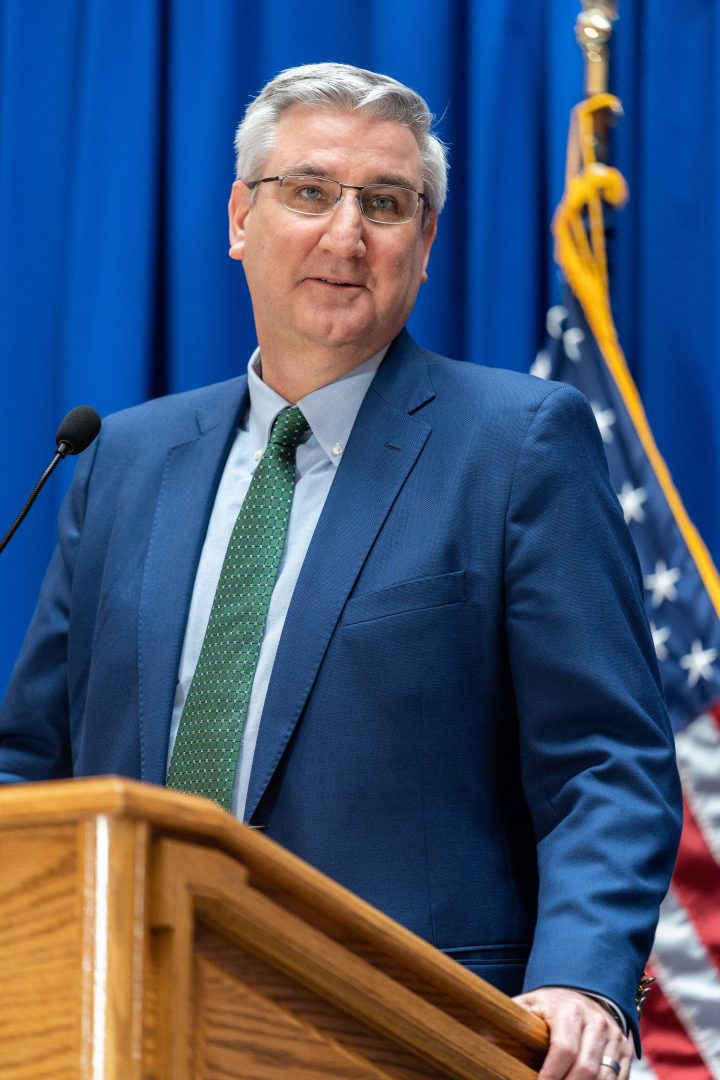 "He will be known as a COVID[-19] governor simply by the fact that it's a dominating political issue right now," Wilson said. "There's absolutely no part of politics that it doesn't permeate and touch to any degree."
Wilson said one thing that is interesting about Holcomb is the household name recognition. Prior to COVID-19, his predecessor, Vice President Mike Pence, was more well known than Holcomb was. Even being less controversial than Pence is to Holcomb's benefit, Wilson said.
"Where he [Holcomb] lacks that well-known, household name recognition, he's generally seen as pretty easy-going, [he's] steered the ship in the right direction," Wilson said. "There were challenges, especially from the libertarian candidate, Donald Rainwater, during the debates and by people with that kind of ideology, I would say, where they say he's done too much, that he's overstepped bounds. Of course, Democrats and more liberal ideology voters would say, 'No he hasn't done enough.'"
For the next four years, senior political science major Drake Abramson said he sees Holcomb as someone who is going to advocate for aiding colleges through funding and providing personal protective equipment for COVID-19 recovery. Holcomb wants students to get the high quality experience that colleges and universities provide, Abramson said.
Abramson said that he thought Indiana was well-equipped to deal with COVID-19 because of its Republican leadership and because Indiana was fiscally conservative in the past, the state was able to allocate funds to local communities, schools and small businesses that really needed it. This was due to Holcomb working with both the Republican and Democratic leadership, Abramson said.
"As far as his policies going forward, he's going to continue to listen to health officials and scientists," Abramson said. "Their expertise is in this and we should trust them."
Wilson said she was happy about the overall voter turnout this election, and does not believe the straight ticket voting aided Holcomb's re-election. If anything, Wilson said, President Donald Trump's ideals are opposite of Holcomb's, even though they are in the same party. The straight ticket voting option, which only nine states have, could have hindered Holcomb's win, but he prevailed anyways.
According to Wilson, Holcomb's interest in workforce development and trying to attract people to Indiana, prevent "brain drain," or boredom, from its current citizens to encourage them not to leave, and reform education as Indiana has some of the lowest metrics in the K-12 system are what Holcomb is going to focus on during his term, as well as other issues.