Several cars park outside of Books & Brews South Indy as students from the University of Indianapolis' Department of Music play songs. This is part of a series of memory cafes for those with dementia and their caregivers or for friends and family to socialize and listen to music, according to CICOA Aging & In-Home Solutions Vice President of Community Programs Dustin Zeigler.
Along with the Department of Music, the Center for Aging & Community, CICOA Aging & In-Home Solutions and Books & Brews are all contributing to the memory cafes, according to Zeigler. He said CICOA Aging & In-Home Solutions was enthusiastic about the concerts and it suits UIndy involvement as well as the student involvement which demonstrates an intergenerational event where younger and older adults are mixed together.
"We approached UIndy probably a couple years ago about seeing … what kind of collaborations there might be lifted into Dementia Friends Indiana, and the Memory Cafe concept was one of the ones that was of the highest interest," Zeigler said. "Then, in particular, Books & Brews has just always been a supportive community partner for UIndy and CICOA. So when we reached out, they were more than happy to be the actual location for that."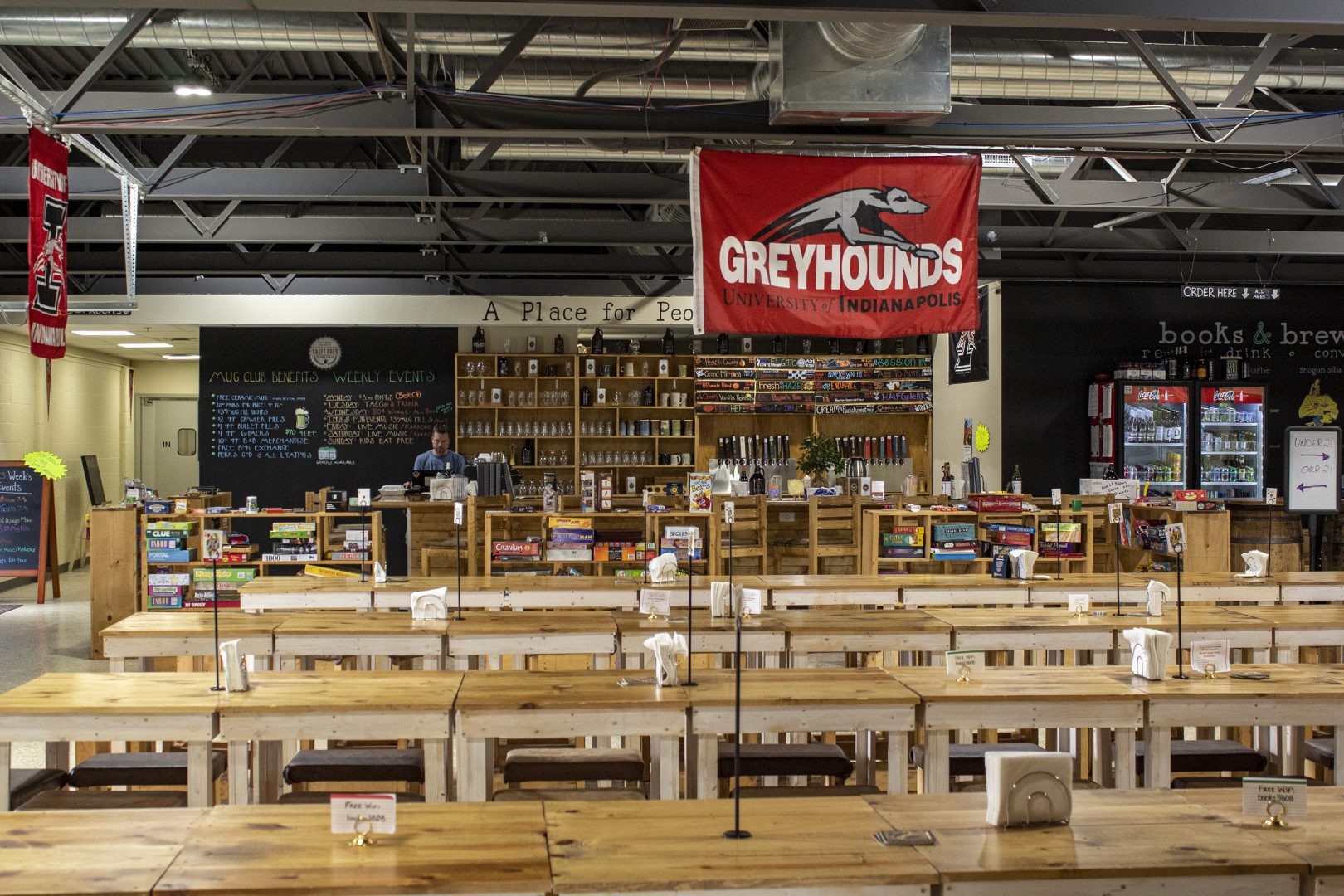 According to Zeigler, the purpose of Dementia Friends Indiana is as an education awareness movement about dementia to create and encourage communities to be more informed and welcoming for people with dementia.
"We made the decision that we want to be able to again offer an opportunity for folks to get out of their home, and re-engage in the community, particularly with this population because they've been isolated and withdrawn in their homes this whole time," Zeigler said. "That isolation and withdrawal alone for older adults and their caregivers can have its own detrimental effects on both physical and mental health."
Zeigler said the thought process was that COVID-19 being a large factor meant taking the right precautions to see if people would still be interested in coming out and enjoying it. According to Zeigler, a good response has been seen so far but they have taken into consideration all the precautions and Centers for Disease Control and Prevention guidance when it comes to social distancing and different components, including the component of it being outside.
CICOA Aging & In-Home Solutions has been working with UIndy for a while to think about events like memory cafes, according to Zeigler. He said that as spring comes around, he plans to do more of these events with different themes.
Executive Director of the Center for Aging and Community at UIndy Ellen Miller said that the Center for Aging and Community called CICOA Aging & In-Home Solutions to discuss holding memory cafes during COVID-19. She said that they did not want to put anyone at risk of getting COVID-19 so outdoor activities, such as concerts, were decided upon.
According to Miller, CICOA Aging & In-Home Solutions and the CAC have collaborated on many ideas in past years and began brainstorming in May of this year to figure out different locations for cafes. According to Miller, the memory cafes would offer older adults with dementia and their caregivers opportunities to gather and get out in the community.
"The idea is that it informs the community to try to educate people and be aware of dementia, reduce the stigma and kind of create community environments where people can be," Miller said. "I could feel comfortable going someplace, because I know that people will understand that I'm with someone who has this disease and they would understand a little bit more because they're aware of what dementia is and kind of how someone might behave who has dementia."
Miller hopes to have more people participate in the next memory cafes. One thing she enjoys about the memory cafes was how intergenerational it is, Miller said.
"Students were involved, anywhere from college age students to people the age of their grandparents or great grandparents were involved in this and it just worked really well and people seemed to really enjoy themselves," Miller said. "We even had people dance."
Two more concerts will be held on Oct. 14 and 29, where the UIndy Jazz Ensemble and the UIndy Pep Band will be playing on each day respectively, according to UIndy 360. While it is required to register, the events are free with refreshments and offer socially distanced parking, Zeigler said.
People can take lawn chairs and listen to the entertainment or bring around their vehicles to listen as long as they are socially distanced, according to Zeigler.