Editor's Note: We acknowledge that the situation between Israel and Palestine is ongoing, and that we have not discussed every single event or point that has taken place between Israel and Palestine. For the sake of our publication, we discuss "current events," which we define here as events that have taken place between Oct. 7 and Nov. 17, the historical context behind the situation and the impact on and reaction of the UIndy and Indianapolis community.
As tensions have risen nationally and internationally over the status between Israel and Palestine, those affected extend not just overseas, but to the University of Indianapolis campus and the greater Indianapolis-Carmel-Anderson Metropolitan Area. With people everywhere interpreting various aspects of recent and historical events, the history of both parties and how that relates to people worldwide at UIndy comes under discussion. The Hamas-led attack on Israel on Oct. 7 launched the Israeli government's retaliation, and reactions from Israel, Palestine and the rest of the world continue to unfold.
---
Current Events
For the purposes of The Reflector's press time, events unfolding from Oct. 7 to Nov. 17 are covered. The current issue, although it has historical ties back to the 19th century, began on Oct. 7 when Hamas killed over 360 people and took at least 40 hostages at the Supernova Music Festival in Re'im, according to the Times of Israel. Hamas also stormed southern Israel communities and launched several rockets at Israeli cities, according to the Times of Israel. According to CNN, 1,400 Israelis were killed in the attack, and over 240 were taken hostage. As of Nov. 7, more than 10,000 Palestinians have been killed in Israel's retaliation, according to CNN.
According to University of Indianapolis Professor of International Relations Milind Thakar, the Oct. 7 attack was the first time in 50 years Israel was able to be caught by surprise. Now, Israel is telling 1 million northern Gaza residents to move south, Thakar said.
"The last time that happened was about the same time, and they tried to recreate that moment, the Yom Kippur War of 1973, when Egypt and Syria had surprised Israel," Thakar said.
UIndy Director of Global Education Ghina Sadek said it is important to note that what is happening did not just begin in October, it has been developing for decades. Understanding the context is crucial to understanding current events, according to Sadek.
"It is a terrible misconception that things in the past month started on October 7," Sadek said. "This has been going on for 75 years plus. It's really important to understand the history and the context. Otherwise we, as we are now, are stuck in questions and conversations that really don't capture the truth of the situation."
On Oct. 11, Palestinian reporters claimed white phosphorus was being dumped in a neighborhood by Israeli forces, which was later verified by Human Rights Watch. Later in the day, an air raid on Gaza killed 11 workers with the U.N. Palestinian refugee agency and five members of the international Red Cross and Red Crescent, according to Reuters.
On Oct. 13, the Israeli military told all 1.1 million civilians in northern Gaza to move south within 24 hours, according to Al Jazeera, a Qatar-based, independent news channel. During a panel about the current attacks held at UIndy on Oct. 27, Professor and Director of the Graduate Program in International Relations Jyotika Saksena said that Israel issued this warning before attacking Gaza.
"So Israel is asking 1 million people in northern Gaza to leave the area before they can be attacked," Saksena said. "This is what is expected of 1 million people. Access to food, water and electricity has been pushed in the news. Fifteen out of 25 hospitals as of now are unconscionable."
On Oct. 16, Israel followed this by extending the time frame for citizens to evacuate, according to Al Jazeera. The World Health Organization reported that nearly 1.5 million people have been displaced. On Oct. 17, Israel conducted an air raid on al-Ahli Arab Hospital in Gaza City, which killed at least 471 people sheltered in the hospital, according to Al Jazeera.
Gaza's oldest church, the Church of Saint Porphyrius, was destroyed by an Israeli air raid, which also killed 18 people, according to The Washington Post. Fighting also continued at the Israel-Lebanon border, according to Al Jazeera.
First Aid trucks were seen at the Rafah border crossing between Egypt and Gaza, which opened Oct. 20, according to Al Jazeera. But, from Oct. 21-22, Gaza saw the most violent bombing since the attacks began early that month, resulting in over 400 Palestinian deaths, according to Al Jazeera. Later that weekend, Israel launched an air attack on the West Bank's Jenin refugee camp, killing two people, according to Reuters.
On Oct. 25, residents of Gaza faced a communications blackout as internet and cellular services broke down due to the bombing. More residential areas and refugee camps in Gaza were hit from Oct. 25 to 27, while an apartment block was struck by a Hamas rocket in Tel Aviv, according to Al Jazeera.
From Oct. 28-31, the Israel Defense Forces said it was expanding its ground operations in Gaza, as reported by CNN. At least 123 Palestinians were killed in the West Bank, with 1,980 detained since Oct. 7, according to Al Jazeera.
On Nov. 9, U.S. President Joe Biden said there was no chance for a ceasefire in Gaza, according to the White House briefing room. Biden also said the retaliatory strikes in the Middle East are hitting the targets that they are seeking during the current crisis.
On Nov. 13, Al Jazeera reported that 41 journalists had been killed, 36 of whom were Palestinians, four Israelis and one Lebanese. Al Jazeera also reported that Israeli forces raided Gaza's al-Shifa Hospital, the largest medical facility in the coastal enclave, on Nov. 16. Israeli forces found three duffel bags each containing an assault rifle, grenades, Hamas uniforms and flak jackets, located in the MRI lab. CNN reported that as of Nov. 16, the death toll in Gaza had reached 11,470 and in Israel 1,200.
Sadek said that the main focus now should be on calling for a ceasefire. Palestinians, she said, do not have much time for governments to wait to call a ceasefire. Discussions about topics such as a two-state solution, she said, can also distract from the calls for a ceasefire.
"I don't know that people in Gaza and Palestinians have the time anymore to wait on us to discuss stuff in detail, and go back in history and have everybody understand everything," Sadek said. "And we don't know what a two-state solution means, and I don't know that it matters right now."
On Nov. 17, according to the AP, deliveries of food and other necessities to Gaza from the United Nations were forced to stop, with the U.N. warning of increased risk of widespread starvation after internet and telephone services collapsed due to the lack of fuel. The AP reported that Israel would allow two tanker trucks of fuel into Gaza each day for communication systems and the U.N, but this is half of what is needed for lifesaving functions such as bakeries, trucks delivering aid, water systems and hospitals.
---
Historical Context
Tensions between Israel and Palestine date back to the 19th century, according to an independent, nonprofit organization, the Council on Foreign Relations. Resolution 181, also named the "Partition Plan," sought to divide the British Mandate of Palestine into both Arab and Jewish states, according to the United Nations. This resulted in the creation of the State of Israel on May 14, 1948 and led to the first Arab-Israeli War, according to the Council on Foreign Relations. Thakar said that the State of Israel was created out of the historic land of Palestine. The land was part of the Ottoman Empire until the British took it over, Thakar said.
"This is one incident to be seen in a historical timeline. In 1948, the State of Israel was carved out of the historic land of Palestine, which was itself part of the Ottoman Empire until Britain took it away from the Turkish-Ottoman Empire right after World War I," Thakar said. "Britain allowed large numbers of Jewish people who wanted to settle there to come in."
In 1948, what is known as Israel's War of Independence and Palestinian's "Nakba," which means "catastrophe" in Arabic, according to the U.N., ended with Israel's victory and the displacement of 750,000 Palestinians, according to the Institute for Palestine Studies. This resulted in the division of territories in the Levant, a large area in the Eastern Mediterranean region of West Asia. The territories became what remains today—the State of Israel, the West Bank and the Gaza Strip.
Over the following years, tensions continued to rise between Israel, Egypt, Jordan and Syria, which included mutual defense pacts made in anticipation of the mobilization of Israeli troops, according to the CFR. These tensions boiled over into the Six-Day War in June 1967, when Israel preemptively attacked Egyptian and Syrian air forces after its Arab neighbors began mobilizing their own troops, as reported by the council. According to Professor of International Relations Douglas Woodwell, the situation between Israeli and Arab populations in the region has existed for decades—even centuries before the 1940s and today.
In 1967, Israel's neighbors attacked, and that led to the Israelis occupying those territories, Woodwell said. At that point, Woodwell explained, Israel wanted peace and offered to swap land immediately after the Six-Day War. However, that was rejected by the Arab League, a loose alliance of nearly two dozen Arab countries that pledged to cooperate on economic and military affairs, who said "No recognition, no negotiations, no peace," Woodwell said.
Woodwell said Israel eventually did make peace with some of these countries, such as Egypt, Jordan and Saudi Arabia, even though Saudi Arabia does not recognize Israel as an official state. The emergence of the Palestinian Authority, a governing body that has had control over parts of the Israeli-occupied West Bank since the mid-1990s, was meant to pave the way for an independent Palestinian state, according to an article written by Al Jazeera, but the PA has little power today because it operates under the control of the Israeli military. The PA is dominated by a secular political party founded by displaced Palestinians in 1948 called "Fatah," which also is the main force behind the Palestinian Liberation Organisation. The PLO operates as an umbrella organization that comprises several political parties and seeks to represent Palestinians globally, according to Al Jazeera.
"Palestinian Authority used to be the PLO, which is a group that targeted everyone internationally—airplane hijackings and such—into the early 1970s," Woodwell said. "But then they promised in exchange for sort of a U.N. observer status not to attack anyone outside of Israel. They continued to launch attacks against civilians in Israel for the [19]70s and [19]80s."
According to the Office of the Director of National Intelligence's website, Hamas is the Arabic acronym for "Harakat al-Muqawama al-Islamiya" or in English, the Islamic Resistance Movement. The word "hamas" is also an Arabic word that translates to "zeal," according to Al Jazeera. Hamas, according to the Associated Press, is the largest and most powerful militant group in the Palestinian territories. According to DNI, the group is committed to armed resistance against Israel and the creation of an Islamic Palestinian state in Israel's place. Hamas emerged in 1987 during the first Palestinian uprising, also known as the first "intifada," which began in December 1987 and ended in September 1993, according to Britannica. The first Declaration of Principles on Interim Self-Government Arrangements or Oslo Accords were signed during the end, according to the Department of State's Office of the Historian, and provided the framework for peace negotiations between Israel and Palestine that were supposed to be resolved by 1999.
Tensions that led to the first intifada arose in part when Israel increased land expropriation and settlement construction in the West Bank and Gaza Strip after the electoral victory of the right-wing Likud Party in 1977, according to Britannica. Following Israel's invasion of Lebanon in 1982, a new wave of Palestinian activists challenged the leadership of the PLO, according to Britannica, a process aided by Israel's increased attempts to curb political activism and break the PLO's ties to the occupied areas in the early 1980s. Tensions erupted in December 1987 when an Israeli vehicle accidentally struck two vans carrying Palestinian workers and killed four of them, according to the Jerusalem Post. Palestinians took this as an act of revenge for the stabbing of an Israeli in Gaza a few days prior.
Despite continued negotiations following the first Oslo Accords in 1993, religious nationalists on both sides attempted to disrupt the process set out by the first Oslo agreement, according to the CFR. According to Britannica, on Sept. 28, 1995, the second Oslo Accords, which detailed the expansion of Palestinian self-rule to population centers other than Gaza and Jericho, were signed.
Tensions continued over the years, with the countries continuing to attempt to discuss and agree upon terms to end disputes. According to the CFR, in July 2000, United States President Bill Clinton hosted Israeli and Palestinian leaders at the Camp David Summit in hopes of negotiating further peace terms, but after two weeks, the sides were not able to come to an agreement. According to Britannica, Likud's prime ministerial candidate, Ariel Sharon, visited the Temple Mount in Jerusalem as an assertion of Israel's sovereignty over the al-Aqsa Mosque, which is Islam's third holiest site, in September, 2022. This situation boiled over into the second intifada, which lasted until 2005.
The second intifada, which lasted from Sept. 28, 2000, to Feb. 8, 2005, resulted in more than 4,300 fatalities, with a Palestinian-to-Israeli death ratio of slightly more than 3-to-1, according to Britannica. The Israeli army launched "Operation Defensive Shield" to reoccupy the West Bank and parts of Gaza following a suicide bombing by Hamas, known as the "Passover Massacre," that killed 30 people in March 2002, according to CFR. Although the bulk of the violence had died down by the end of 2005, tensions continued to worsen, according to Britannica.
In August 2005, Israel began a withdrawal of settlers and military power from the Gaza Strip but remained in control of the borders, airspace and coastline, according to the CFR. After this, smaller militant groups from Palestine fired rockets from Gaza into southern Israel. Hamas continued to gain power in Palestine during this time and took over the Gaza strip in 2007, after they had kidnapped an Israeli soldier until they negotiated for his release, according to the CFR. Hamas has remained the acting governing body in the Gaza Strip since 2007, according to the DNI.
According to the CFR, Israel attacked the Gaza Strip in 2008, following rocket attacks from Gaza on Israeli towns in the months prior. This short war lasted less than a month but cost hundreds of lives, according to the CFR.
In 2013, former U.S. Secretary of State John Kerry restarted final status negotiations, according to the CFR. The process consisted of Israel's agreement to release 104 Palestinian prisoners and the Palestinians' agreement to not use their new observer state status at the U.N. to advance the cause of their statehood. Negotiations collapsed in April 2014 over Israeli settlement growth and the status of a final round of prisoners, as well as Palestinian attempts to join several international organizations, according to CFR.
According to the CFR, in July through August of 2014, attacks from Israeli and Palestinian extremists escalated until Israel invaded the Gaza strip, an operation code-named Protective Edge. Operation Protective Edge lasted for 50 days and killed around 2000 Gazans, 66 Israeli soldiers and five Israeli civilians, according to the CFR. The war ended when the U.S., in consultation with Egypt, Israel and other regional powers, issued a cease-fire.
In January of 2020, former U.S. President Donald Trump's administration revealed their proposed Israeli-Palestinian peace plan, which was created by U.S. and Israeli diplomats without Palestinian input, according to the CFR. Following the announcement, Palestinian authorities rejected the plan, and Israel's Prime Minister Benjamin Netanyahu announced Israel's plan to annex portions of the West Bank, as outlined in Trump's proposal. Later that year, in September, Israel announced the suspension of its plan to annex territory in the West Bank, according to the CFR.
In May 2021, Palestinians in East Jerusalem were evicted from their homes by Israeli forces at the same time clashes between Israel and Hamas were breaking out at Al-Aqsa Mosque, according to CFR. More than 200 people in Gaza and at least 10 in Israel died as a result. The Biden administration helped mediate a truce and restored some of the U.S. aid and diplomatic contact with Palestine, according to CFR.
As a result of Israel launching an operation in the West Bank in response to the Palestinian attack, 2022 had become the deadliest year since 2005. As of October of this year, 2023 has taken its place as the deadliest year, according to the CFR.
---
Local Events
As the Israel-Palestine situation has developed, many universities and colleges have issued statements about the matter, including UIndy. University President Tanuja Singh sent a campus-wide email on Oct. 12 sharing thoughts on the subject, and listing counseling service information for students and employees. According to the email, the university recognized that processing violent and destructive imagery could be difficult for students and encouraged those struggling with the ongoing news to seek resources available at the university.
Since the Oct. 7 attack, protests around the country have been taking place, with Washington D.C., in particular, being a spot for both pro-Palestinian and pro-Israel demonstrations. According to National Public Radio, tens of thousands of people gathered on Nov. 4 at the nation's capital, to form one of the biggest pro-Palestinian protests in the U.S. since Israel's response to the Hamas attack. In contrast, according to the Associated Press, those in support of Israel marched on the National Mall, with tens of thousands in attendance 10 days after the protest calling for a ceasefire.
Protests also have occurred around Indianapolis since the news broke about Hamas' attack on Israel, with some demonstrators supporting Palestine, and some condemning the actions of Hamas and supporting Israel. According to the Indianapolis Star, on Oct. 12, protestors gathered at the southeast corner of Monument Circle, chanting in support of Palestine, while counter protestors on the monument steps opposed the attacks with chants comparing Hamas to the Islamic State of Iraq and Syria.
During a Nov. 1 protest in Indianapolis, Executive Director of the American Indian Center of Indiana Carolina Castoreno said that Israel's actions are considered genocide.
"I think that if this being shared with any students, any students who may feel like they are not getting an accurate picture of what exactly is going on in Palestine, and what the Israeli army is doing to Palestinian people, and why it is not a conflict or a war, it is an act of ongoing ethnic cleansing and genocide," Castoreno said.
The protest on Nov. 1 was organized by the Indianapolis Liberation Center, and Castoreno said the protest was organized so people could come together to show support for the Palestinian people. During the demonstration, speakers arranged by the protest organizers addressed the crowd of supporters.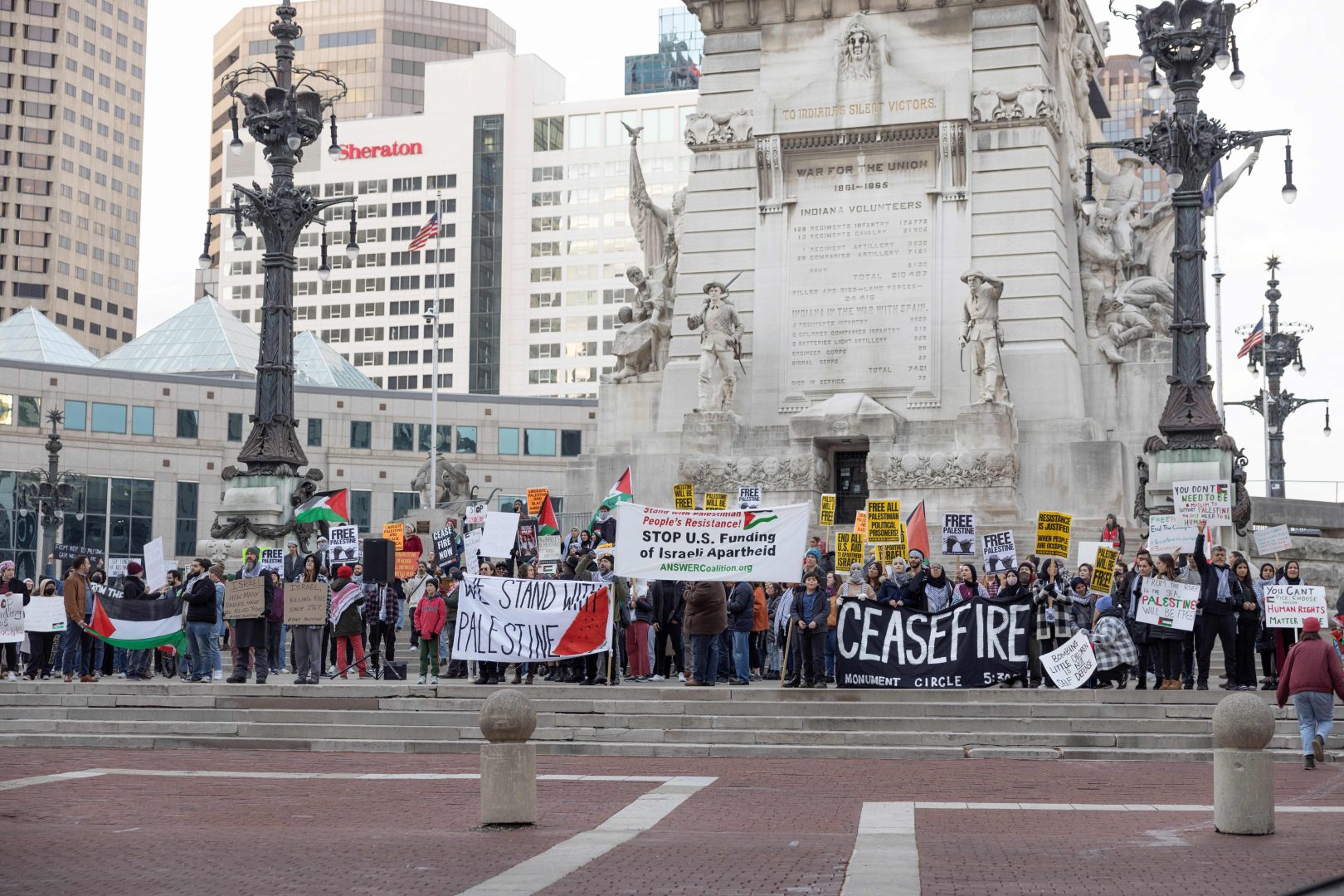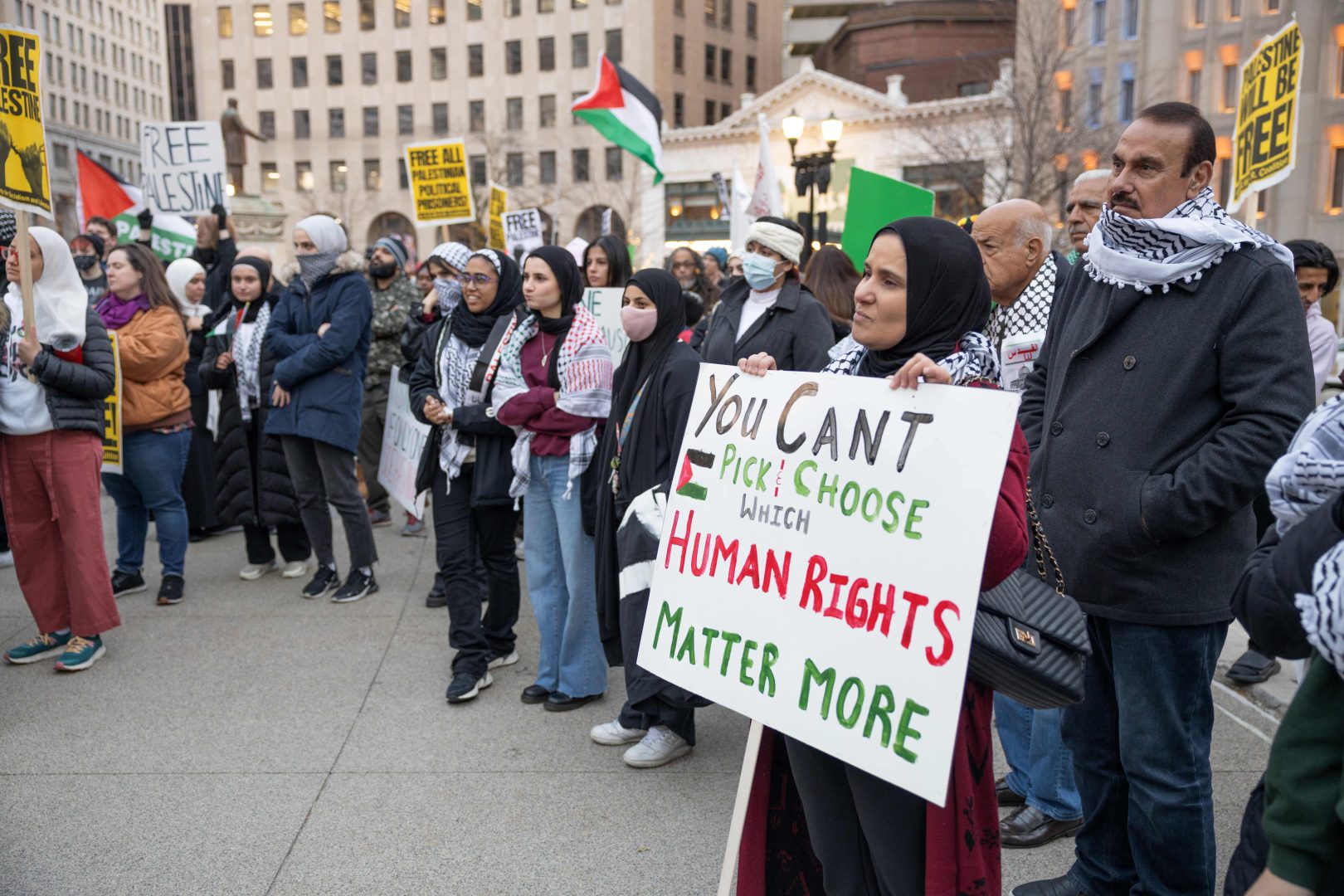 "For me, as an Indigenous person, I feel it's imperative that we show solidarity with our Palestinian brothers and sisters," Castoreno said. "We know firsthand what it's like to be removed from our homelands, to be corralled to certain spaces. …"
Those supporting a ceasefire and the Free Palestine Movement have referred to the Israeli bombings of Gaza as a genocide, or ethnic cleansing. Castoreno said that for Indigenous people, genocide has never truly ended, and that it is important for people in the United States to amplify Palestinian peoples' voices. Indigenous people, she said, while in their homeland, have seen food sources cut off, family lines disrupted, and have been singled out for having different spirituality.
Indiana University Bloomington graduate student and co-founder of the IUB Palestine Solidarity Committee Bryce Greene also spoke at the Nov. 1 protest. Greene explained that there is evidence that what is happening is a genocide of the Palestinian people.
"They've [Israel] announced that they will not discriminate between militants, combatants and regular civilians, and they've also closed off water, electricity, medicine and critical supplies from that enclave," Greene said. "Intent is clear, you know. You read what these Israeli politicians say. The intent is clear. They want these people gone, and they're willing to kill them all."
Greene said that he is not Palestinian, but he understands the role that the United States has in the oppression of the Palestinian people. He said that U.S. citizens need to stop supporting the government, because U.S. tax dollars are going toward Israel. According to Greene, protests such as those at Monument Circle are educational and welcoming, and there is no better way to understand what is happening than by listening.
According to the Northwest Indiana Times, Indiana State Treasurer Daniel Elliot announced Nov. 1 that a $35 million purchase would be made on behalf of Indiana for Israel Bonds. According to the NWI Times, Elliot believes this purchase is the largest investment in Israel Bonds since Oct. 7. As of Nov. 1, the state of Indiana holds $100 million in Israel Bonds, according to the Clinton County Daily News.
Those involved in protesting throughout the month, as well as those at the Nov. 1 Monument Circle protest, discussed the loss of lives from the Israeli retaliation. Indianapolis college student and speaker at the gathering Yaqoub, age 21, said that a reason he was at the protest was to honor the children who have been lost throughout the 75 years since the Nakba.
"That was kind of my purpose of being here, just to honor the children that have been lost," Yaqoub said.
Yaqoub said he works closely with protest organizers, and that a primary emphasis is the safety of not only the people attending, but the people downtown as well. He said he was glad the Indianapolis Liberation Center organized the protest and hopes that people continue to show up for the cause.
"We have a de-escalation team on site. Most of the time, depending on the organization, [those] hosting the protests will be in contact with the Indianapolis police department," Yaqoub said. "So I would say the main thing we emphasize is keeping everyone safe and making sure that no one gets hurt and just peacefully getting our message across, though it's obvious."
Protests have continued in downtown Indianapolis, with another protest organized on Nov. 14 on the west side of Monument Circle, that proceeded to the Capital Center building, which houses the Indianapolis office of Indiana Sen. Todd Young. School psychologist Malkah Bird helped lead the protest to demand a ceasefire on the steps of Young's office. During the protest, about 40 names printed on paper were passed around while protestors laid on their backs on the steps of the Capital Center building. Bird said that the names represented some of the people killed in Gaza. Bird said protests were there in order to honor those who have died.
Bird said that many are saying that Israel represents the voices of all Jewish people. Some of those in attendance, including Bird, wore shirts with the words "Not in Our Name" printed on the front and "Jews Say Ceasefire Now" on the back. According to Bird, this shows that the bombing of Gaza does not speak for all Jewish people, and that it is important to say that Israel does not speak for them.
"We demand that the government stop saying that this has been done for Jewish people." Bird said. "This is not going to be done in our names, and it's not going to be done with our tax dollars. So Jews and Palestinians and allies, we call for a ceasefire."
Claire, a student at Butler University, said she is a part of the Students for Justice in Palestine group at the school. She said those supporting a ceasefire are not in the minority, a majority of Americans support the movement. As of Nov. 15, according to Reuters, most Americans believe Israel should call a ceasefire as current events has expanded into a humanitarian crisis.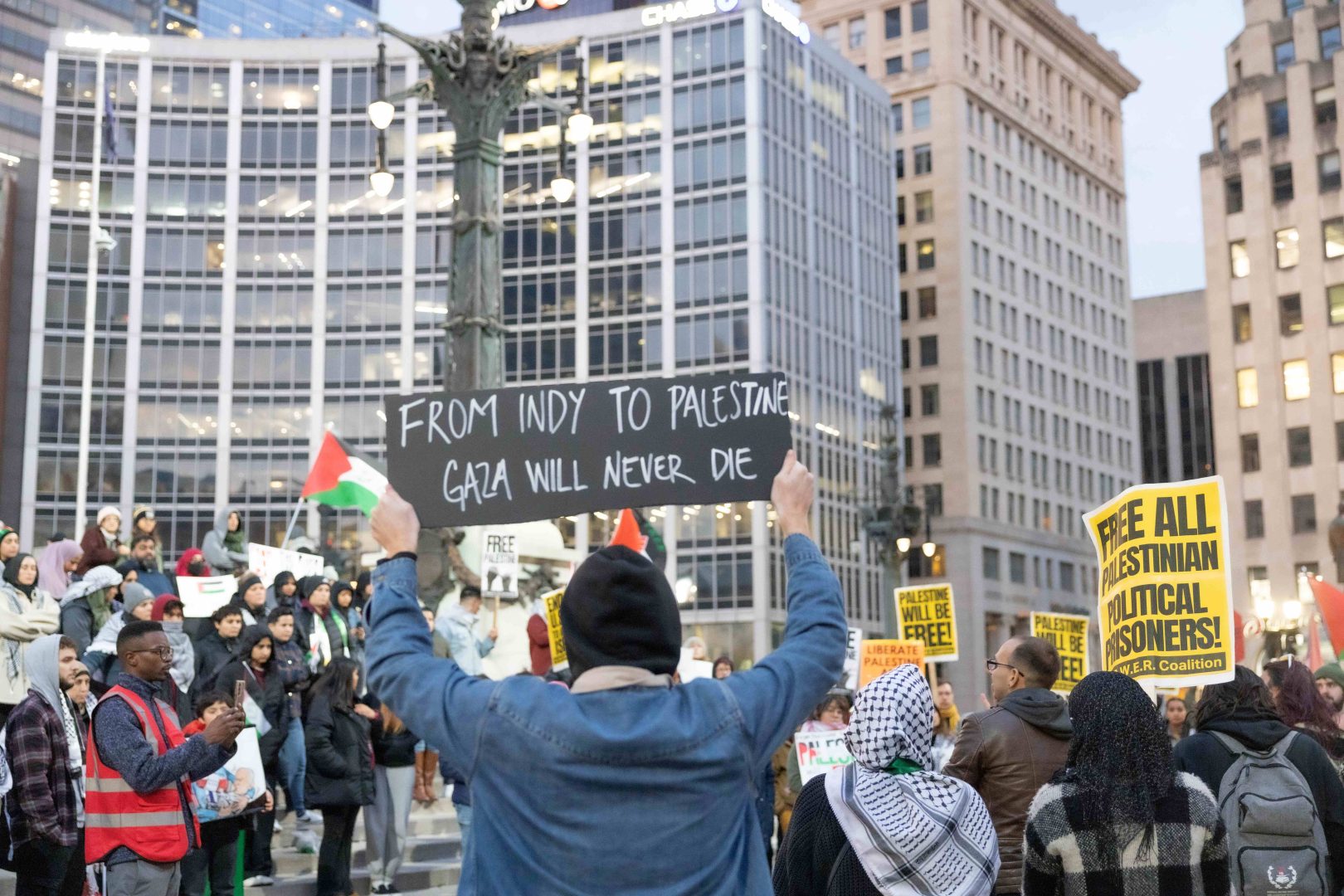 ---
As events continue to unfold in Israel and Palestine, touching local communities, including UIndy, news coverage of ongoing affairs continues to be reported by media organizations. Sources of more local information include the Indianapolis Star, WRTV, WFYI and WTHR. Sources of up-to-date and live coverage of national and global information can be found on news sites such as CNN, NBC and the Associated Press.