The University of Indianapolis hosted author Brian Evenson at the Kellogg Writer Series for their Fright Night event.
On Thursday, Sept. 21, in UIndy Hall A, the University of Indianapolis invited author Brian Evenson to read his short horror stories for the Kellogg Writers Series, according to an email sent to students and faculty on Sept. 11. Evenson said he writes scary plots mixed with dark humor and has a wide collection of work and has a huge passion for his writing.
"I want to write the kind of work that I want to read," Evenson said. "And there was a certain point where I realized that not that many people were writing the kind of work that I was really, really fond of."
Throughout his career as an author, Evenson said he has won three O. Henry Prizes and was a finalist for countless others. Evenson said that he comes from a family of writers as his mother had published a science fiction story in a magazine when he was at a young age. Even before he started taking creative writing classes, Evenson explained that he won an award for a story he wrote in highschool.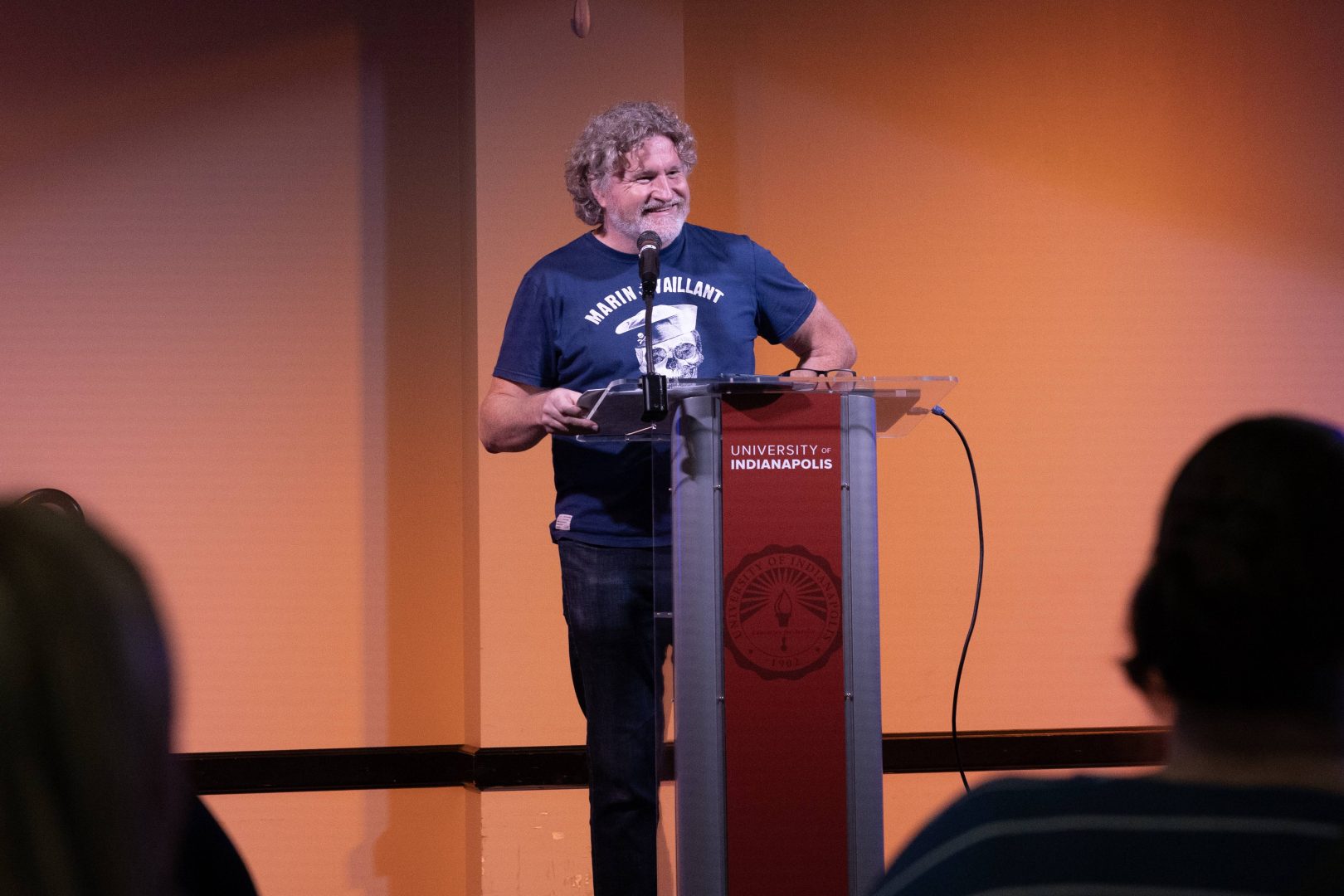 "With my youngest brothers and sisters, she said, 'You can do art, or you can do this or that.' And with me, she said, 'You should create a story.' I tried that and realized I liked it. Then it just kind of stuck," Evenson said. "[…] I wrote a story in high school and won a prize in a contest for it. Then when I went to graduate school I ended up taking a bunch of writing classes."
The Kellogg's Writer Series is an event held on campus multiple times a year, where faculty and students from the English department work together to bring a local or, like in Evenson's case, more renowned authors to our campus, Chair of the Kellogg Writers Series and Professor of English Barney Haney said.
"We've been a premier reading series, when you compare us with other reading series, in this state or nationally, we put on an amazing one. One of the poets [Jose Olivarez] I contracted back in the summer just got his collection that he's going to come and read from and just got long listed for the National Book Award for poetry, which is a big deal. That's the biggest award you can win in this nation for poetry," Haney said.
It is guests like Olivarez and Evenson that make these run as great as they do because it is an enjoyment for them as well, Haney said. While Evenson was here, Haney said he was able to record a podcast with students as well as do a Q&A before he read his work to an audience. Being able to talk about their work is just as enjoyable for authors as those listening to it for the first time, Haney said.
"I really like coming out and talking to people. I mean, one thing that's great about it is you realize that people are reading and enjoying fiction, which is great. And another thing is, it's just really nice to be able to kind of demystify fiction for people and give them the sense that they're real people who are writing the books, as opposed to they just magically appear in the bookstore," Evenson said.  The next Kellogg's Writer Series event is scheduled for Oct. 11, with Sarah Layden and  Professor of English Rebecca McKanna on Nov. 15, according to UIndy 360.