Whether students are looking to get braids, a retwist or a ponytail, Junior self-taught stylist LaMonica Smith does that and more. Smith, also known as Sty.ledbymoni on Instagram, has been doing her own and relatives' hair since middle school, but, after being urged by friends, decided to open up her services to those living on campus. 
"I got started on campus because my friends [influenced] me to start doing hair on campus," Smith said. "I wanted to be able to help out fellow African American girls on campus be able to get their hair done for cheaper because I know it can be pricey at other places."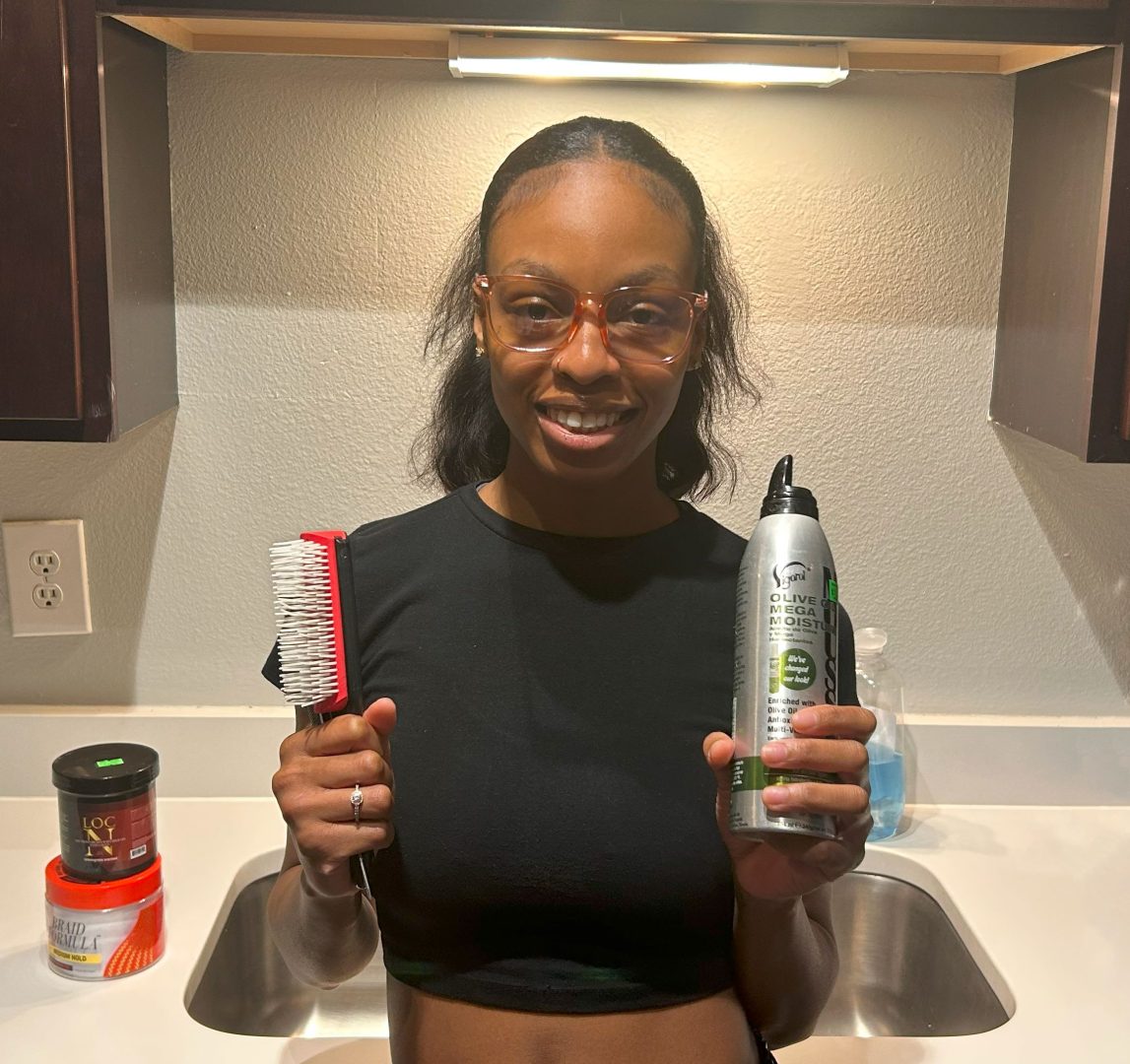 Smith said that although her business is starting out, she has not had many stressors, as she keeps her availability for only after class and on the weekends. Despite this, Smith said doing other people's hair can be a bit nerve wracking. She said that when it comes to her own hair she is very particular, so when she does someone elses hair she puts in the same level of care as to meet a client's expectations. 
One of Smith's regular clients, sophomore nursing major and Project Regalia President Shakyla Archie, said that Smith is consistent and fast whenever she books an appointment. Archie stated that she found out about Smith's business after inquiring about a style Smith had done on herself. The clean parting and neat sizing caught her attention, leading to Archie asking to book an appointment with Smith.
"Before she even created an Instagram page, I asked, 'Hey, I know you do hair. Can you do this?' and she [said], 'Yeah, that's fine,' and so she'll let me know her availability. One thing she'll never do is try and book you between her classes. That's one thing that I do love about her," Archie said.
According to Archie, Smith is very professional when it comes to booking clients and makes sure her schedule is clear for the day for hairstyling. She said that Smith is a sweet and nonjudgmental person and no matter what state you arrive in, she is going to do her job.
Smith's prices are also reasonable, according to Archie, especially compared to stylists she has previously gone to. Archie said Smith will work with the hair she is given, rather than make comments about a client's hair.
Although Smith said her business is small and just starting out, the most common ways she receives new clients are via word-of-mouth and people resharing her posts. Clients according to Smith will share on their Instagram stories about her business which has helped with publicity.
"My favorite is probably doing retwists, and the styles I offer are pretty much anything, but my [Instagram account] only [shows] certain [styles]. So, braids, or French braids and re-twists," Smith said. " It is very minimal. There's not a lot of things that I offer on the page, but if someone was to directly ask me if I could do something that's not on there, I would most likely say [yes] ."Smith stated to book an appointment you can reach out to her via Instagram.