Competing in 34 games to start the season, the University of Indianapolis softball team is 31-3 with multiple wins coming from across the country, as of The Reflector's print time, according to UIndy Athletics. According to Softball Head Coach Melissa Frost, the team has faced competitive opponents with little rainouts resulting in a longer preseason leading up to conference play. Frost said the team will have to continue what they are doing to start conference because it is a long season.
"[The team] has to execute the same way we've been executing up to this point, and I think that's the biggest thing is we take every game as it's the most pivotal, most important game that we're gonna play all season…," Frost said. "Our big goal [is] getting back to the national tournament,and I think that's something that we take one game at a time. We played some really quality competition previously. I think it's really going to set us up, hopefully for the tough competition that we're going to play here coming up in conference."
The Greyhounds started off conference play on March 25 against the University of Illinois Springfield, when UIndy defeated the Prairie Stars in a double header, according to UIndy Athletics. Frost said the team is constantly improving each and every day and that the team's mentality is something she is proud to have.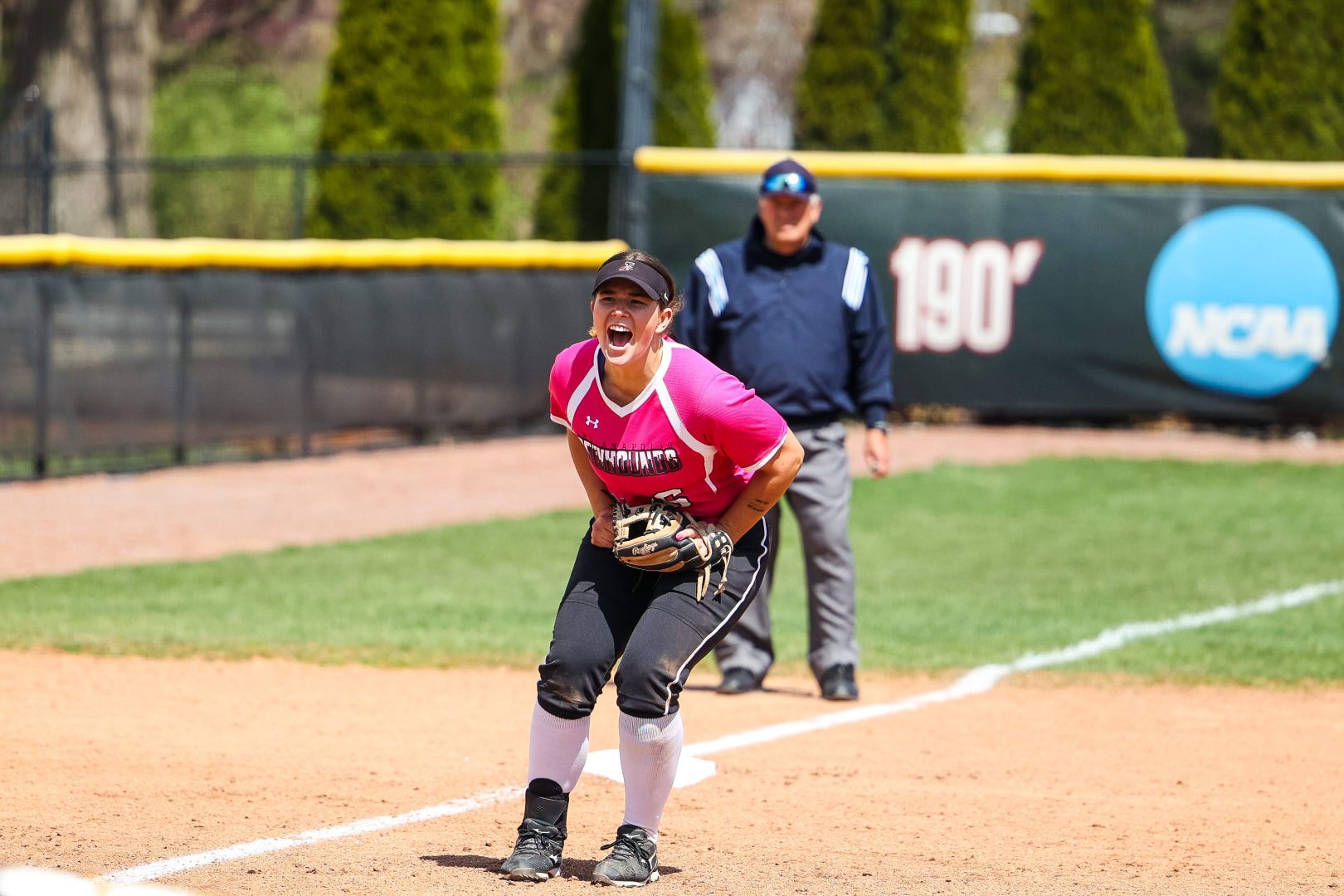 "We're improving each game, and I think that's something with this team it seems we're taking a lot of steps forward [of] improvement even on the games that we're winning…," Frost said. "We're still finding something that we can hone in on that maybe we can do just a tiny bit better, but I also do think that we take some time to celebrate the stuff that we've been doing right. So I think that's big, but I think that this team's a little bit different [from a] standpoint of, we're in it, we're fighting every pitch…. I think that the thing I've learned about this team is that we might be down, [but] we're never out. And that's something that I love about this team. It's just a fun aspect of them."
Senior infielder Emily O'Connor said the team communication has been an outlier for the Greyhounds this year. Additionally, O'Connor said the repetition in practices can lead to improvements on the field and build confidence.
"Confidence comes from repetition…, and I think the players around me and myself…[are] gaining that confidence and getting those reps," O'Connor said, "When we don't play, we obviously practice [then] when we don't practice, we're coming in here and getting our swings in. So, making sure we're up in that shape and seeing that with other players [too] you get that confidence because they're doing like what they're supposed to. For the love of the game, they're putting everything [in] they can for the team…. The confidence piece comes from knowing that my teammates are doing their part."
Looking to improve off the field to where it can translate to on the field, the softball team participates in a book club where the team is currently reading The Energy Bus by Jon Gordon, according to O'Connor. The book is a self-help book that the team has benefited from, she said.
"I have a special place in my heart for [the] book club, [and] I think just the environment of gathering around [is really valuable]," O'Connor said. "I was reading in general, just self help, and having to talk about that and seeing other people's point of views on what we read [is unique]. And they're so different than mine, and they're also so true and valid that I'm learning as an individual, just personally, through things that aren't even related to softball."
Frost said that the actions of the team off-the-field has proven to be important such as the work done by the team in the classroom. Additionally, the closeness of the group has been crucial for this team.
"The camaraderie amongst these young ladies, the thing I love about this team is they have a good time, but once the cleats are on, it's go time," Frost said. "And they put their head down and they work. And I just can't say enough good things about the work ethic of this team. I can't say enough good things about the things they do in the classroom. I just think the way they love each other, and I think that the way that they rally round each other [is important….] We just talked about it yesterday, it's one through 21, and I think that's big for this team."
With home games on the horizon, Frost and O'Connor said that they are hoping to encourage the UIndy community to come out to Baumgartner Field this season.
"We'd love to see the crowd that we've had before," Frost said. "[We] always enjoy seeing the students out and faculty and staff out. We would love to see everyone at a game because I think we're an exciting team to watch."